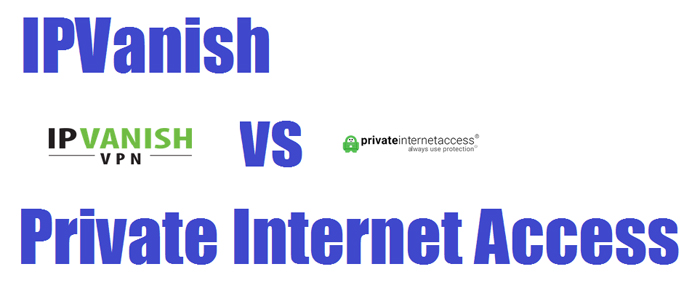 Which VPN is better? IPVanish or Private Internet Access? In this comparison of IPVanish vs Private Internet Access, we take a detailed look at the advantages each has to offer and which VPN provider is a better choice for you.
IPVanish vs Private Internet Access: Features
IPVanish and Private Internet Access both provide top features you would expect for your VPN. And, the VPN apps for both companies are very easy to use. The advantage with IPVanish is that you can have up to 10 simultaneous device connections. However, the Private Internet Access app allows you to more quickly and easily switch VPN servers on the fly. It's a very close call here—with a slight edge to IPVanish.
IPVanish vs Private Internet Access: VPN Network
Private Internet Access has over 3200 VPN servers in 33 countries, while IPVanish has 1100+ VPN servers in over 60 countries. Speed and performance wise, I've experienced equally good results with both companies. Here's another situation where if your country is included in the IPVanish network, then that's probably a better choice as there are more servers per country. However if your country is only included in the Private Internet Access network, then obviously you'd want to go with them. For me, I have to call it a tie here.
IPVanish vs Private Internet Access: Customer Support
IPVanish is the winner in this category based on their live chat support. Private Internet Access unfortunately currently only provides support via tickets. In additional to live chat support, IPVanish also provide extensive setup guide and tutorial article sections on their website.
IPVanish vs Private Internet Access: Value
When it comes to value, it's a closer call than you might think. The prices at Private Internet Access are significantly lower than at IPVanish. But, keep in mind that IPVanish allows twice the number of concurrent connections as well as other features (live chat support, etc.). Although close, Private Internet Access comes out a bit ahead based on the lower prices and quality VPN performance.
IPVanish vs Private Internet Access Details

| | IPVanish | Private Internet Access | Comments |
| --- | --- | --- | --- |
| Servers: | | | 3245+ |
| Countries: | | | 60+ |
| Devices: | | | Tie |
| Features: | | | |
| VPN App: | | | Tie |
| Connections: | | | 10 Simultaneous |
| Customer Support: | | | Live Chat Support Available |
| Payment Methods: | | | PayPal, Visa, MasterCard, American Express, Discover, Amazon Payments, Bitcoin, Major Gift Cards |
| Guarantee: | | | Tie: 7 Days |
| Value: | | | |

IPVanish
Monthly @ $10.00 mo.
3 Months @ $8.99 mo.
1 Year @ $6.49 mo.

Private Internet Access
Monthly @ $6.95 mo.
1 Year @ $3.33 mo.
2 Years @ $2.91 mo.
Recommendation
In this comparison, for most VPN users I would recommend IPVanish based on quicker support access, more connections allowed, and great speed and performance. The exception would be if you're on a tighter budget and are looking for a lower priced solution. Then, Private Internet Access would be the choice. See our IPVanish Review Ratings below.