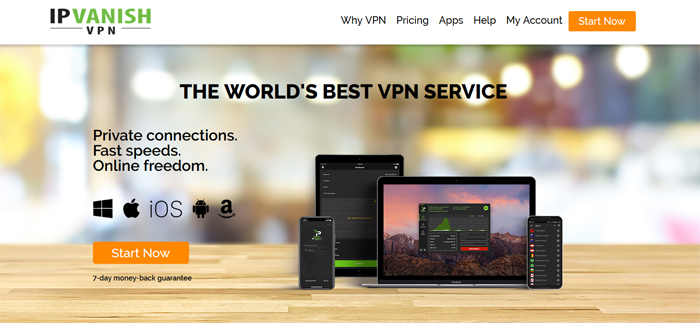 IPVanish brands themselves as "the only true top tier VPN service in the world". They have a very impressive network that consists of over 40,000 IPs and over 1,100 servers in over 60 countries.
VPN Plans:
Monthly @ $10.00 mo.
3 Months @ $8.99 mo.
1 Year @ $6.49 mo.
Payment Methods:
Visa
MasterCard
American Express
Discover
PayPal
JCB
Delta
What Does IPVanish Include?
IPVanish Features:
Unlimited Bandwidth
Unlimited Server Switching
40K+ Shared IPs
1100+ VPN Servers
Servers in 60+ Countries
10 Simultaneous Connections on Multiple Devices
User-Friendly Apps
256 Bit AES Encryption
No Traffic Logs
Anonymous Torrenting
Access to Censored Apps and Websites
7 Day Money Back Guarantee
Live Chat Support
Devices Supported:
Windows
Mac
iOS
Android
Windows Phone
Ubuntu
Chrome
Routers
IPVanish VPN Network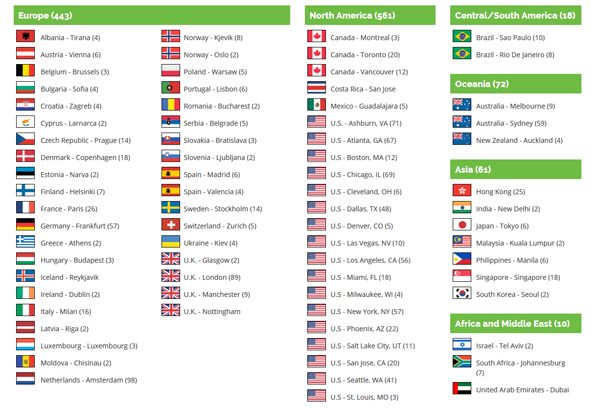 Countries:
United States
United Kingdom
Albania
Australia
Austria
Belgium
Brazil
Bulgaria
Costa Rica
Croatia
Cyprus
Czech Republic
Denmark
Estonia
Finland
France
Germany
Greece
Hong Kong
Hungary
Iceland
India
Ireland
Israel
Italy
Japan
Latvia
Luxembourg
Malaysia
Mexico
Moldova
Netherlands
New Zealand
Norway
Philippines
Poland
Portugal
Romania
Serbia
Singapore
Slovakia
Slovenia
South Africa
South Korea
Spain
Sweden
Switzerland
Ukraine
United Arab Emirates
Signing Up and Installing IPVanish
The signup and installation process for IPVanish is very easy. You'll receive a confirmation email after signing up with a link to activate your account. After activating, you'll be presented with the Get Started page where you can download the VPN software. Your current device is automatically detected with the option to download the correct software.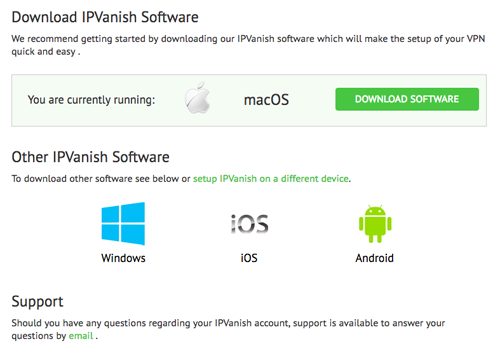 You also have options to install software for a different device. Or, you can just run a setup on the other device (iPhone, Android, etc.) to download the software there.
IPVanish VPN Application Interface
IPVanish has done a really nice job with their application interface. Once you launch IPVanish VPN, it will automatically detect the closest VPN server to you so you can quickly connect to it. You also get to see a usage graph on screen. And, you also get easy access to the VPN server list and your account information.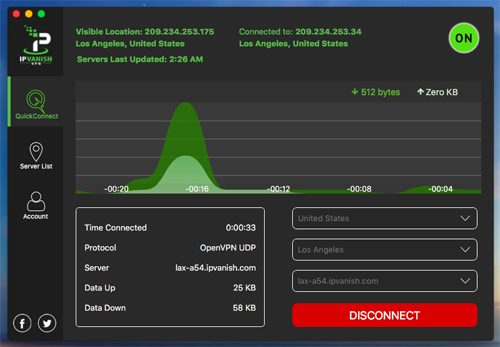 The only thing I don't really like is that when you want to switch servers, you're prompted to disconnect from your current one. I'd prefer to just be able to switch on the fly as with other VPN providers like Hotspot Shield. Still, it doesn't slow things down that much—so not a huge deal here.
VPN Speed and Performance
In my testing, performance was excellent with no noticeable decrease in speed.
IPVanish Customer Support
I'm pleased to report that IPVanish does include live chat support. It makes it very easy to contact the support department if you need assistance.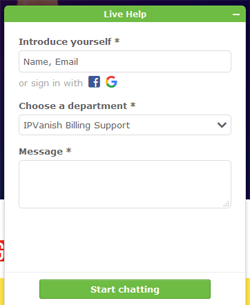 Recommendation
We're definitely impressed by IPVanish's VPN server network. They have many more countries in their network than most other VPN providers. I also appreciate that you can have up to 10 simultaneous connections on multiple devices. And, I like the live chat support feature.