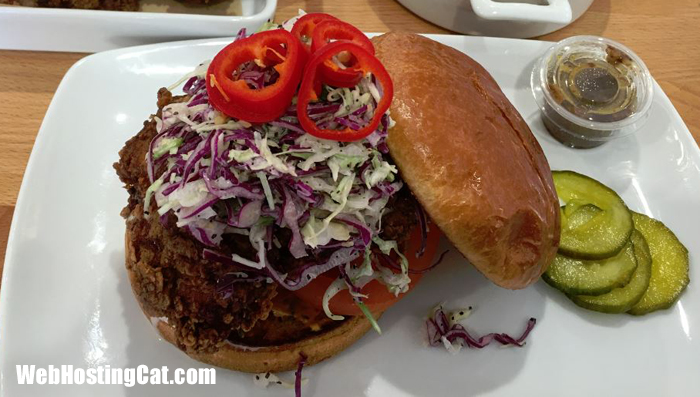 Every restaurant, from the hole in the wall to the largest chains, needs to have a website. Here, we take a look at what you need to include in your restaurant's site, along with the other considerations to keep in mind when building it. We then look at what type of web hosting you need, followed by our web hosting recommendations for a restaurant website.
Building a Restaurant Website
Menu Editing
Location Information
Custom Photo Display
Social Media Integration
Your restaurant's website should pull in your visitors and make them really want to try out your establishment. You definitely want to strategically place photos on your site, so photo display and editing capabilities are important. One of the primary reasons someone will visit a restaurant's site is to browse their menu. Make sure your website platform allows easy editing of your menus. Whether you have a single restaurant or multiple locations, you'll certainly want to include location information so people know how to get to your eatery. And, social media is a must for marketing and promoting your business.
Web Hosting Considerations
The first question you need to address is whether you want a traditional web hosting plan or you want to go with a website builder package. For many restaurants, the newer website builder options, such as Wix are ideal. However, if you want a more advanced or customizable website, than you're better off looking for a web hosting plan.
If you do opt for a web hosting package, be sure to select one that includes a content delivery network (CDN). A CDN is a great way to get your website to load faster—specifically, sites that contain a lot of static content such as photos. I would also look for a hosting plan that includes free advertising credits for Google, Yahoo, and Facebook. Advertising on the search engines and social media can really help get the word out about your restaurant.
Web Hosting Recommendations
A2 Hosting (Speed and Performance)


If you need more control over your website, you can utilize WordPress or another content management system. Since you really want visitors to have a good impression of your restaurant, speed and performance are particularly important. Therefore, you want to select a quality WordPress host that provides an optimized environment for speed and security. In our opinion, A2 Hosting is one of the best choices.
BoldGrid (WordPress)
If you prefer the flexibility and control of WordPress but want a quicker and easier way to build your restaurant's website, BoldGrid is the perfect blend of website building and WordPress functionality. You can select from a great selection of website templates and then customize your site using BoldGrid's drag and drop editor. Best of all, since BoldGrid functions as a group of WordPress plugins, you get the functionality of WordPress along with the freedom and control to move your website to any host that supports WordPress.
BoldGrid is available from a number of official BoldGrid hosts. I would recommend InMotion Hosting. Here is a sample of some BoldGrid restaurant sites.


DreamHost Remixer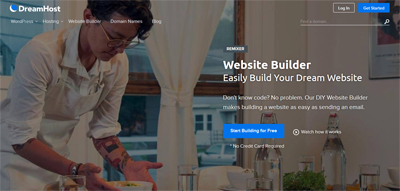 DreamHost's Remixer is the perfect choice if you're not sure if you should go with a website builder or a WordPress site. With the Remixer site builder, you can quickly and easily create a professional looking website. Then, if you decide later to change, you can easily export your Remixer site to WordPress.