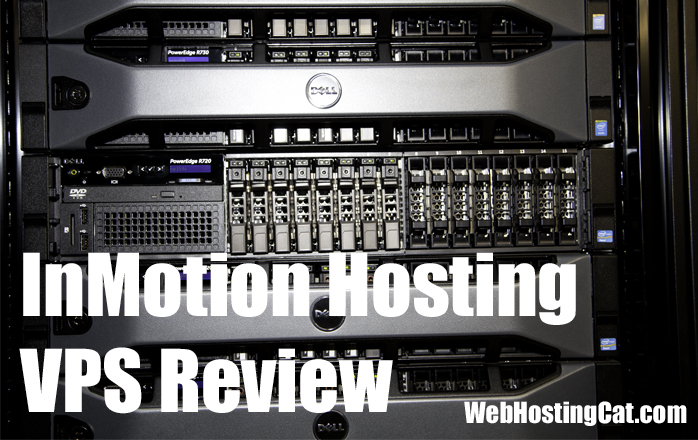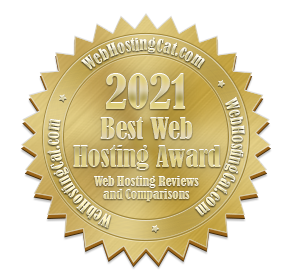 Since 2009, I've been a customer of InMotion Hosting and have enjoyed outstanding service and support with their shared Business Hosting plan. However, with increased traffic and resource demands, I made the decision to move up to a VPS hosting plan. As good as their shared hosting plans are, InMotion's VPS features are even more impressive, so it was an easy choice to go with their Managed SSD VPS Hosting—powered by the cloud.
If you're considering VPS hosting for your business website, or you need to move up from a shared web hosting plan, I encourage you to read about my experiences with InMotion Hosting's VPS and see my results.
InMotion has four different VPS hosting plans:
2GB RAM
4GB RAM
6GB RAM
8GB RAM

2TB Data Transfer
45GB Disk Space
3 Dedicated IP Addresses
$17.99 mo.

4TB Data Transfer
75GB Disk Space
3 Dedicated IP Addresses
$32.99 mo.

6TB Data Transfer
105GB Disk Space
3 Dedicated IP Addresses
$52.99 mo.

8TB Data Transfer
140GB Disk Space
3 Dedicated IP Addresses
$72.99 mo.
InMotion Hosting VPS Features
High Availability Feature for Real Time Redundancy
Free cPanel License
Free SSD Drives
Managed Hosting
Max Speed Zone Technology
Secure Email
Optimized for eCommerce
Resource Dashboard
Snapshot Functionality
DDoS Attack Protection
Free Data Backup
99.9% Uptime
90 Day Money Back Guarantee
After your account is set up, you can access it from the Account Management Panel (AMP). The interface is similar to InMotion's Shared Hosting, however you'll notice some additional options:

Manage My Cloud Server provides quick links where you can stop and restart your server, get root access, and access cPanel and WHM. You can also monitor your resource utilization for Bandwidth, Disk Space, RAM, and Load Average.
I really like the Server Snapshot feature you can also access from this area. When you create a snapshot, you're able to revert back to that state of your server files, databases, and configuration, should you ever have an issue and need to roll back. It's important to keep in mind that these snapshots are not meant as a replacement for proper full backups of your data—which you should still be performing. Once you create a snapshot, it's available for 10 days. If you want to keep it for a longer period, you'll need to purchase a long term storage slot.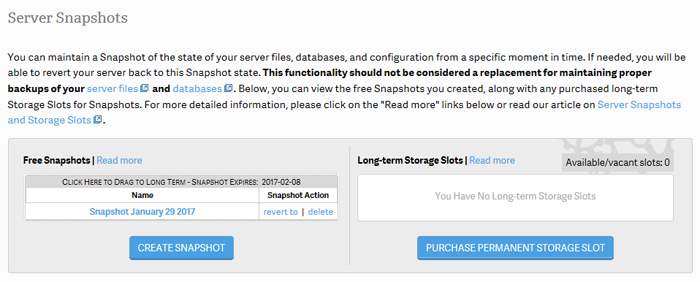 WHM (or WebHost Manager) allows you to modify and view items such as your server configuration, authentications, email delivery reports, etc.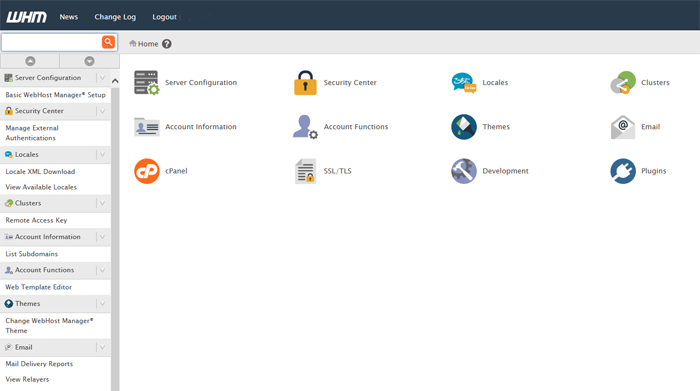 While the cPanel with InMotion Hosting VPS has a different look than their Shared Hosting cPanel, the functions and applications are the same (with a few additions). You can also access your server information on the right side column. One point to keep in mind is that the VPS cPanel doesn't include Softaculous for software application installations. You'll need to manually install your software, for example WordPress, or you can purchase a Softaculous license for $50 per year.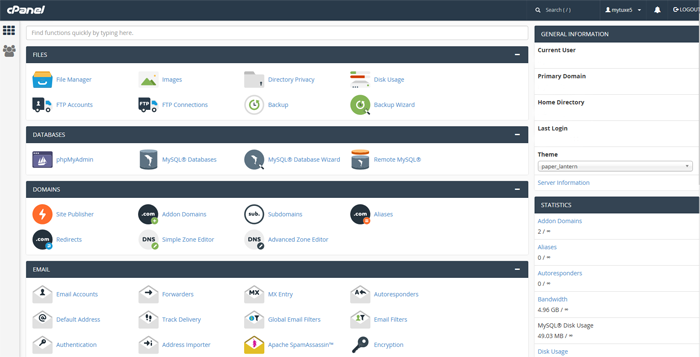 Speed and Performance
The major benefit of VPS hosting is the ability to handle greater resource demands so your websites can run smoothly even when your traffic increases. My experience so far with InMotion Hosting's VPS plan has been great. Website performance is excellent, and my website speed has even improved. Here is a comparison of my Shared Hosting results and my VPS Hosting results.



Customer Support
Customer support has always been one of InMotion Hosting's strengths. With VPS Hosting, it's even more imperative that you have a support team you can depend on. And in my case, InMotion provided their usual excellent assistance in helping me get set up with my VPS hosting account and to answer any questions I had about the switch to VPS.
Here is a sample chat transcript:

Recommendation
Overall, InMotion's VPS Hosting has been excellent. The additional resources combined with the high availability cloud server redundancy put InMotion at the top of our VPS recommendations list. I especially appreciate the managed hosting features along with their helpful customer support.
And, my website performance has been great—something that I've come to expect from InMotion Hosting over the years. I know there are many other customers that share my feelings about them. Here is a sample of some of the reviews posted on our site: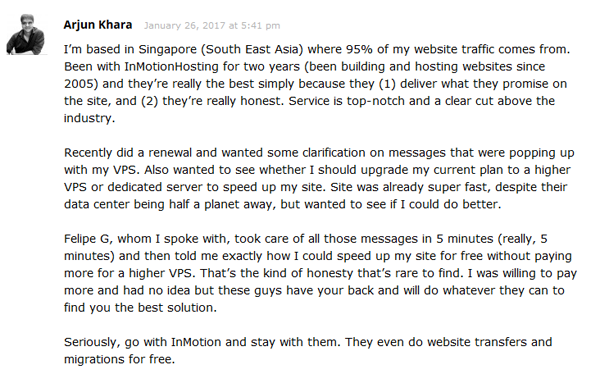 For business websites, having the guaranteed resources and added control over your server environment that you get with VPS hosting is critical—especially if you expect your website traffic to grow. And among all of the VPS hosting plans available, InMotion Hosting definitely gets my vote as one of the best.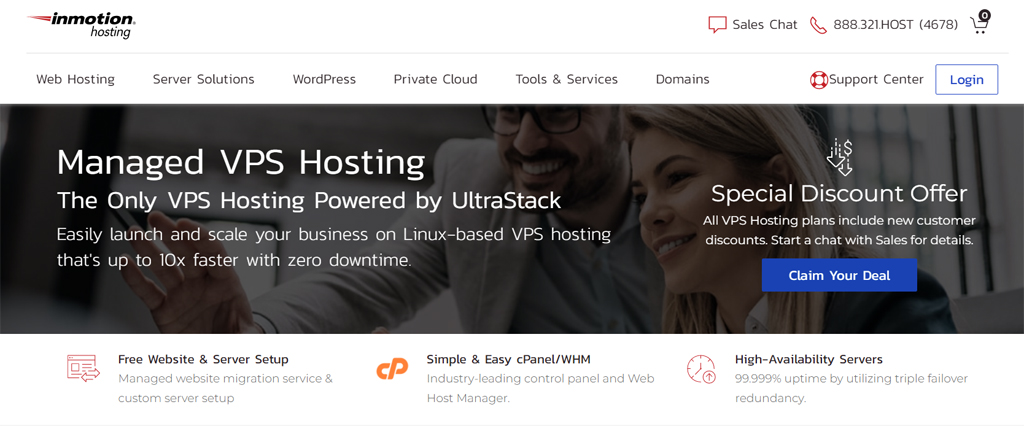 InMotion Hosting VPS Ratings
InMotion Hosting VPS Review Ratings
Features - 99%
Speed and Performance - 95%
Customer Support - 99%
Value - 99%