Bluehost often evokes a love them or hate them response from many website owners. For me personally, Bluehost has been a solid performer when it comes to Shared Hosting. But, how about their VPS hosting plans? We decided to try out their virtual private server package to see how well it compares with other quality VPS plans. See our results below to determine if Bluehost VPS is right for you.
Bluehost offers four different levels of VPS Hosting:
Standard
$19.99 mo.
CPU Cores: 2
Storage: 30GB
RAM: 2GB
Bandwidth: 1TB
IP Addresses: 1
Enhanced
$29.99 mo.
CPU Cores: 2
Storage: 60GB
RAM: 4GB
Bandwidth: 2TB
IP Addresses: 2
Premium
$49.99 mo.
CPU Cores: 3
Storage: 120GB
RAM: 6GB
Bandwidth: 3TB
IP Addresses: 2
Ultimate
$59.99 mo.
CPU Cores: 4
Storage: 240GB
RAM: 8GB
Bandwidth: 4TB
IP Addresses: 2
Bluehost VPS Features
Free Domain
Instant Provisioning
Enhanced cPanel
Root Access
Password Access Control
Servers Built on Cloud Technology
While the signup process at Bluehost is very quick and easy, there was some confusion as far as getting started. After signing up, you're taken to a login page. However, when I tried to access items in cPanel, I would get kicked back to another login screen. I had to wait a bit to receive my official Welcome Email which contained my new username, after which I could then login and access all the functions.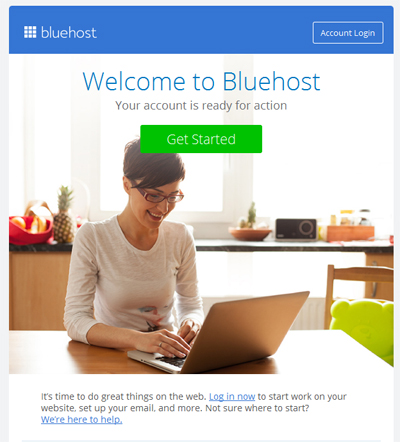 On the plus side, I like the Bluehost cPanel layout for VPS (similar to their Shared Hosting cPanel). And, one of the most convenient features of Bluehost VPS is that they include a one-click software installer for WordPress, Drupal, Joomla, PrestaShop, etc. With most other VPS plans, you need to manually install your software or pay extra for a Softaculous license.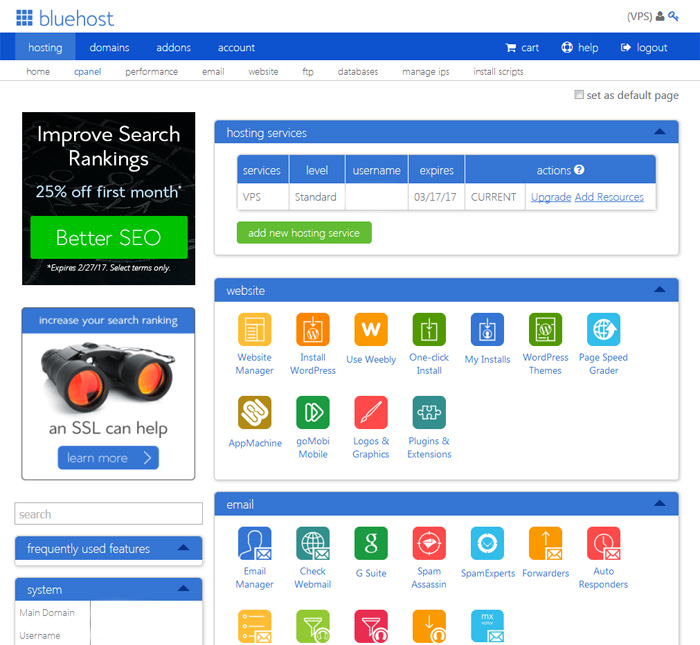 However, I wasn't crazy about their WHM (WebHost Manager) being rather hidden. I had to contact support to find out I needed to use the Hosting/Performance menu links to find the server management tools. From there, I needed to create a root password and then use the URL of my server IP to access WHM such as: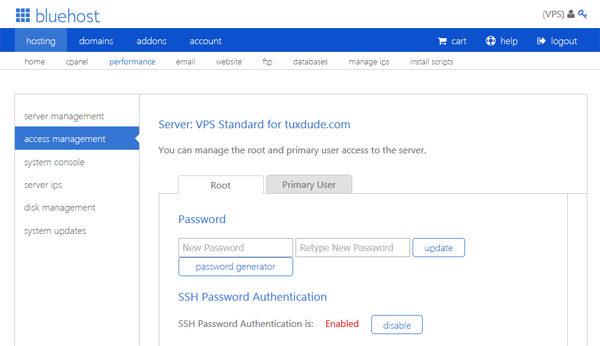 Once you finally log in to WHM, you get the standard WebHost Manager functionality. But, this is definitely the least user-friendly way to access WHM that I've encountered.
Speed and Performance
So far, website performance has been good. I haven't encountered any problems with website availability. Website speed has been acceptable, though not the fastest we've seen with VPS hosting.
Customer Support
Bluehost's customer support has always been helpful and courteous. The issue in the past has been consistently long wait times with their live chat support. However, I'm pleased to report that things have improved and the response times are now not as long.
Here is a sample live chat I had concerning VPS setup: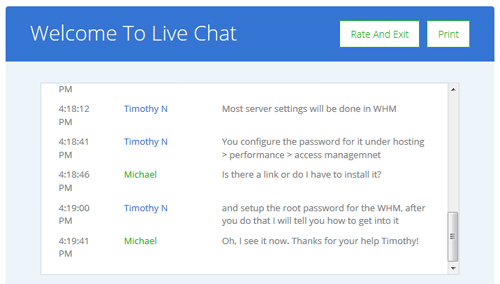 Recommendation
For current Bluehost Shared Hosting customers, going with a VPS hosting plan there makes more sense than if you're looking to transfer from another host or simply want to start out with a virtual private server. If you're already familiar with the Bluehost environment, then switching to their VPS will be an easier transition.
In terms of features and performance, Bluehost would neither be the best or worst option you could choose. Again, if you like Bluehost shared hosting, you'll probably appreciate their VPS hosting plans—if not, there are other VPS web hosting choices out there.
Click Here for More Details on Bluehost VPS Hosting
Bluehost VPS Review Ratings
Features - 87%
Speed and Performance - 90%
Customer Support - 92%
Value - 85%