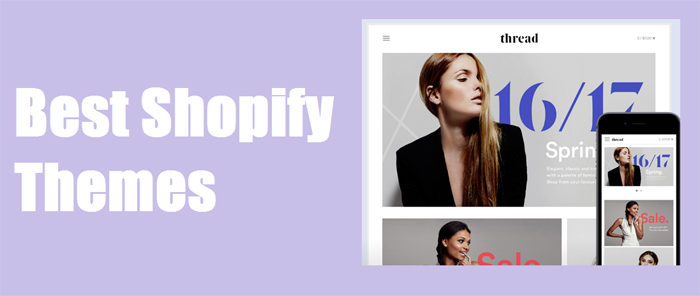 Continuing our look at Shopify as one of the better options for creating an eCommerce website, we now focus on the best Shopify themes that are available to use for your online store. This list includes both free and premium Shopify themes.
Best Free Shopify Themes
You can implement the free themes directly from Shopify. There are actually some really nice ones that are perfect for beginners.
Minimal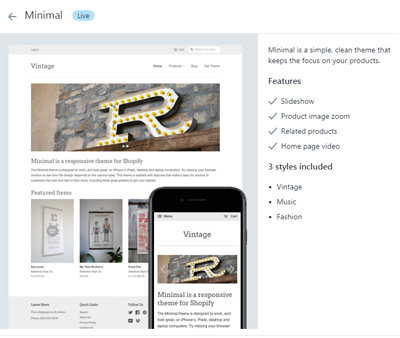 Minimal is my favorite free Shopify theme and the one I'm currently using. With Minimal, you can include a slideshow product showcase and a home page video. You also get product image zooming and filtering. And, you also have the ability to display related products.
Brooklyn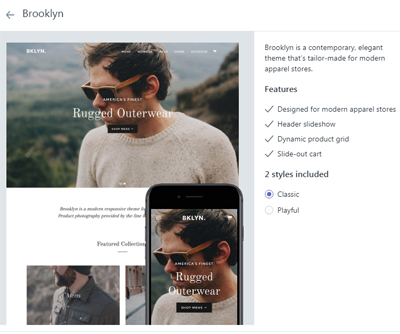 The Brooklyn theme is great for apparel stores. The slide out cart allow customers to add items to their cart without leaving their current page. You can show multiple products with a header slideshow. And Brooklyn also features a dynamic product layout grid.
Supply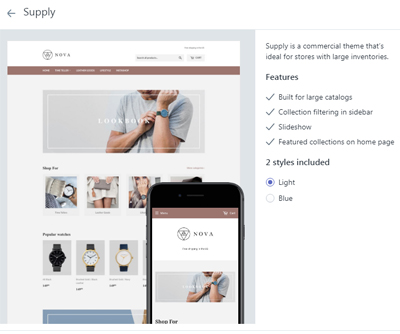 The Supply theme is a good choice for stores that have large inventories. You can display multiple featured collections and your customers can filter these collections by brand, price, or other options that you can customize.
Pop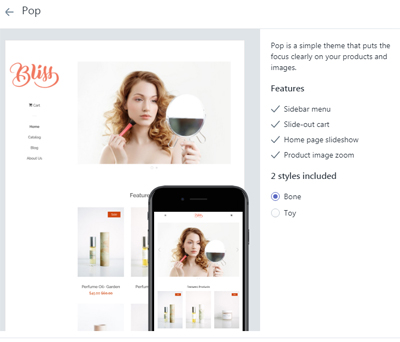 Pop is a simpler theme that focuses on your product images. Like some of the other free themes, Pop includes a slide out cart and product image zooming capability. There is also a sidebar menu for easier navigation.
Boundless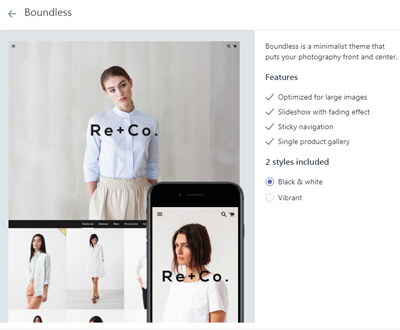 The Boundless theme is perfect for those of you that want to showcase your photography in your online store. Boundless is optimized for large high resolution images. Your collection images are shown in full-width layout size. Slideshows feature a fading effect. And, this theme also includes sticky navigation, where your menus remain at the top of the page when someone scrolls down.
Best Premium Shopify Themes
You can purchase premium Shopify themes from the Theme Store. They will cost around $140 to $180. These premium themes offer more functionality and are better suited for advanced online stores.
Envy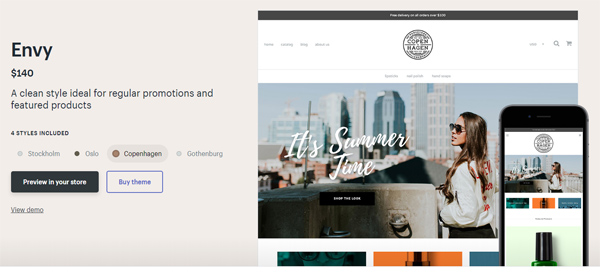 The Envy theme provides the ability to include promotions or discounts on the homepage of your store. You can also display popup promotional messages. You also get multi-level dropdown menus and product image zooming. And, you can include your Instagram feed.
Showtime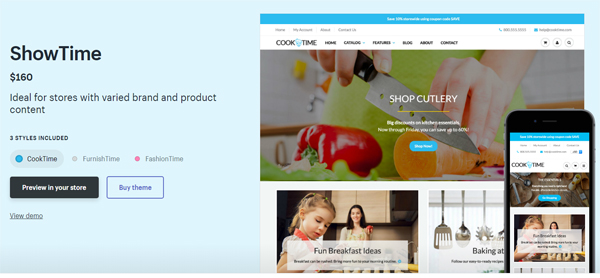 Showtime is a great theme if your store has a wide variety of brands and products. Multi-level and multi-column menus allow for easier and quicker navigation. Showtime also includes product filtering capability as well as product detail popups. You can also display videos on your home and product pages.
Label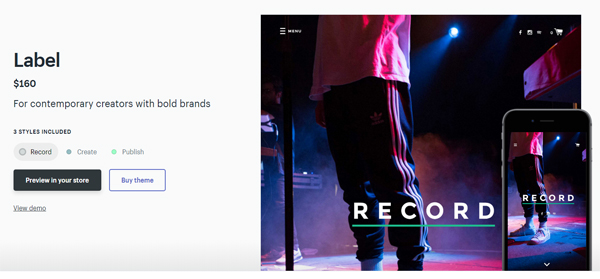 The Label theme gives your store a more contemporary look. This theme is ideal for musicians and publishers. Larger high resolution images can be displayed and upcoming event details such as tour dates can be included on your homepage. You can also display your Instagram feed in a full-width feed format.
Venue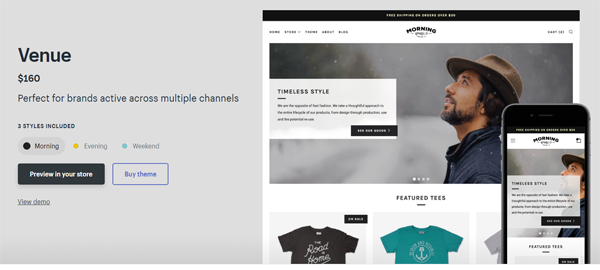 Venue is a great choice if your store features brands that are active across multiple channels. For example, if your business has physical stores, you can include information about your multiple locations and events. You can also include maps and details on your store's multiple locations. The Venue theme also lets you display a video gallery on your homepage. There is also an age verification checker popup.
Canopy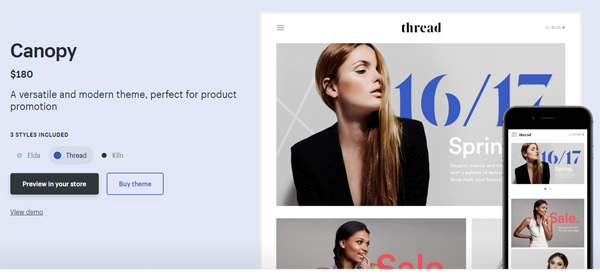 The Canopy theme is highly focused on product promotion. It's ideal if your store includes a large number of products. You get two menu options: A large horizontal menu or a slide out sidebar menu. The quick buy feature allows your customers to easily add items to their cart from the current page.