Green web hosting has become increasingly important for those of us interested in saving our environment. In case you aren't aware, the effects of the web hosting industry on the planet are potentially enormous. That's why it's a great idea to look for the Best Green Web Hosting.
Because of the energy web hosting companies use to power and cool their data center facilities, the web hosting industry could soon become similar to the airline industry when it comes to pollution. The good news is that some web hosts are now becoming eco-friendly by putting more energy back into the grid than is used. And the new energy that is returned to the grid is produced by wind farms.
So if you've decided that going with a green web hosting company is the way to go for your website, what are your best options? Here are four green web hosting alternatives that we like.
GreenGeeks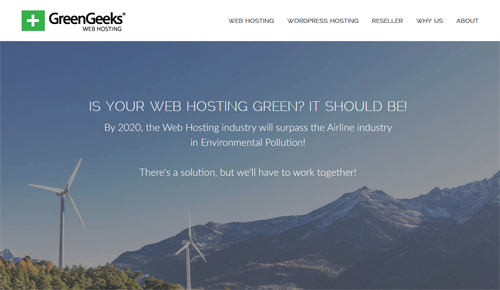 With a name like GreenGeeks, you might expect them to be involved with green hosting. In fact, GreenGeeks is absolutely the industry leader when it comes to green web hosting. Utilizing a very impressive 300% renewable energy, helping out the planet is their top priority—in addition to providing an excellent web hosting experience for their customers.
GreenGeeks has been an EPA Green Power Partner since 2009.
I got to spend a lot of time with GreenGeeks' CEO Trey Gardner and the GreenGreeks Team last year. It was a great opportunity to get to know the company–especially their mission and values. And, of course Green Web Hosting was at the top of their list.
Realizing that the web hosting industry was one of the biggest polluters out there—and even about to surpass the airline industry—Trey decided something needed to be done. And so, GreenGeeks partners with the Bonneville Environmental Foundation that helps the company put back 3 times the energy they consume back into the grid using wind farms.
Best of all, GreenGeeks is not only recognized as a Green Power Partner by the U.S. EPA, but they're also committed to helping their customers achieve success.
GreenGeeks is Great for:
Bloggers
Small Business Sites
WordPress, Joomla, Drupal
A2 Hosting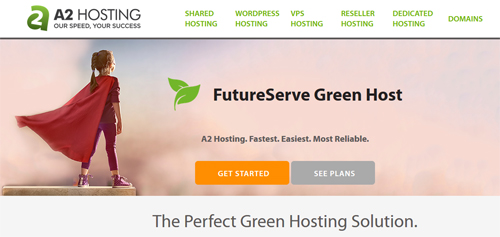 While A2 Hosting provides lightning fast web hosting and excellent customer support, you might not be aware that they're also one of the best green web hosting providers. First off, A2 is headquartered in Ann Arbor, Michigan—that's where the A2 name comes from! Ann Arbor is known as Tree Town, and A2 Hosting has held a number of tree planting promotions.
A2 Hosting has partnered with Carbonfund.org in order to fully offset the CO2 emissions from their servers. And they also participate in a number of other green hosting practices including allowing their employees to telecommute, recycling their old servers, reducing their trash, and utilizing solid state hard drives that use less energy.
A2 Hosting is an excellent choice for WordPress and business website hosting if you're looking for a solid green web host.
A2 Hosting is Great for:
WordPress Websites
Business Websites
Bloggers
InMotion Hosting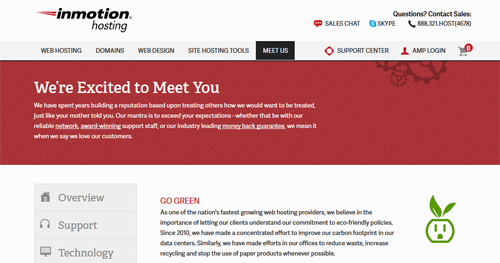 InMotion Hosting is outstanding when it comes to business, VPS, and Dedicated web hosting. And, when it comes to green web hosting, they also shine. With the first ever green data center in Los Angeles, CA, and reducing their carbon output more than 2000 tons per year, InMotion is another great choice if you want a great green web hosting alternative.
InMotion is Great for:
WordPress Websites
Business Websites
eCommerce Websites
DreamHost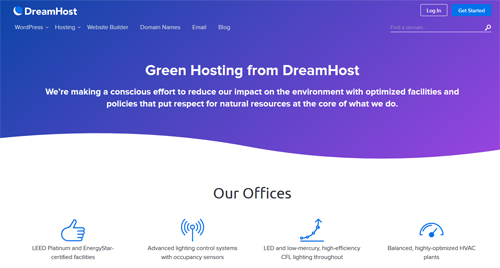 DreamHost has one of the most extensive green hosting programs for their offices, data centers, and employees. DreamHost uses EnergyStar certified facilities with occupancy sensor lighting control systems. Their data centers are powered by electricity from renewable sources. They use power efficient processors and utilize a high efficiency cooling system. And, DreamHost partners in clean wind programs.
DreamHost employees can take advantage of work from home policies, and video conferencing is used when possible. Electronic forms are used to reduce paper usage. And, there are recycling bins in every office!
So, in addition to being on the WordPress.org recommended list, DreamHost is also a top green hosting provider.
DreamHost is Great for:
WordPress Websites
WordPress Beginners
The good news is that with green web hosting becoming more and more of a concern to many web hosting companies; it's much easier to find a web hosting plan that is environmentally friendly.
Best Green Web Hosting Recommendations
Web Host
Price
Green Features
GreenGeeks
$2.95 mo. – $16.95 mo.

300% Renewable Energy
EPA Green Power Partner
Energy Efficient Hardware
Environmentally Friendly Data Centers
Partners with Bonneville Environmental Foundation

A2 Hosting
$2.99 mo. – $14.99 mo.

Partners with Carbonfund.org to fully reduce CO2 emissions.
Recycling of Old Servers
Employees Telecommute
Reduction of Trash
Solid State Hard Drives using Less Energy

InMotion Hosting
$2.49 mo. – $12.99 mo.

First Ever Green Data Center in Los Angeles
Carbon Output Reduced by More than 2000 Tons per Year.

DreamHost
$2.59 mo. – $12.00 mo.

EnergyStar Certified Facilities
Powered by Electricity from Renewable Sources
Employees Work from Home
Electronic Forms Reduce Paper Usage
Recycling Bins in Every Office