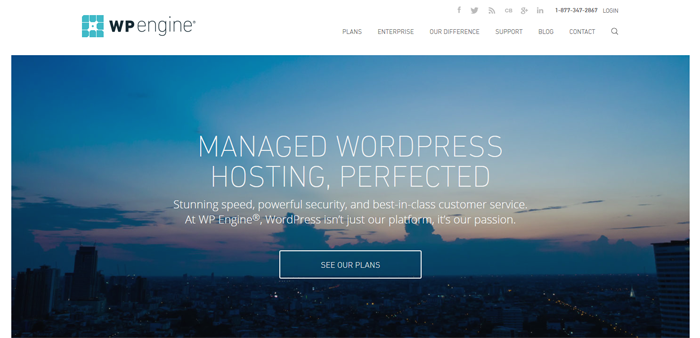 With the recent announcement that HostGator is now offering a managed WordPress hosting plan, the field is now more crowded than ever. But although there seems to be a new managed WordPress plan debuting every week, there's still one web hosting company that remains the measuring stick when it comes to WP hosting. WP Engine remains a favorite among many in the WordPress community for fully managed hosting.
While you probably have heard about WP Engine, there are some things you might not be aware of concerning their hosting services. Here's a list of ten items you should know if you're considering choosing WP Engine:
1. WP Engine is completely focused on Managed WordPress Hosting.
Unlike other hosting companies that include WordPress hosting among many other types of services, WP Engine only provides hosting for WordPress sites.
2. WP Engine doesn't use nameservers.
Usually when you transfer your site to a new web host, you need to change the nameservers of your domain. However, since WP Engine does not use nameservers, the process is a bit different. You'll need to change your DNS zone record.
3. WP Engine disallows certain plugins and themes.
Because WP Engine uses their own proprietary technology, certain plugins and themes are disallowed to avoid conflicts or poor performance.
4. WP Engine accepts annual or monthly payment.
For those of you who may not want to commit to an annual hosting term, WP Engine is one of the few hosting companies that accept payment on a month to month basis.
5. WP Engine does not accept PayPal or payment by check. So be sure to have your credit card ready.
Most people don't mind paying for their hosting with a credit card. But just in case you prefer to pay by PayPal or check, be aware that WP Engine currently does not accept these forms of payment.
6. WP Engine's EverCache technology eliminates the need for caching plugins.
Going back to #3 above, caching plugins are one type that WP Engine disallows. This is because they instead utilize their own EverCache Technology for faster site loading.
7. WP Engine's user interface includes animated audio walkthroughs to guide you through certain tasks.
The WP Engine dashboard is very easy to work with. However, because certain topics may require additional help, they include animated audio walkthroughs that you can use as tutorials.
8. WP Engine lets you manually set backup points that you can restore your site from in addition to daily automated backup points.
WP Engine's backup mechanism provides you with added protection in case you need to restore your site.
9. WP Engine's staging area allows you to work on a copy of your website when making changes.
This allows you to preview all of your work before you push it out to production.
10. WP Engine is currently running a 20% discount sale.
Until July 31, you can get 20% off plus two free months of hosting.