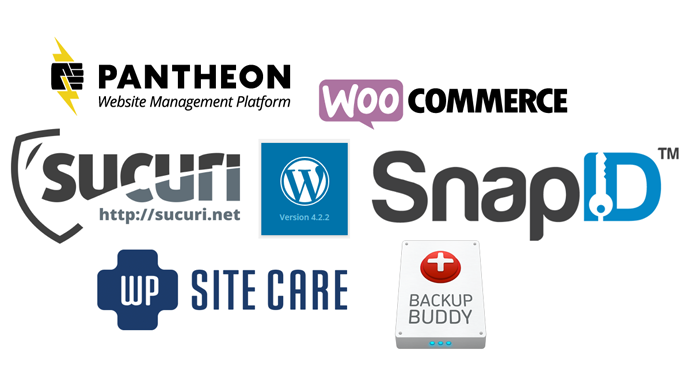 WordPress has continued to evolve from a blogging platform to a full-fledged application content management system. To get the most functionality and best performance out of WordPress, serious WP users should consider the following products and services as they continue to build their WordPress sites.
StudioPress
While there are many sources for WordPress themes, StudioPress continues to be my favorite for professional, highly functional, and easy to manage themes. The Genesis Framework, along with excellent child themes, is perfect for many types of websites.
Sucuri
When it comes to WordPress website security, the one name you're bound to hear is Sucuri. They are clearly a leader in preventing malicious attacks to your WordPress sites. Sucuri's services include malware cleanup, security monitoring, DDoS mitigation, website blacklist repair, performance optimization, and more.
Pantheon
Pantheon takes managed hosting to the next level. Along with hosting, you get a full website management package—perfect for development teams. Pantheon includes workflow, staging, version control, and backup.
WooCommerce
If eCommerce is the goal of your WordPress site, then you should definitely consider WooCommerce as your selling vehicle. WooCommerce makes it easy to integrate eCommerce features such as inventory, payment processing, shipping methods, and detailed store reports via your WordPress dashboard.
ecwid
ecwid is another affordable eCommerce solution for WordPress sites. With ecwid, you can also sell products from mobile phones, social sites, and marketplaces like Google and Yahoo.
BackupBuddy
The importance of backing up your WordPress website can't be over-emphasized. While there are a number of ways you can back up your site, BackupBuddy offers one of the easiest and convenient ways to ensure you're protected in case of an emergency.
WP Site Care
If you need some extra help with your site's SEO, performance optimization, security, or backups and updates, then WP Site Care may be your best option. Some of the benefits that come with WP Site Care are 24/7 security monitoring, automated backups, and great support.
ServerPress.com
For WordPress developers, DesktopServer from ServerPress.com is invaluable in helping you design and develop sites on your local computer. Desktop server is easy to use and can save you a lot of time.
EventAppi
Do you have an event related WordPress site? If you need to start selling tickets, then EventAppi might just be what you need. This plugin is extremely robust and works on all browsers.
Snap ID
Usernames and passwords are frequently not strong enough to protect your website against attacks. With SnapID's two-factor authentication plugin, you log into your site by sending a text message via SMS. SnapID is currently in private beta.