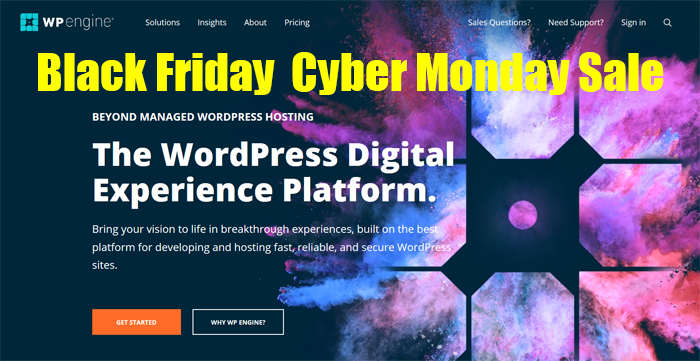 WP Engine is offering their best discounts on Managed WordPress Hosting during the WP Engine Black Friday Sale. It begins on November 23, 2020, and runs thru December 4, 2020. WP Engine is a company I highly recommend to those of you looking for managed WordPress hosting.
The WP Engine Black Friday Sale is absolutely the best time for new customers to get a great deal on outstanding WordPress hosting. With this year's WP Engine Black Friday Sale, new customers can save as much as $1208.00.
Click Here during the sale period and enter "CYBERWPE30" to Get the WP Engine Black Friday Discount Prices
WP Engine is offering 5 Free Months of hosting when you purchase an annual plan. The discount applies to their Startup, Growth, and Scale plans. So, whether you need WordPress hosting for just one site, or multiple websites, you can take advantage of this special offer.
What I really like about WP Engine is that they're not only dedicated to managed WordPress hosting, but they continually look to improve their hosting products to remain the industry standard. For example, in recent years WP Engine has added the following features to their hosting plans:
Faster Performance with Google Cloud Platform Virtual Machines
Free StudioPress Themes
Transferable Installs
Billing Transfer
Page Performance Tools
While individual website owners can benefit greatly from WP Engine's premium hosting features, WordPress agencies along with developers and consultants can take advantage of even more beneficial features. WP Engine includes development, staging, and production environments with all hosting plans. Also, transferable installs and billing transfer features allow for easier website delivery to clients.
WP Engine is a winner in all categories of WordPress hosting. The combination of website performance and support they provide are exactly what you want in a managed hosting plan.
To get the WP Engine Black Friday discount, just click the link below during the sale period and enter code CYBERWPE30