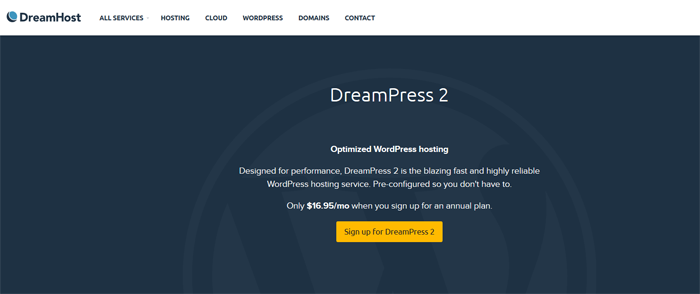 After their initial optimized WordPress hosting effort DreamPress, DreamHost is now offering an updated version called DreamPress 2. With DreamPress, there is both good and bad news. On one hand, you get email included with your plan—which is generally not included in managed WordPress hosting plans. However, on the other hand DreamPress 2 does not include staging or an automated backup system.
Signing Up
Although the signup process itself is super easy for DreamPress 2, getting you website set up is another story. See the next section.
Account Setup and Control Panel
After signing up, you receive a welcome email saying that your account is ready. However, when I logged in, nothing was available on the control panel. Customer support informed me that it would take 30 to 45 minutes for the account setup process to complete—which is fine, but it would be nice to informed about that upfront.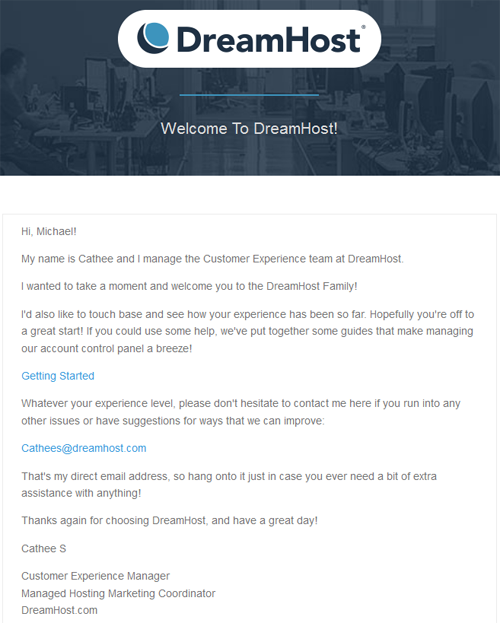 There was also a problem receiving my WordPress admin password. Again, I had to contact support to resolve the issue. I was informed by them that there is sometimes an issue with the process.
As for the DreamPress control panel, it's basically the same one you get with DreamHost's shared hosting plan. For me, it's a bit too busy—making features very hard to locate. And quite a few menu "options" are really upgrade promotions.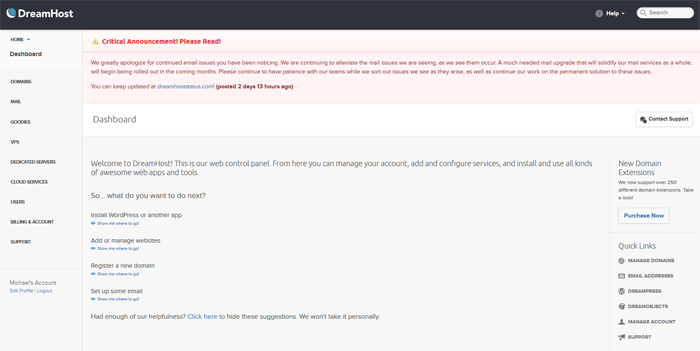 Premium Features
On the positive side, with DreamPress you get the ability to create email accounts—unlike most managed WordPress hosting plans. However, there isn't any staging functionality, there isn't an automated backup and restore mechanism, and you can only host one WordPress site per DreamPress account. We would certainly expect more from a managed hosting plan.
Website Performance
In terms of website speed and performance, DreamPress was all over the map in our testing. Sometimes speed was great. Sometimes it was so-so. And other times, not very good. Given that DreamPress includes VPS with their hosting plans, these inconsistent website speeds were somewhat disappointing.
Customer Support
I've always found DreamHost's customer support agents to be very knowledgeable and helpful. The problem is that there are frequently long wait periods for a response via live chat. And sadly, that's still the case with DreamPress. Once you get connected to a support person, things are fine. It's just that there always seem to be delays in getting connected—even late at night.
Recommendation
While DreamPress 2 is fine for a personal WordPress site, we were definitely disappointed with the lack of several key features we consider vital for true managed WordPress hosting (i.e. automated daily backup, staging). We're also disappointed that DreamHost hasn't updated and simplified their control panel. And finally, support wait times continue to be longer than we'd like. Personally, I'm looking forward to DreamPress 3—which I hope will address these issues.
DreamPress 2
Reviewed by
Michael James
on
.

Rating:
3