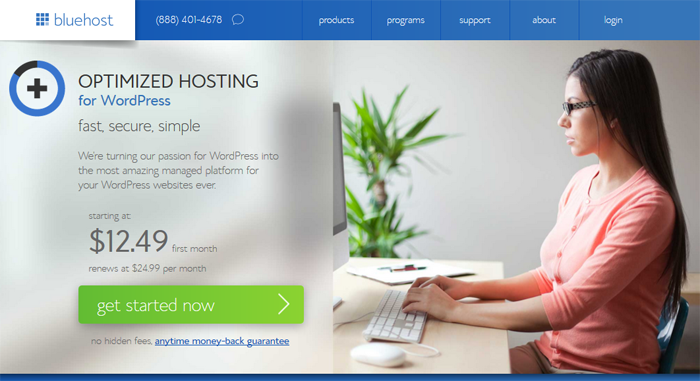 One of the most popular posts on our site is my comparison of managed WordPress hosting plans from WP Engine, DreamHost, and GoDaddy. We've also done other comparisons of WordPress hosting that focused on different level price plans (expensive, moderate, and budget).
The recent debut of Bluehost's Managed WordPress Hosting plan continues the trend of web hosts providing special attention to the popularity of the content management system. Since this new web hosting package from Bluehost is aimed at those looking for an upper end WordPress plan, let's take a look at what you get—and how it specifically compares to WordPress hosting plans in the same price range (WP Engine and DreamPress from DreamHost).
I've previously used Bluehost Shared Hosting and had good results. They also offer VPS Hosting—which functions as the base for their new WordPress hosting. But, I'm told by Bluehost that their new WordPress Hosting is much faster for WordPress sites. The new service comes in four different levels (Blogger, Professional, Business, and Enterprise). The entry or base level plan (Blogger) is especially impressive as you get 30GB of storage and backup, along with 2GB of RAM. You're also allowed 100 million visitors per month. Unlike some other managed WordPress hosting plans, you get multiple WordPress installs. And with Bluehost's ManageWP tool, you can easily manage and migrate multiple WordPress sites.
Speed and security for your WordPress sites are also addressed. With the new Bluehost WordPress plan, a content delivery network by SiteLock is provided for increased page loading speed. And, SiteLock Pro gives your site added security protection. Add in dedicated and automated data backups, an enhanced cPanel interface, and expert WordPress support–and you get one of the most impressive WordPress hosting solutions available.
Bluehost WordPress Hosting vs. WP Engine
How does Bluehost stack up against WP Engine–one of the premier WordPress hosting companies? As it turns out, Bluehost fares very well in many areas. From a value standpoint, Bluehost's WordPress Hosting costs a little less than WP Engine. And, you get more flexibility in terms of more WordPress installs allowed, as well as more site visitors allowed per month. Bluehost's plans also give you more disk storage. And unlike WP Engine, the Blogger (or entry level) hosting plan comes with a content delivery network (CDN)—at WP Engine you need to pay an addition $19.95 mo. with their base level plan.
So, does WP Engine have any advantages over Bluehost? Yes. One of WP Engine's best features is their staging area for your WordPress sites. This development environment lets you test out any of your site updates and changes thoroughly before you push them out into production. It's especially valuable when implementing new plugins.
WP Engine also provides you with one-click restore point capability—so you can take a snapshot of your WordPress files and database. You can then easily restore your site to that point if you need to in the future.
And, WP Engine provides you with their proprietary Ever-Cache Technology which allows you to forgo any caching plugins for increased speed.
When comparing the new Bluehost WordPress Hosting with WP Engine, Bluehost looks like the better option for small to medium size business sites, as well as personal WordPress bloggers. For enterprise level WordPress sites, WP Engine remains the top choice.
Bluehost WordPress Hosting vs. DreamHost DreamPress
Now let's compare Bluehost WordPress Hosting with a more similar offering from DreamHost (DreamPress). Both of these WordPress hosting plans let you choose any theme or plugin you want. And both plans are based on solid VPS technology. At first glance, DreamPress may appear to be less costly ($19.95 mo. vs. $24.99 at Bluehost). But, keep in mind that with Bluehost you can host a minimum of 5 WordPress sites. With DreamPress, you need a separate account for each of your WordPress sites.
Personally, I like that Bluehost's WordPress hosting comes with cPanel and the fact that you can do multiple WordPress installs even with their base level plan. Though these are both quality web hosts and excellent WordPress hosting plans, I think Bluehost has come up with a winner that gives them an edge over DreamHost when it comes to WordPress hosting.
Here are some key points to consider:

Bluehost
$24.99 mo. ($12.49 first month)
Multiple WordPress Installs
Use Any Theme or Plugin
cPanel Interface
100 Million Visitors per Month
SiteLock CDN
SiteLock Pro Security
Manage and Migrate Multiple WP Sites

WP Engine
$29.99 mo.
1 WordPress Install
25,000 Visits per Month
Proprietary Ever-Cache Technology
Staging Area for Pre-Production Development
Dedicated to WordPress Hosting

DreamPress
$19.95 mo.
1 WordPress Install
Unlimited Storage and Bandwidth
Use Any Theme or Plugin
Automated Daily Backups
Varnish Caching Accelerator