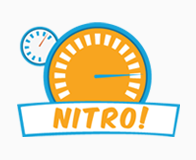 As a follow up to my recent post on the new hosting package structure at Web Hosting Hub, I did some further research and contacted them for more information. At this time though, it seems there aren't really any concrete specifics as to exactly what the new hosting plans will contain. The current hosting plan at Hub is now referred to as the Spark plan. The two new levels of web hosting plans are called Nitro and Dynamo.
Below is an excerpt of the information I was given from Web Hosting Hub:
Basically, these new packages utilize new technology that borrows from VPS concepts of resource management and applies them in a shared environment. This new system more clearly shows ours customers what resources they are using, effects their fixes may have, and when they should consider looking at higher package levels.
So in general, these new hosting plans will provide more power and resources. However, again at this point they haven't given specifics regarding just exactly what you're going to get with Nitro and Dynamo.
I do find it interesting the way they have labeled their hosting plan lineup. I use Web Hosting Hub myself for some of my sites, and I have been very pleased with the features and performance. However, the Spark plan (the one current customers like me have) is recommended for first-time web builders with sites with minimal content and traffic. In my experience with Hub, my hosting plan has been more than capable of handling more complex sites.
The Nitro plan is billed as being suitable for more experienced webmasters with multiple websites and moderate traffic. The Dynamo plan is for well-experienced webmasters and designers and sites with considerable content and traffic. Also of note, the Dynamo plan will be available only to existing customers.
How this will all work out is going to be kind of intriguing. I've been assured that my current plan will remain the same. But I would certainly consider it as more than just a beginner/starter hosting package. So, it appears that the Nitro and Dynamo plans are Web Hosting Hub's alternative to VPS and Dedicated Hosting (i.e. something more than a traditional shared hosting package). As I said, it will be interesting to see how it actually pans out.