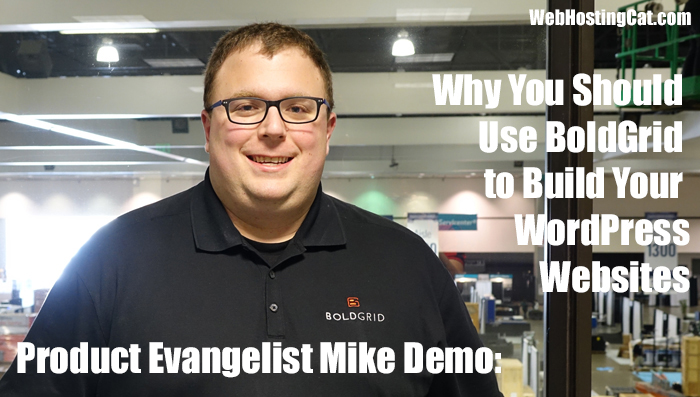 Why You Should Use BoldGrid to Build Your WordPress Sites
Are you looking for a quicker way to build professional looking WordPress sites? BoldGrid is a suite of website builder plugins that includes great looking templates, provides an easy drag and drop page builder interface, and allows you to get your WordPress website online fast. Originally started along with InMotion Hosting, BoldGrid is now a completely separate company with the application now available for installation via Softaculous in cPanel.
We were one of the first to try out and test BoldGrid last year. I definitely liked the product then and am pleased to learn that there have since been a number of improvements (some of which I had suggested back then). To find out what's up with BoldGrid these days, I recently sat down for an interview with Mike Demo, the Product Evangelist at BoldGrid.
Web Hosting Cat: Why do you prefer BoldGrid as your website builder?
Mike Demo: I've been doing open source CMS for years. I started in the Joomla community and then reached out to the WordPress community. But, there's a lot of people out there, small businesses, that just need a site. They don't really know how to code and they can't afford a full developer. You can spin up a site with BoldGrid in about a half-hour to an hour—full content, get going–and really allow that small business to do be able to focus on what they're best at which is working in their business and not have to be worried about a website build.
WHC: What types of WordPress sites is BoldGrid appropriate for?
MD: It depends because BoldGrid is a suite of plugins. For the absolute beginner who knows nothing about the web, that's great for small businesses, mom and pops, bakeries, restaurants, things like that. But if you're an agency, we have more advanced developer tools such as a framework as well as a page builder that is built off of Bootstrap. So it's really appropriate to use it for any site that's out there—you just might not use the whole suite depending on how complex your site is.
WHC: Can BoldGrid be used to create an eCommerce WordPress site?
MD: Yeah, you definitely can. We do have integration with WooCommerce right now—a very popular WordPress eCommerce platform. There's documentation on BoldGrid.com on how to get it to work with WooCommerce, as well as you can use any WordPress widget from another third party plugin side of the tool—because it is just WordPress.
WHC: How does BoldGrid differ from Wix or SquareSpace?
MD: Wix and SquareSpace, those tools are pretty awesome. If you've ever played with them, you've got some beautiful stuff. The issue that some people have with some of those tools is there's a limit—they hit a wall that they can't do something they want to do. And then they have to build their own site and then they get sticker shock because they're starting over. We're trying to avoid that. We give you that functionality—very similar—but inside of an open source framework, which is WordPress. So when you need to extend it, you can. And, you own your content. You can take it with you, move it to another platform—it's true open source.
WHC: While BoldGrid utilizes WordPress pages, can you easily integrate your blog into your site?
MD: On the most recent version of BoldGrid we added blog functionality. So now when you're spinning up your site, it will ask you, "Would you like a blog?" And you say yes or no and it stitches it all together and you don't have to do it separate.
WHC: Can you share with us any tips you have on working with BoldGrid more efficiently?
MD: The easiest way is to use an official BoldGrid host. You can host it anywhere you'd like, but if you choose a BoldGrid official host they're going to have phone support. So when you have questions you can call them up and they'll be able to walk you through it. Kind of think about what you want your site to be. Make a wish list of all the cool features and everything you want to have in your website, and then take away anything that isn't critical to your operations from day 1. You don't need to start with a 50 page site. Just start with a five page site with the basic information, and then slowly just try to add a feature or a page a month—and then your site will grow organically and you'll be able to learn the tool from there.
WHC: Can an existing WordPress site be migrated to BoldGrid easily?
MD: Sure. You have two ways you can do that. When you install BoldGrid it's going to detect and say, "Hey, you already have a WordPress site here. Do you want to put this new BoldGrid site in the Staging?" BoldGrid does have built in staging, so you don't have to have a separate server for that. And you can build everything in your BoldGrid staging server. There's a one-click of your pages. All your existing content you can copy over to your BoldGrid site–lay it all out as you'd like it. Once it's perfect, then one-click deploy it. And then you won't have to worry about bringing down you live site when building your new one.
WHC: How does the staging functionality work in BoldGrid?
MD: Staging is obviously something that is a good idea and a best practice. Whenever you would do an edit on your site, you should do it in a different environment. The traditional way to stage is you could set up a local server on your computer. You could buy a second hosting account, and then and try to move it back over. But WordPress, again you have to have some technical knowledge. So what we did is we just added a hidden post type. So you've got live, draft, published. We just have a hidden group that's called Staging. And then, you can keep it all within the single database of WordPress, and then when you're ready we just flip it over. It's not a replacement for the traditional staging environments that are out there. But for those people that are going to edit on production, it's a great way for them to have that safety net.
WHC: Are there any additional features or improvements that are coming in the future for BoldGrid that you can share with us?
MD: For those hosting accounts that use Softaculous, the hosting company admin can enable in the WordPress integration when you one-click install WordPress "Would you also like to install BoldGrid Inspirations?" Now if you don't see it, just put in a ticket with your support at the host. And then you can actually just one-click spin up a BoldGrid site when you're spinning up your WordPress site if you have Softaculous in your control panel.
There will be a market place, so you'll be able to buy third-party supported plugins that are meant and built for BoldGrid from some of these really big plugin developers. We have tight integration with stock photography. We're going to be looking at a more enhanced stock photography system in the coming months. So they'll be some cool features.