So, you want to create your own WordPress website? WordPress is a great choice. And, you're not alone in your thinking. About 25% of the entire web is now WordPress! While you can get a blog on WordPress.com, we always recommend you create your own self-hosted website from the WordPress.org software download. You'll have much more freedom and control—not to mention that it will look much more professional.
Creating a self-hosted WordPress site is much easier these days. The first step is to get your own domain name for your website and purchase your web hosting. Many hosting companies will even provide a free domain name when you sign up for their web hosting plan. Of course, not all web hosting companies, or web hosting plans for that matter, are the same. When you're planning to build a WordPress site, there are definitely some features you should be certain are included with your hosting plan.
I strongly recommend that you make sure the following items on our WordPress Hosting Checklist are included in the web hosting plan you purchase.
WordPress Hosting Checklist Items
–Easy and Quick Installation of WordPress
–Automated Updates
–Optimized Caching Environment
–Proactive Website Security
–Automatic Daily Backups
–Multiple Data Center Locations
–Free SSL Certificates
–Content Delivery Network (CDN)
–Latest Versions of PHP Supported
–Fast Responsive Customer Support
Easy and Quick Installation of WordPress
To get up and running quickly, look for one-click WordPress installation or better yet pre-installation of WordPress when you purchase your hosting.
Automated Updates
Keeping your software up to date is one of the best ways of protecting your website from being hacked. With automatic WordPress updates, you can be sure you're running the latest version.
Optimized Caching Environment
WordPress by itself isn't always the fastest software application. However, if you get a web hosting plan that includes either proprietary caching technology or an optimized caching environment, your site speed can definitely be improved.
Proactive Website Security
Because website security is vitally important, always look for malware scanning and other proactive security features.
Automatic Daily Backups
Automated daily website backups along with free data restores should be included with your WordPress hosting. Some WordPress hosting plans will keep the last 30 days of backups, which is the ideal situation.
Multiple Data Center Locations
Ideally, your WordPress host will have data center locations around the world so you'll be able to select the one that's closest to you. Data center location can have a definite impact on your website speed.
Free SSL Certificates
Now that Google and the web browsers are flagging websites not running https, it's imperative that you implement SSL/TLS with your WordPress site. Fortunately, many WordPress hosting companies are now offering free Let's Encrypt SSL Certificates. So you can now have SSL with WordPress at no additional cost!
Content Delivery Network (CDN)
Just as a closer data center location can boost your site speed, with a content delivery network your website data can be spread out over different servers across the globe. That way, your website visitors can access your content from a server closer to their area thereby reducing page loading time.
Latest Versions of PHP Supported
Because WordPress is largely based on PHP, you should definitely make sure that your WordPress hosting plan includes the latest supported versions of PHP.
Fast Responsive Customer Support
Although good customer support isn't just important for WordPress hosting, it's certainly one of the critical parts of a solid WordPress hosting plan. Many hosting companies claim to have expert WordPress support, so it's important to do a little research beforehand. For example, web hosting companies that focus solely on WordPress and those that emphasize WordPress by including an optimized WordPress environment and more WP features are more likely to actually have WordPress experts on their support staff.
WordPress Hosting Recommendations
If you need help getting started on your search for a great WordPress host, here are 3 of my favorites—all of which I personally use!
A2 Hosting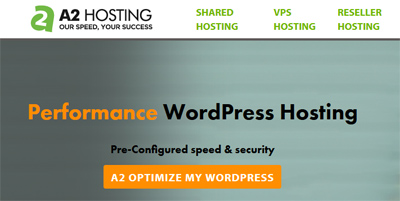 Simply stated, A2 Hosting is outstanding in every category. In my opinion, they are currently the best choice for non-managed WordPress hosting. Let's start off with your choice of data center location and pre-installation of WordPress. Also, with A2 Hosting, you get their optimized WordPress environment for increased speed and security. A2's quadruple redundant network, RAID 10 storage, and solid state drives (SSDs) ensure fast reliable hosting. You can even opt for their Turbo Servers (as we did) which provide even more speed.
Some of the other excellent features you get with A2 Hosting include free SSL certificates, HackScan protection, Cloudflare content delivery network (CDN), and Server Rewind Data Backups. The customer support agents at A2 Hosting, known as the Guru Crew, are very responsive, courteous, and helpful. Last, but not least, A2 Hosting offers their Any Time Money Back Guarantee.
Check out our detailed review of A2 Hosting here.
SiteGround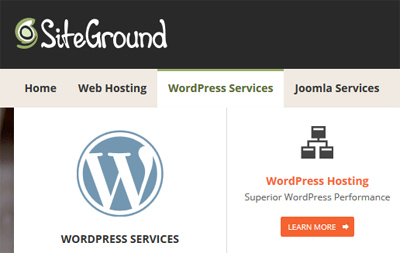 SiteGround continues to impress with their continued improvements and innovation. They specialize in providing managed hosting services—including WordPress—at much lower prices than other hosts. That means, for example with WordPress, you get automated updates and data backups. Better still, SiteGround provides their proprietary SuperCacher technology which reduces page loading times to speed up your website.
And, SiteGround includes SSDs, Cloudflare CDN, and free Let's Encrypt SSL certificates. However, the best part of SiteGround may very well be their customer support. SiteGround's support agents go through a rigorous training program before they're even allowed to assist customers. I've never had a bad support experience and their response times are among the best.
See our SiteGround review here.
WP Engine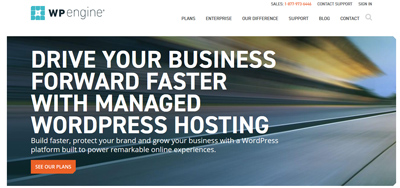 Finally, for the best managed WordPress hosting experience, we recommend WP Engine. Yes, the price tag is a bit higher. However, whether you have a personal WordPress site or an enterprise application, WP Engine offers a premium managed hosting plan that in the long run is well worth it.
While many web hosting companies claim to be WordPress experts, WP Engine does nothing but WordPress. And, their expertise has been evident in all of the time I've been a customer. The support staff definitely knows their stuff and has always been a pleasure to deal with.
With WP Engine's hosting, your website performance is tops. The combination of their proprietary EverCache technology for better speed, daily backups as well as snapshot backup capability, and managed updates provide the best managed hosting experience. You also get a staging environment for testing out changes before moving them to your live production WordPress site. And, WP Engine provides the best features for WordPress developers as well.