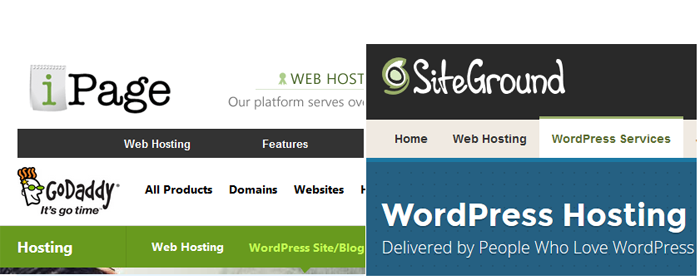 In case you've missed it, I have recently posted some updated information on some of the managed WordPress hosting plans currently available from some well-known web hosting companies. The new info has been added to the various review articles that have previously been published on our website.
Here, I thought I'd post a summary of the revised information for the WP hosting plans from iPage, GoDaddy, and SiteGround.
iPage WP Essential
If you're familiar with this website, you probably know that I'm a big fan of iPage's budget hosting plans. As a customer of their shared hosting, I always had great success. So, when they expanded their hosting line to include WordPress hosting (also at budget prices) it looked like another winner.
However, I now have to admit that WP Essential isn't the best choice if you have an existing WordPress site and want to transfer it. I recently spent several days unsuccessfully trying to move one of my sites over. While I believe WP Essential can be a good alternative for new WordPress sites, there are better choices if you already have a site online.
GoDaddy Managed WP Hosting
GoDaddy is another lower cost managed WordPress hosting option. I recently posted a review on it which I invite you to check out here. While GoDaddy is a good hosting choice for both new and existing WP sites, keep in mind that when you purchase their managed WordPress package, it does not include email or many of the additional features you might expect from a web hosting plan.
SiteGround Managed WP Hosting
SiteGround is one of the latest managed WordPress hosting plans I've been testing out. They offer some top features you'd expect from a managed hosting plan—and at very reasonable prices. One of the points to keep in mind with SiteGround's managed WP hosting is that although the automatic updates feature works fine with WordPress itself, you still may need to update some of your plugins on your own. For more detailed information, please see my SiteGround review.