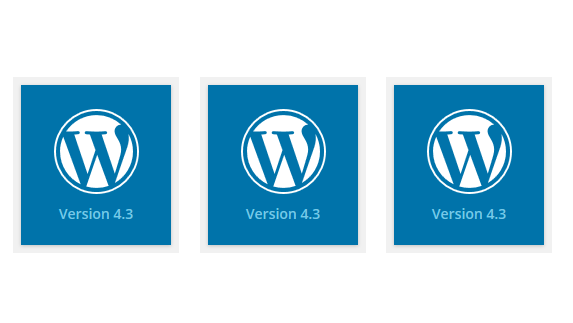 WordPress version 4.3 has now been officially released. Continuing with their jazz greats theme, this new intermediate release is named after Billie Holiday. And after updating and trying it out, I have to say that I definitely like the new features that have been added in WordPress 4.3.
Customizing Menus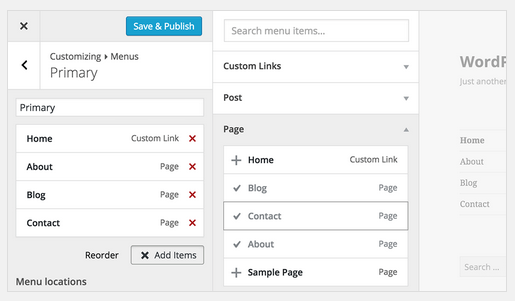 Working with menus has been made easier. You can now use the Customizer to create and update your menus. For those of us who use Genesis themes, this type of menu customization has already been available. But, it's nice that it has now been added to the WordPress Customizer for other theme users as well.
Site Icons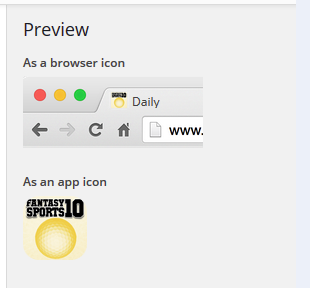 Site Icons is another great new feature with WordPress 4.3. You won't have to hassle with creating a favicon for your website anymore. With the new Site Icons feature you can easily upload an image which is then used as a favicon on your browser tab. You also get an app icon should you create a mobile app of your website.
Comments on Pages Off



This is one of my favorite new features—albeit a very simple one. I usually create pages for standalone content—as opposed to posts (which are designed for more discussion). Therefore, every time I create a new page, I'd have to go and disable comments—but no more. Comments are now turned off by default for pages!
Formatting Shortcuts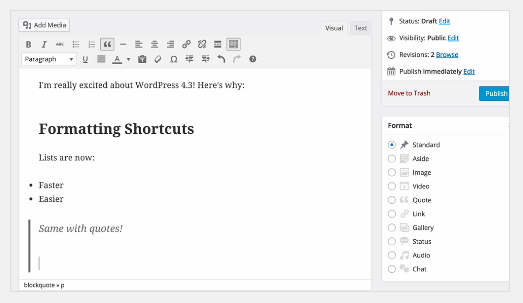 I don't really use the visual editor in WordPress. But for those that do, the new formatting shortcuts will definitely be welcomed. Creating your posts and pages should be easier now as you can use # to make headings and * to make lists.
Customizing your Site
The new Site Customizer feature will supposedly make it more convenient to make certain changes to your website sort of on the fly. The way it works is you have to be logged in to your WordPress site. Then, while you're viewing your website, you can click on the Customize icon at the top of the screen.


You'll then be present with the WordPress Customizer interface where you can make changes to menus, widgets, colors, etc. Some people may find this feature helpful. Personally, I don't stay logged in all the time, and I don't find it a hassle to go to the admin dashboard to make site changes. But as I say, you might find this feature saves you some time.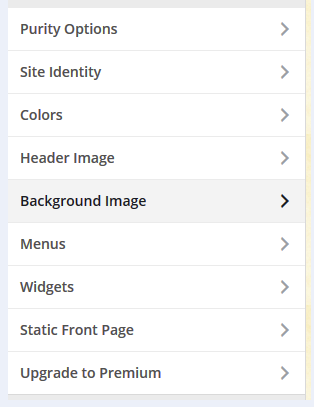 Stronger Passwords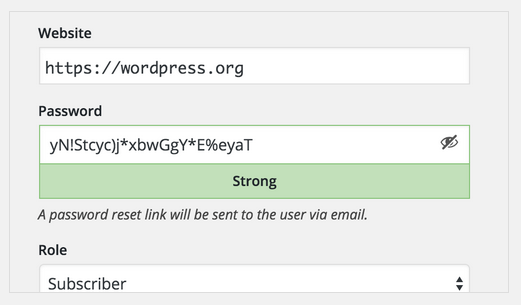 With website security always a big concern, WordPress now has a better method of handling user passwords. Previously, users would receive passwords via email. Now, when new users are created, WordPress will automatically generate a strong secure password and a password reset link is then sent to the users.
Unfortunately, there appears to be an issue with this feature. Presumably, when you register a new user they're supposed to receive the email with the password reset link. However, in my testing no emails are being sent out. There are others on WordPress.org that also seem to be having the same problem. Hopefully, there will be a fix to this issue soon.
Under the Hood
There aren't quite as many under the hood additions as there normally are. For version 4.3, we have modifications to the Taxonomy Roadmap and Template Hierarchy.
But on the whole, WordPress 4.3 gets a thumbs up from me!