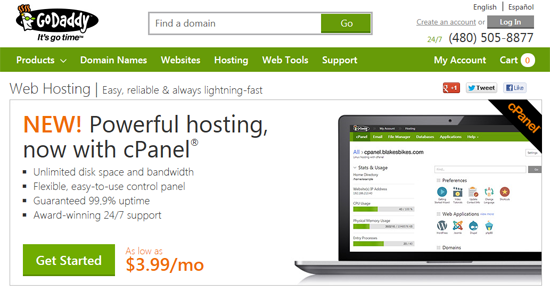 You can now add Go Daddy to the list of web hosting providers offering cPanel as their control panel interface. In the past, Go Daddy has included their own custom interface with their Linux web hosting packages. Apparently, as part of their ongoing efforts to enhance the customer experience, they have decided to add the most popular control panel interface to their website hosting.
Back in September, Go Daddy's CEO Blake Irving emailed customers about upcoming changes they would be seeing in the future. The first step was the streamlining of Go Daddy's own website. As a customer myself, I can say that I definitely appreciate the simplified login process plus the ability to quickly and easily access information such as expiring products and payment and billing history.
The addition of cPanel (the best control panel interface in my opinion) is further evidence that indeed Go Daddy is serious about listening to their customer's concerns and trying to make their web hosting experience easier.
In other Go Daddy news, they are now the first registrar to sell pre-registrations on the new domain name extensions approved by ICANN. The first batch of extensions available for pre-registration includes .menu, .build, .uno, and .luxury.
See the Go Daddy website for more information on their cPanel web hosting and the new domain name extensions.