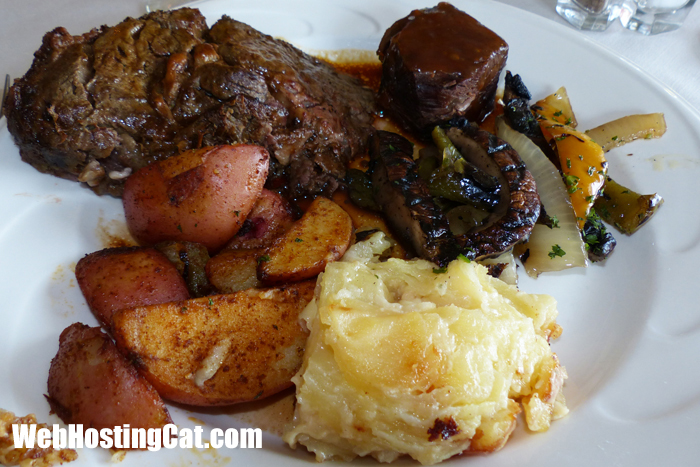 Food is absolutely one of the most popular subjects for bloggers. Whether the topic is recipes or restaurants, people love writing and reading about what we eat. If you want to join the ever growing group of food bloggers, here are our recommendations for web hosting and creating your food blog.
For food blog hosting, a good place to start is with a web hosting plan that is great for all bloggers. A quality plan for bloggers includes WordPress hosting, plenty of resource power, a high level of uptime and speed, easy access to customer support, and data backup and restore. Additionally, with food blogs you're generally going to have a lot of images to go along with your blog posts. So, you also want to look for faster page loading features.
When it comes to web hosting for bloggers, SiteGround and A2 Hosting are two of the best choices available. Besides the great data center resources and customer support, both of these web hosts provide content delivery networks (CDN) and extra caching technology for faster page loads—perfect for food blogs with a lot of photos!
Web Hosting Recommendations for Food Blogs

Free Domain Name
Easy WordPress Installation
Advanced WordPress Security
Free CloudFlare CDN
SuperCacher Technology
Linux Containers for Better Stability
Free Daily Backup
Free SSL Certificates
Premium Managed Hosting Features Available

Unlimited Storage and Data Transfer
Proactive Perpetual Security
Free CloudFlare CDN
Pre-Installation of WordPress
A2 Optimized WordPress Plugin
Server Rewind Data Backups
Website Staging
Free SSL Certificates
Free Attracta SEO Tools
Anytime Money Back Guarantee
SiteGround
What makes SiteGround such a great web host for WordPress bloggers is they provide managed hosting features at a much lower cost than other web hosting companies. For example, you get automatic updates, daily backup and restore (with up to 30 days of past data to restore from), and advanced security.
SiteGround's SuperCacher technology provides faster website loading times. And, they recently upgraded their entire shared hosting platform to utilize Linux containers for better stability.
Save up to 70% on SiteGround Hosting
A2 Hosting
A2 Hosting specializes in fast web hosting and WordPress—perfect for food bloggers. With A2, you can have WordPress pre-installed when you sign up so you can get your blog up and running quickly. A2 Hosting also provides their optimized WordPress environment for better speed and security. You can also opt for their Turbo Servers. Although it costs more money, you can get speeds up to 20 times faster.
A2 Hosting also gives you extra features such as free SEO tools to get your website into the search engines faster. And, they offer an anytime money back guarantee, so you can get a pro-rated refund should you decide to cancel at some time in the future.
Get discount code to Save up to 62% on A2 Hosting
Hosting Recommendation for Beginning Food Blogs
Bluehost
Customized WordPress Dashboard
Guided Site Creation Help
Customized cPanel Interface
Website Staging
Performance Caching
Automated Updates
Free SSL
If you're a total beginner and need some extra help getting started with your first WordPress site, then Bluehost is a great choice. With Bluehost you get added online guidance creating your WordPress website, plus a customized WordPress dashboard that makes working within WordPress easier.
Click Here for a 63% Discount at Bluehost
Managed WordPress Hosting for Food Blogs
WP Engine

If you're looking for the ultimate managed WordPress hosting solution for your food blog, then you should consider WP Engine. While WP Engine is more expensive, you get outstanding hosting features from what I consider the leader in the managed WordPress hosting industry. WP Engine is completely devoted to only WordPress hosting and the expert support you receive is awesome.
Click Here for an Exclusive 20% Discount at WP Engine
Food Blog Themes
And now, WP Engine is even better with the acquisition of StudioPress. Your WP Engine hosting plan now includes free StudioPress themes based on the Genesis Framework.
When you first start out, you can use one of the many free WordPress themes available from the WordPress repository. However, if you're interested in a better quality premium theme, I recommend you check out StudioPress. I mention them specifically because they have a number of special themes for food bloggers.
I've used StudioPress themes for some time now and have been very pleased. StudioPress themes are based on the Genesis Framework. Not only are they well designed, but they also run very efficiently. StudioPress themes are easily configurable via widgets. And the Genesis themes are totally responsive—which is vital for the ever increasing mobile audience.
Here are some of the StudioPress food blog themes: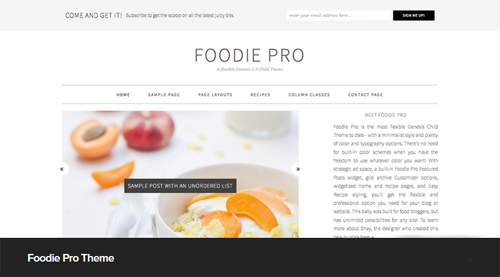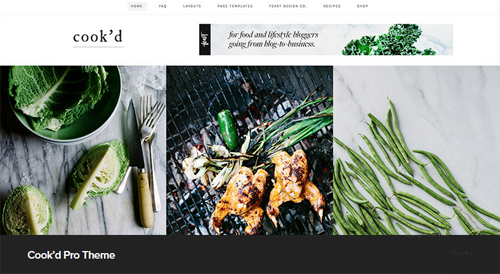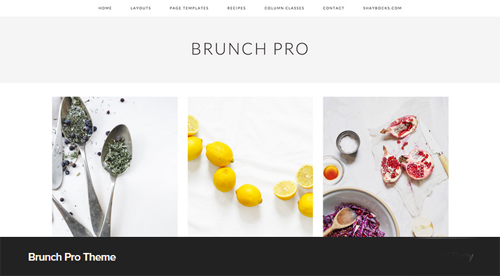 Get Your Food Blog Up and Running Today
So remember, start with a quality WordPress hosting plan. Use a quality eye-catching theme. And, continually add your quality content. That's the recipe for a great food blog!
For more tips on choosing web hosting for blogging in general, check out my article on The Best Blogger Hosting.