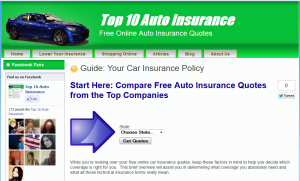 Have you seen some of those commercials on TV advertising a ready-made website for your very own? The other day, I saw an ad in a magazine trying to sell you your own website. These types of offers may sound like good deals, but are they really your best option?
To beginners, creating your first website and getting it online may seem like a daunting task. However, they may be surprised to learn that these days there are plenty of options that will let them easily create a great looking website for their business or personal use. Better yet, the cost of getting your website hosted has become extremely affordable. So, it may actually be cheaper and easier to purchase a web hosting package that provides everything you need to create your website rather than outsourcing to an outside company.
When you purchase a web hosting plan, you can get access to easy to use website builders as well as content management systems like WordPress and Joomla. Click and drag website builders allow anyone to create a nice looking site. And if you need a bit more functionality, content management systems are actually not that difficult to use. And, most hosting companies are more than willing to assist you with their support departments.
As for cost, let's take a look at an actual comparison to see if you save more money one way or the other. First, let's consider purchasing from a website provider company. This particular example is from a photography website creator, but there are similar companies that create sites for other types of businesses. Their basic least expensive option will cost you $8.99 mo. However, that only includes 100 MB of space. If you want email, that will cost you another $10 annually. If you want to add ecommerce capability, that will cost another $49 yr. Web stats will cost you $15 per year more, and if you want to use FTP, that will cost you another $15 per year. And, the free tech support you receive only covers email. They also offer other optional services, but these are very photography specific, while the above items are commonly used for all kinds of websites.
Contrast the above with your other option of purchasing a web hosting plan on your own and creating the site yourself. InMotion Hosting, one of the best business hosting providers in my opinion, will cost you less than $6 mo.—and that includes unlimited space and great customer support. An even cheaper option is iPage Hosting, which costs you anywhere from $1.99 mo. to as low as $1 mo.—they're a great option for photographers, artists, etc.
So, to summarize our example, let's look at your costs for a two year period.
Option A:
Website Provider Company
Base Cost — $8.99 mo.
Email — $10 yr.
Web Stats — $15 yr.
FTP — $15 yr.
Total 2 Year Cost: $295.76
Option B:
A Two-Year Plan at InMotion Hosting: $134.16
A Two-Year Plan at iPage: $24 – $47.76
As you can see, there is quite a difference in costs. Also, keep in mind that when you purchase a web hosting plan, you'll be getting many additional features that a website builder/provider won't provide. And while you will have to spend some additional time if you decide to create your own website, the cost savings may be well worth it. Just remember, you don't have to be a super tech guru or geek to create your own quality website. With the right web hosting provider, you can spend a lot less money and receive much more site capabilities.
See my previous post on web hosting for beginners for more information.