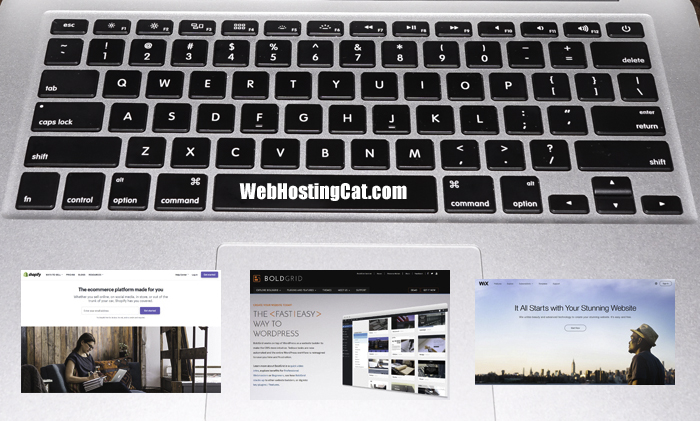 While traditional web hosting is still used by the majority of website owners, there is a growing trend and desire for a quick and easy website these days. As the head of a prominent web hosting company told me, these days their potential customers say, "I want a website" not "I want web hosting".
The big push these days is providing quick and easy websites for business owners and others that want to get online as soon as possible with the least amount of hassles. Sounds more than reasonable to me, our time is valuable and not everyone likes building websites. The good news is that there are now more ways to get a website up and running quickly with little or no technical expertise needed. I'll go over some of those methods in this article.
Along with the growing popularity of website builder companies, the traditional hosting companies themselves are now coming out with their own quick and easy website builders. And although I still recommend to most people that they invest in a quality web hosting plan, there are definitely some situations where a quick and easy website is the better choice.
Ideal Candidates for Quick and Easy Sites
By candidates, what we mean here are those types of websites that naturally lend themselves to being created via one of the newer website builder methods. There are three types of sites or situations where I would recommend taking a look at a quick and easy website solution: Online Business Brochures, Business Blogs, and Small to Medium Size eCommerce.
Quick and Easy Websites
Let's take a look at three specific examples where opting for a quick and easy website makes more sense—along with the best platform to use for creating that site.
For online business brochures:
Wix.com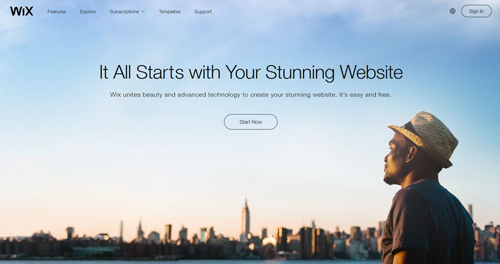 Wix.com has become quite possibly the most popular of the website builder service companies. And while I don't recommend Wix for most websites, there is a category where Wix is perhaps your best choice. If all you're really looking for and need is an online brochure type of site, then Wix is perfectly suited for you.
For WordPress sites:
BoldGrid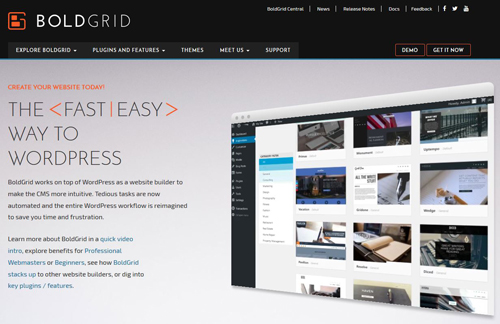 WordPress is the most popular website content management system, powering over 25% of the web at the last count. And while out of the box, WordPress is pretty simple in creating an online blog, if you're looking for a slightly more advanced website, while certainly doable, it isn't always the quickest process working within the WordPress environment. That's where BoldGrid comes into play.
BoldGrid guides you all the way through the process of creating your website. You specify your website category or type of business. Then, you choose your theme from a number of professional looking designs. You can also edit and customize your website easily using the BoldGrid drag and drop page editor.
Besides speeding up and simplifying the website creation process, the other big benefit of BoldGrid is that because it's WordPress based, you have the freedom to move your website to any web host that offers WordPress hosting. Unlike Wix or SquareSpace, you aren't tied to their infrastructure.
Check out our full review of BoldGrid for more information.
For eCommerce stores:
Shopify.com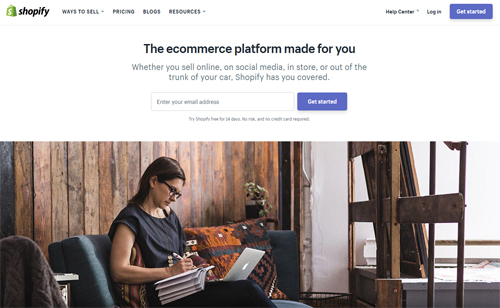 eCommerce websites are by far the most time consuming and tedious to build. Along with the actual site construction you need to perform, there's also integrating your payment gateway, inventory, shipping methods, and more. Now with Shopify, you can easily create your own eCommerce site that includes everything you need to get up and running. Shopify is perfect for individuals and small businesses that want to sell products online—whether their own items or via drop shipping.
What's nice about Shopify is that you get a free 14 day trial period where you can test it out to see whether it's a good fit for your online store. You don't need a credit card during your trial period. However, if you want to start selling products, you'll need to enter your card number.