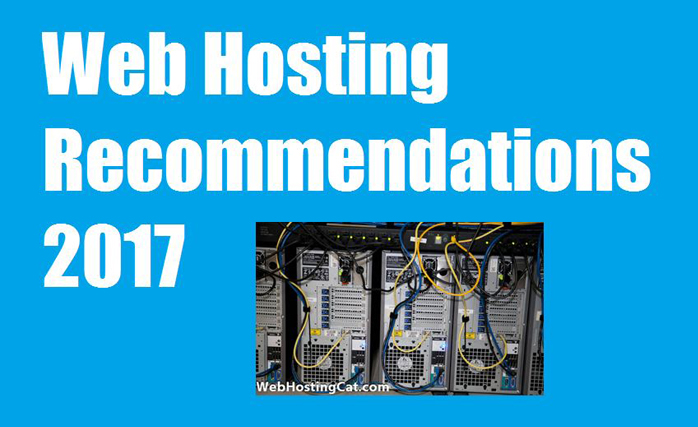 As we head into the New Year, it's time for our 2017 web hosting recommendations. Finding the right web hosting is more of a challenge these days due to a couple of factors—a combination of more competition (both amongst web hosting companies and website creation companies like wix.com) and more consolidation within the industry. However, there are still some great options for you to get your website hosted.
WordPress continues to be a big selling point for web hosting companies, and all of the web hosts listed below offer quality WordPress features. The other two huge factors being emphasized are faster speeds and better customer support. For faster websites, many hosting companies are now utilizing solid state drives along with other better quality hardware. And, live chat support has become standard for many web hosts.
Our 2017 web hosting recommendations include solutions for business websites, bloggers, those on a tight budget, website owners needing managed hosting, and more.
Business Hosting


Every business needs a website, and InMotion Hosting continues to be an outstanding choice for business web hosting. I've used InMotion for over seven years now and they continue to provide excellent website hosting performance and great customer support. The top quality hardware, features, and support are ideally geared towards business owners.
Shared Hosting
With the majority of website owners opting for a shared hosting plan, SiteGround and InMotion Hosting should be at the top of any shared hosting provider list. Both of these web hosts provide outstanding support along with the technology and features that allow websites to perform successfully.
Blogger Hosting
While bloggers may not require some of the features that other types of sites require (such as business websites), a great web hosting solution for blogs should include not only WordPress but also the proper resources and customer support that allows blogger to easily create their content and have their websites to run smoothly.
Budget Hosting
Yes, there are still some good cheap web hosting plans for those on a limited budget or beginners that need the basics to get started. The good news with both InterServer and iPage is that even though they're both suited for newbies, they also include features that will continue to help you out as your website grows.
Managed WordPress Hosting
Sure, there are many options for quality WordPress hosting. But when it comes to managed WordPress hosting, these two web hosts remain our top choices. WP Engine is the ultimate solution for premium WordPress hosting. Besides focusing completely on WordPress, WP Engine includes the most extensive features for WordPress site owners, developers, and consultants.
SiteGround also provides great managed WordPress features. Besides being an excellent hosting solution for other types of websites, you can get managed WordPress hosting at a lower cost.
Domain Name Management
Once again, for domain name management we prefer GoDaddy and Namecheap. GoDaddy lets you easily managed a large number of domains and frequently runs sales if you need to purchase additional domain names. Namecheap is a good alternative to GoDaddy and is a quality source for purchasing many types of domain names.
VPS Hosting
If you've outgrown your shared hosting plan (e.g. your maxing out on resources), then it's time to move up to a VPS hosting plan. While VPS hosting provides more resources, keep in mind that it can require more administration on your part. InMotion Hosting and Bluehost both offer a number of different VPS hosting packages that we really like.