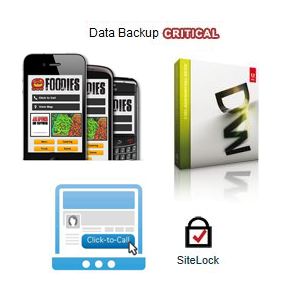 Many web hosting plans are advertised as giving you a lot of free extras. These features are certainly useful, but most web hosting companies are offering basically the same extras. Take a look at hosting packages today and you're likely to see a free domain, free domain transfer, and of course the free advertising credits for Google, Yahoo!, and Facebook. These freebies are great but pretty standard with most hosting companies.
However, if you do a little more research, you can find more unique and very useful free extras being offered with certain web hosting plans. Here are some that I think definitely stand out.
1&1 Hosting:
A lot of hosting plans include some type of website builder. But at 1&1 Hosting, you can actually get Adobe Dreamweaver CS5.5 with their business hosting plan. Dreamweaver is the standard for many web designers, so it's great to see this software available as an add-on to your hosting.
iPage:
iPage is offering free SiteLock Security when you purchase their hosting. With the SiteLock Security suite, you get comprehensive website security that includes malware scanning and removal, blacklist monitoring, database protection, network security, and more.
InMotion Hosting:
This can be a big one. While most web hosting plans include some type of data backup, most hosting companies will charge you a fee to actually restore data from their backup. InMotion Hosting gives you a free data restore once every four months. I've personally taken advantage of this feature and was glad they included it in my plan.
Go Daddy:
When you buy either their Deluxe or Ultimate web hosting packages, your website is automatically converted to a mobile version on smartphones via DudaMobile.
MyHosting.com:
With their Business Hosting plan you get MightyCall ClickConnect to use on your site. You install a button on your website that visitors can click to contact you right away. When the user clicks the button, a web dialer connects to your phone number and your phone rings like a normal call. If you're concerned about missing potential customers, this click-to-connect freebie could be the right solution for you.