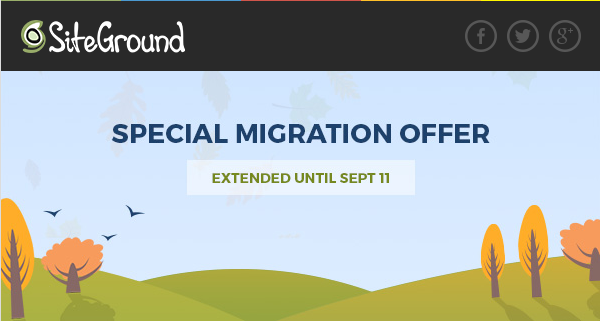 If you're fed up with your current web hosting company and are considering switching hosts, there has never been a better time to move to SiteGround than this week (September 1-11).
During this promotion, SiteGround is providing:
Free Website Migration
Free Domain Transfer
Up to 6 Months Compensation of your Previous Hosting Contract
This outstanding opportunity allows you to get SiteGround's excellent web hosting and not have to worry about paying extra fees to transfer over. And best of all, you don't have to wait until your current hosting contract is over. Even if you have six months or less remaining on your previous web hosting term, SiteGround will compensate you on your new hosting plan so you don't have to lose out.
SiteGround is one of our top recommended web hosting companies. Here is a link to our SiteGround review page.
I strongly encourage you to consider this special migration offer if you're in the market for a new web hosting company. Here are the details from SiteGround's website:
SiteGround hosting accounts purchased between the promotion run dates of September 1st to September 8th come with the following additional benefits.
Free Website Migration
SiteGround will migrate one website to your new account free of charge. You can claim it in the getting started wizard upon your first login, or later by visiting the Support Tab in the User Area.
Free Domain Transfer
One free domain transfer can be claimed per account purchased during the promotional period, given that no free domain has been registered during sign-up. The domain transfer can be claimed by visiting the Add Services Tab -> Domain Transfer. It must be claimed by October 8th.
The free domain transfer must be for one of these tlds: .com, .net, .org, .biz, or .info. For clients from certain countries, the local country-specific domains may also be available for free.
Free Hosting For Early Switch
SiteGround will compensate up to 6 months of hosting time, matching the remaining term you have prepaid with your previous hosting provider.
The free hosting bonus must be claimed by October 8th.
The compensation is valid for shared hosting accounts with a plan length of 12 months or more.
The plan with your previous provider must have been purchased before September 1st, 2016.
Once you are a SiteGround customer, you can claim your free months by visiting Support Tab -> Billing Assistance -> Claim Promotional Hosting Bonus in your User Area. You will need to submit an acceptable form of proof for prepaid hosting services, which can be any of the following: credit card statement showing charge for annual billing; welcome email from the web hosting company showing start date and plan length; receipt showing start date and plan length; or, any other document showing the starting date and the period of the account.
Please allow up to 5 business days for our billing specialists to review compensation requests.