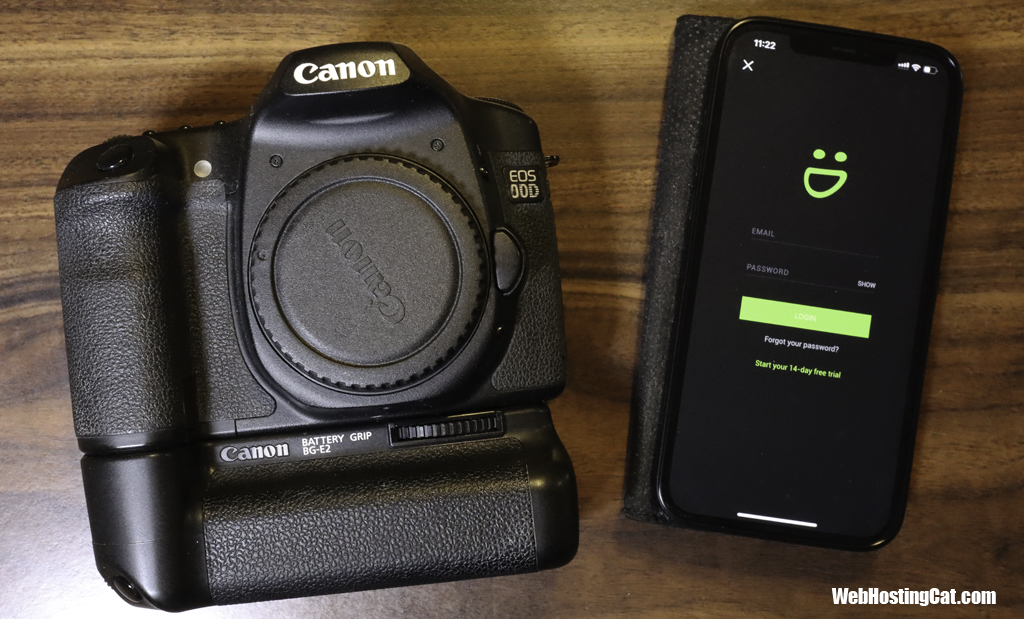 My number 1 website security tip continues to be: Back Up Your Data! Because you never know if an accident or disaster is going to happen, and because you can never guard against every type of online security threat, it's vital that you have your files safely backed up and accessible. When it comes to your photos, whether they're mission critical images for your business or they're your cherished personal images, it's even more important to have the proper backup procedures in place.
In this article on Photo Backup, I'm going to go over exactly what kind of data backup you should have and which photo backup service is the best. For those of you in a hurry, here is an overview of our recommendations for photo backup services.
Specific Features You Need for Photo Backup
Make Sure You Have Enough Space
Let's face it. Image files can be huge. Photos are definitely larger than your typical data files. And with ever-increasing image resolutions, photo files have continued to grow in size. Therefore, you need to make sure you don't run out of storage space. I've filled up a 2 TB portable hard drive in no time at all with my photo images. For the most effective and safe photo backup, you really should have an unlimited storage, cloud- based backup solution—especially if you're a professional photographer.
Good Upload and Download Speed
Storing your photo images is one part of the puzzle, but you also need to consider accessing your files. Again, because photo files are often large, you want to make sure your image host provides good upload and download speeds so you aren't having to wait to backup or retrieve your images when you need them.
Proper Security in Place
You might initially be wary of storing your photos online or in the cloud. That's why you should always make sure that your photo backup solution includes the proper security measures to adequately protect your images.
Flexible Privacy Controls
Privacy controls are especially important if you need to share access to certain photos, for example if you need a client to see their images. A top photo backup solution provider will include flexible privacy controls that allow you to grant access to the photos you specify to a certain individual.
Automated Uploading
Besides excellent downloading and uploading speed (see above), serious photographers should also look for automated uploading features with their host. Having your images automatically backed up is another safeguard against losing your photos.
Best Photo Backup Solutions
Here are my recommendations if you're looking for the best photo backup solution.
SmugMug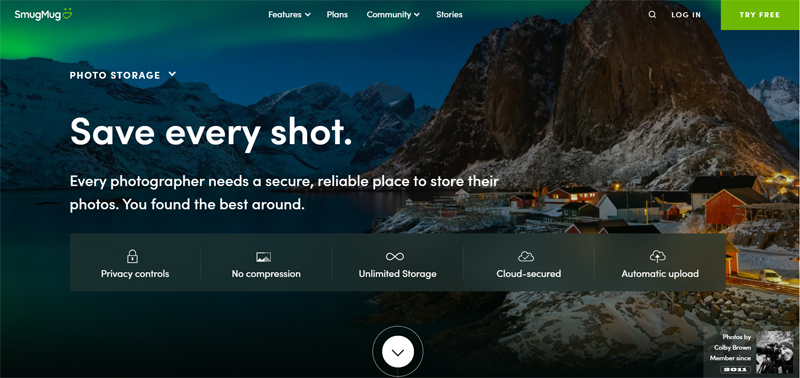 When it comes to hosting and photography websites, SmugMug has been our top recommendation for years. There simply isn't a more complete and professional solution for photographers of all levels in my opinion. And, your photos are backed up at full resolution.
Whether you're looking for photo storage or a complete online sales solution for your photography business, SmugMug provides the tools and features you need for success. And, to highlight their photo backup service, see the section below for a detailed review.
Pros:
Unlimited Upload Storage
Full Image Resolution
Automatic Uploading Available
File Sizes up to 150 MB/4 Gigapixels
Designed for All Levels of Photographers
Includes Advanced Features for Selling Photos
Includes Tools for Website Customization and SEO
Affordable Plans for All Types of Photographers
Apps for iOS, Android, Mac, Windows, and Lightroom
Cons:
Free Trial for 14 Days Only
Image Shack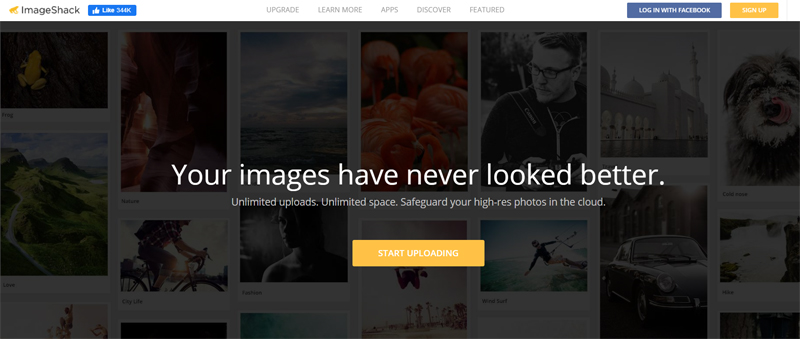 While there are some similar features with ImageShack, I consider it to be more of a photo sharing community vehicle as opposed to a photography website solution. When considering photo backup and storage solutions, keep in mind that ImageShack limits your file sizes to 25 MB—with SmugMug your photo sizes can be 150 MB/4 Gigapixels.
Pros:
Unlimited Space
Good Vehicle for Photo Community Sharing
Automatic Backups
Mobile Apps Available
Cons:
File Sizes Limited to 25 MB
Lacks Features for Photography Businesses
Premium Plans are More Expensive
500px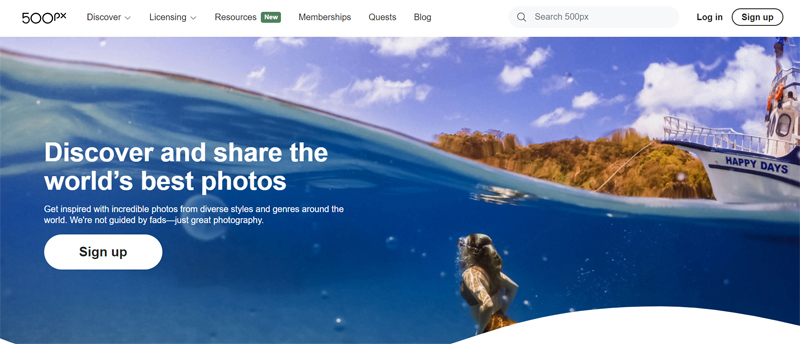 Although 500px provides unlimited photo uploading, I find their photo backup features aren't as impressive as some of the other photography solution providers.
Pros:
Unlimited Photo Uploads
Lower Priced Plans
iOS and Android Apps Available
Cons:
Automatic Uploading Not Supported
More Suited to Photo Sharing
Lacks Features for Photography Businesses
Web Hosting with cPanel Applications
If you don't want to get a specialized photography solution, you could use a cPanel web hosting provider along with an app such as Gallery or Piwigo—then utilize the data backup that your web hosting company provides. However, I don't recommend this method for serious photographers as you're bound to run into some limitations and you just don't get the type of automated backup and photo storage features you can get with a photo website provider.
Pros:
Generally Lower Prices
Many cPanel Hosting Options Available
No Extra Fee for cPanel Applications
Cons:
Data Backup Not Customized for Photos
Possible Space and Bandwidth Limitations
No Advanced Photography Options
SmugMug Photo Backup Services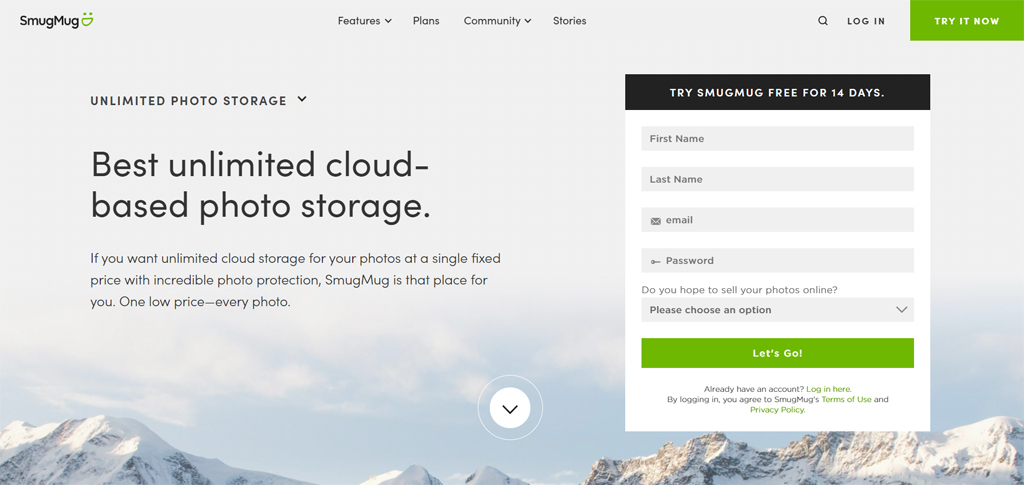 SmugMug has been my top hosting recommendation if photography is your business or passion. SmugMug is specifically tailored for photos and has the best features for all levels of photographers. And, as I mentioned above, their photo backup services are outstanding.
Uploading your photos on SmugMug is a breeze. Just click the Upload button at the top of the screen and select whether you want to add your photos to a new or existing gallery.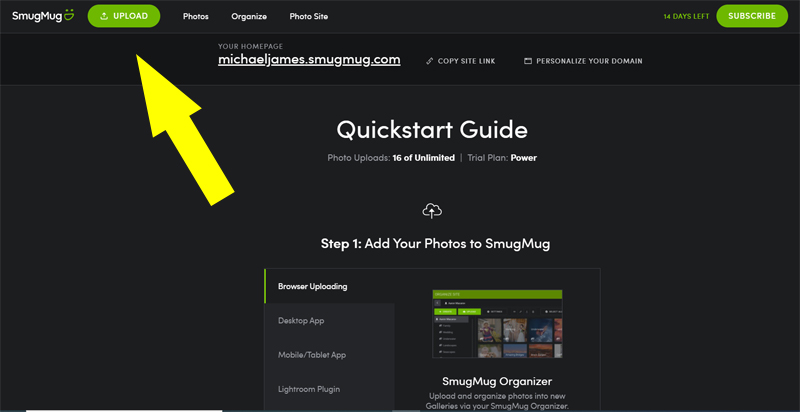 You can also drag and drop folders from your computer to transfer your photos to SmugMug.
And, with SmugMug's apps, your photos can be automatically backed up from your phone or your desktop computer. SmugMug has apps for iPhone, Android, Windows, Mac, and Lightroom.
Windows and Mac Desktop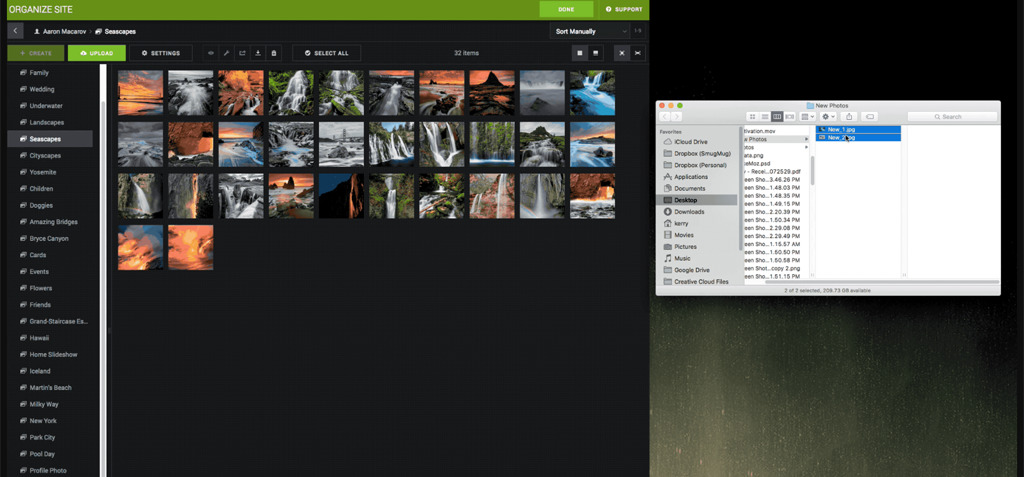 With the SmugMug desktop apps for Windows and Mac, you simply designate a folder on your computer as your auto-upload folder. Then, whenever you add new photos to that folder, they are automatically backed up to your SmugMug account.
iOS and Android Smartphones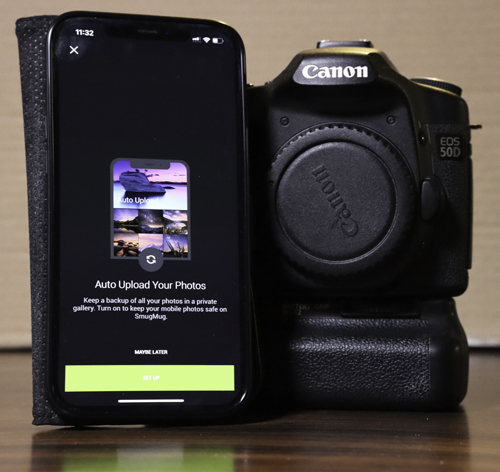 With the SmugMug apps for iOS and Android, you can not only have the existing photos on your phones backed up to SmugMug, but any photos you take with your phone after enabling the auto-upload feature will automatically be uploaded to your SmugMug account!
Photo Security and Sharing
As I mentioned earlier, another benefit you get with SmugMug is the ability to set specific security levels for visibility and access to your gallery photos—including password protection.
Besides the excellent photo backup and storage features, I like SmugMug also because of the other benefits you can get such as:
Unlimited Storage with Full Image Resolution
Privacy and Security Controls
Website Customization with Drag and Drop Tools
SEO Tools
Integrated Sales and Fulfillment Tools
Custom Photo Price Lists and Shopping Cart
Watermark Protection
Marketing Promotions
Photo Backup is Critical
Photo backup should definitely be a top priority for all serious photographers, as well as most casual snap shooters. Because everyone has some type of camera these days, you want to make sure your cherished personal memories, all the way up to important photos for your photography customers are safe and accessible.
By choosing the right photo backup service, you can protect your images and save yourself a bunch of headaches!