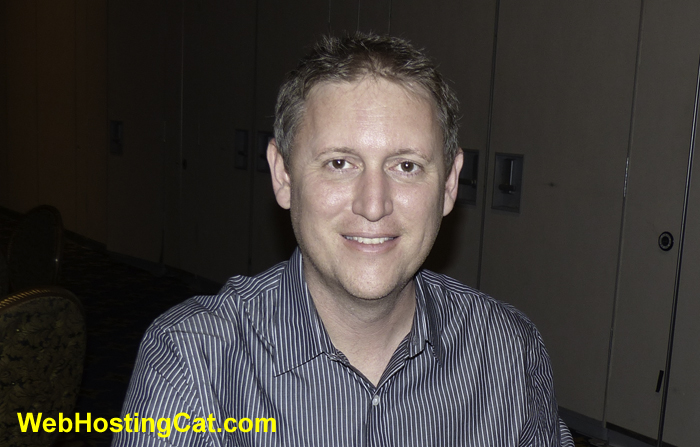 With WordPress continuing to be the most popular content management system for websites, many web hosting customers are considering whether a managed WordPress hosting plan is the way to go. If you're unsure of whether you need managed hosting or not, you'll want to read my interview below with David Vogelpohl, V.P. of Web Strategy at WP Engine—for many, the industry standard for managed WordPress hosting.
Web Hosting Cat: For newbies or those who are undecided, what are the major benefits of having a Managed WordPress Hosting plan?
David Vogelpohl: The difference between a managed WordPress hosting provider and a normal hosting provider is that we only host WordPress. So, what that means is that we can configure our systems (our traffic routing systems, our caching, the way we do our content distribution network) around WordPress specifically. A general host has to accommodate for all kinds of different sites, so they can't be as precise in the way that they route traffic. A secondary advantage of course is that our support staff only supports WordPress sites—so they're very, very knowledgeable when it comes to WordPress. They first off have to go through seven weeks of training before they can even answer one ticket.
WHC: I know there are certain plugins that WP Engine does not allow–for example certain database intensive or related posts plugins. Are there alternatives for those WP Engine customers that may need the functionality of these banned plugins?
DV: We ban plugins really for mainly two reasons. One would be performance issues and the other would be security. You've got to keep in mind, when we ban a plugin, there's a very, very, very good reason. Personally, I'm not aware of an alternative for related posts, but there certainly are those out there. If you are a customer of WP Engine, you can reach out to our support group. They'll have those in their database and those details will be in there.
WHC: How would you answer those that are concerned with the cost of managed WordPress hosting as opposed to say some other $5 a month hosting plans?
DV: I think it just really depends on your site. So if you're serious about your business, the advantages that WP Engine offers can be really valuable for you. Granted, you can pay $5 a month and not really spend a lot on hosting and that might be fine if it's an experimental site and you don't really care that much about. But the advantages that WP Engine delivers, one is certainly speed and reliability—and that translates into higher conversion rates. So for most people, the price difference can usually be made up just from the increased conversion rates. If that's not enough, the other side to that that can help make up that cost difference is our DYI tools.
If you have multiple sites, our cost is actually not that different than some of the cheaper hosts. For example, we have a 10 website plan that only costs $9 a site. And then some of our bigger plans go down to even $3 and $6 per website.
WHC: One of the newest features that WP Engine introduced was Transferable Installs along with Billing Transfer functionality. Can you talk a little about how these can help WordPress developers and consultants?
DV: Absolutely! I love that feature. I call it our Swiss Army Knife feature. The reason why is there's so many use cases where it can be really, really powerful. What you can do with the transferable install (the way that they work) it's like a WordPress install on our accounts. The big difference though is that it doesn't count against the number of installs on your plan. So, if you have a Personal account with one install, you can use essentially unlimited transferable installs. If you're a developer, you can use the transferable installs to stage new work. So if you're building a new website, you don't have to worry about that install counting against the installs in your plan.
Now, when it's time to move the site to the client's host, in the backend of our portal, all you have to do is put in their email address, click a button, and they can accept the install into their account—so you don't have to worry about using GIT or any other technical tools to move the site over. You can do it right there in the interface.
WHC: You've done a lot of presentations on WordPress optimization. But with a WP Engine hosting plan, I know a lot of optimization is already built in with things like EverCache technology. Are there any additional steps you recommend WordPress site owners take even if they choose to go with a WP Engine plan?
DV: I think it depends on what you're doing. The world of plugins is very vast. Obviously, some of my favorite plugins are things like Yoast to help improve SEO. From a site management perspective, I like the ManageWP service which helps you manage lots of WordPress sites in one go. That's another tool I like to augment on. Sometimes it's good to maybe use a service like VaultPress to have another kind of backup to your site.
WHC: What are your thoughts as to PHP 7 vs. HHVM? Will WP Engine be supporting PHP 7 soon?
DV: What we've seen generally is there's different use cases. Now PHP 7 is really super solid. It really speeds up WordPress. The challenge of course with PHP 7 is that your plugins are not written in PHP 7. Therefore to upgrade your site to PHP 7, it can be a lot of work. HHVM doesn't have those issues. But HHVM has other issues with the way it renders the pages. So, PHP 7 in a sense is maybe a little better. It's something we're actively working on.
WHC: What future offerings can we expect from WP Engine?
DV: We have all kinds of cool stuff. We have some very interesting projects going on right now around website analytics. Website analytics on most platforms use cookies and JavaScript to track individual users and the actions that they take on your site. Well, WP Engine has of course server level data which gives us a much more accurate picture of that. So what we're looking to do is to couple in the web analytics with the web performance analytics in an effort to give our customers much more information on what's going on in their site—not just from a business perspective, but also from a site management perspective. So that's a really neat feature that we have coming down the pipe that I'm really excited about. And, there's tons and tons of other features.