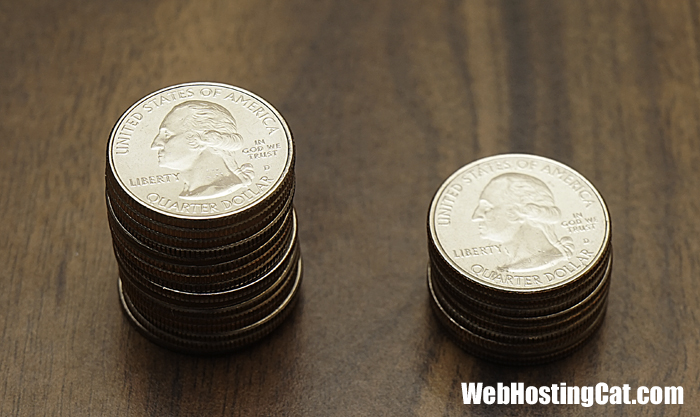 One of the advantages of going with a website creation company as opposed to a traditional web hosting plan is you can quickly create a website with no technical experience. However, when you go with a traditional web hosting plan, you can not only create a website, but you also get many other features for promoting your business and website (e.g. email, etc.).
Some of the website creation companies will offer you a free website. Unfortunately, these free sites are bare bones and often include ads. To get rid of these ads and to get features such as unlimited storage and bandwidth, email, ecommerce ability, etc., you'll have to upgrade to one of their more expensive premium plans.
That brings us to this question. What's the difference in cost between a traditional hosting plan and a website creation package? Initially, it might appear that it's more cost effective to go with a Wix.com or SquareSpace website as opposed to a traditional web hosting plan. But, that isn't necessarily the case. Let's take a detailed look at the price differences between Wix, SquareSpace, and some established web hosting companies.
Website Creation Costs
Wix.com
Base Site = Free*
*But this includes Wix Ads on your site plus limited features.
Your own domain = $4.92 mo.
Remove Ads on your site = $9.92 mo.
Email and Unlimited Storage = $14.92 mo.
eCommerce = $19.92 mo.
VIP Support = $29.92 mo.
SquareSpace
Single Page Site = $5 mo.
Personal Site = $8 mo.
20 Page Limit
Free Domain
Business Site = $18 mo.
Unlimited Pages
Free Domain
Limited eCommerce
Google Email
Basic eCommerce = $26 mo.
Advanced eCommerce = $70 mo.
While it's true you can get a free website with Wix, this site is limited in resources and you'll have to put up with Wix ads on your site—which most of you probably wouldn't want. In order to remove the ads and obtain more features, you'll have to purchase a premium plan. As you can see above, this will cost you between $4.92 mo. and $29.92 mo. depending on what you want.
SquareSpace offers plans ranging from a single page website all the way to an advanced eCommerce site. The one page site will cost you $5 mo. But these days, that's probably not going to work out so well for you. For website plans with more features, their prices range from $8 mo. to $70 mo.
Now let's compare these website creation plan prices to those of some comparative traditional web hosting plans.
GreenGeeks
We'll start with a personal website plan. GreenGeeks offers an all-inclusive web hosting plan that is great for both experienced webmasters as well as newbies. So with a GreenGeeks web hosting plan, you can easily create a great personal website for yourself. But more importantly, if you want to expand your website in the future, you can also easily create a more complex website. In fact, you can create as many websites as you need with just their one hosting plan.
With GreenGeeks' Hosting Plan You Get:
Unlimited Web Space
Unlimited Data Transfer
Free Domain
Email
Free Site Building Tools
Host Unlimited Domains (multiple websites)
Free Marketing and SEO Tools
30 Day Money Back Guarantee
InMotion Hosting
Now, let's look at business website hosting. InMotion Hosting has some of the best (if not the best) business hosting plans available. With InMotion's Business Hosting, you'll receive all of the important features that business websites require. So, along with business class hardware, you also get Max Speed Zone Technology for increased site speed, free data backups and restore, over 310 applications, plus unlimited storage, bandwidth, and email. InMotion also has first rate customer support via phone, email, live chat, and Skype.
With InMotion Hosting's Business Hosting Plans You Can Get:
Unlimited Disk Space
Unlimited Data Transfer
Unlimited Email
Host Multiple Websites
Free Data Backup
Free Website Builder
Business Class Hardware
Over 300 Applications for your Site
E-Commerce Ready
Live Chat Support
90 Day Money Back Guarantee
These are just two examples from many quality hosting plans from traditional web hosting companies. As you can see, comparing the features you get with website creation companies and traditional web hosting, traditional web hosting plans are definitely more cost effective.
While it's true that going with a website creation company will require less involvement from you in creating your site, remember that a big advantage of going with a traditional web hosting plan is that you have ownership of your site. If you decide that you want to move your site elsewhere, you have that ability with traditional web hosting. This is not the case with most website creation companies where you're locked into their system.
Here is Our Cost Comparison Summary
Website Creation Packages
Wix: $4.92 mo. – $29.92 mo.
SquareSpace: $5 mo. – $70 mo.