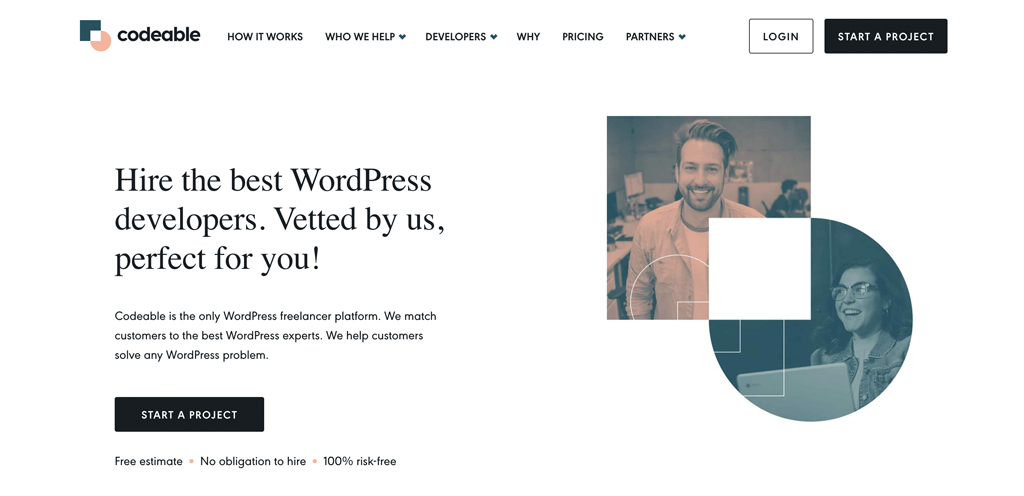 Are you looking for help with your WordPress development? WordPress is the most popular website platform (about 43% of the web at last count)—and it's also my favorite. But while one of the biggest advantages of WordPress is the amount of flexibility and customization you can get with it, sometimes what you need for your website isn't readily available from an existing plugin or theme. Or, you might need your website optimized in some way. And, some of you may need a completely customized WordPress site built for you.
Here in my Codeable Review, I'll go over what Codeable can do for you and why they're the best choice for WordPress development help in my opinion.
How Does Codeable Work?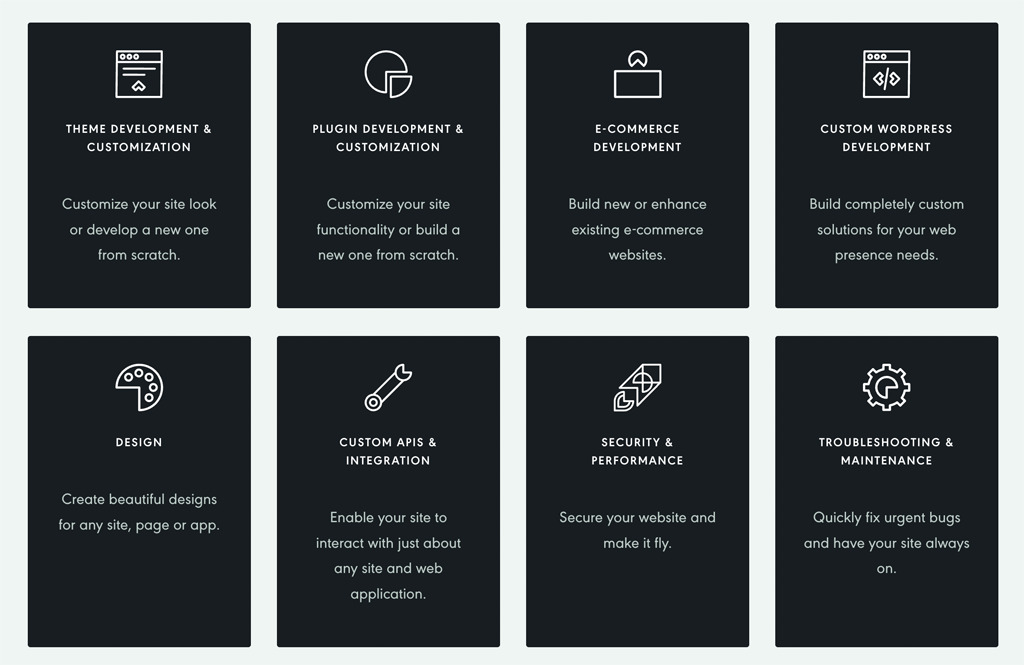 Codeable is the world's biggest WordPress agency. They're similar to marketplaces such as Upwork but they are exclusively focused on WordPress development. And, only the best of the best developers are accepted to work for Codeable (about only 2%).
There are two ways you can work with Codeable. You can list your project and requirements and developers will engage with you. Unlike other marketplaces, a public workroom is used for all the developers, so you don't have to answer the same questions over and over when you're deciding on a developer to choose. The cost won't change depending on the developer you pick.
Or, you can post for a consultation. The cost is only $69. You get an hour of time with a developer where a scope of work is generated. You can then take that scope of work and shop around to other agencies or developers if you want—or hire the same developer you consulted with.
What Types of WordPress Development?
Codeable can help you with all kinds of WordPress development tasks such as:
Quick Fixes to Your Website
Optimizing the Speed of Your Website
Optimizing the Security of Your Site
All the way up
Full Website Building
Full Website Customizations
Why Codeable is a Better Choice for WordPress Help
Unlike other development marketplaces, Codeable focuses only on WordPress development. And, committed to providing quality development work. They only accept top-tier developers. See below for more details on the vetting process all of Codeable's developers must go through before they can join the team.
Codeable Developer Vetting Process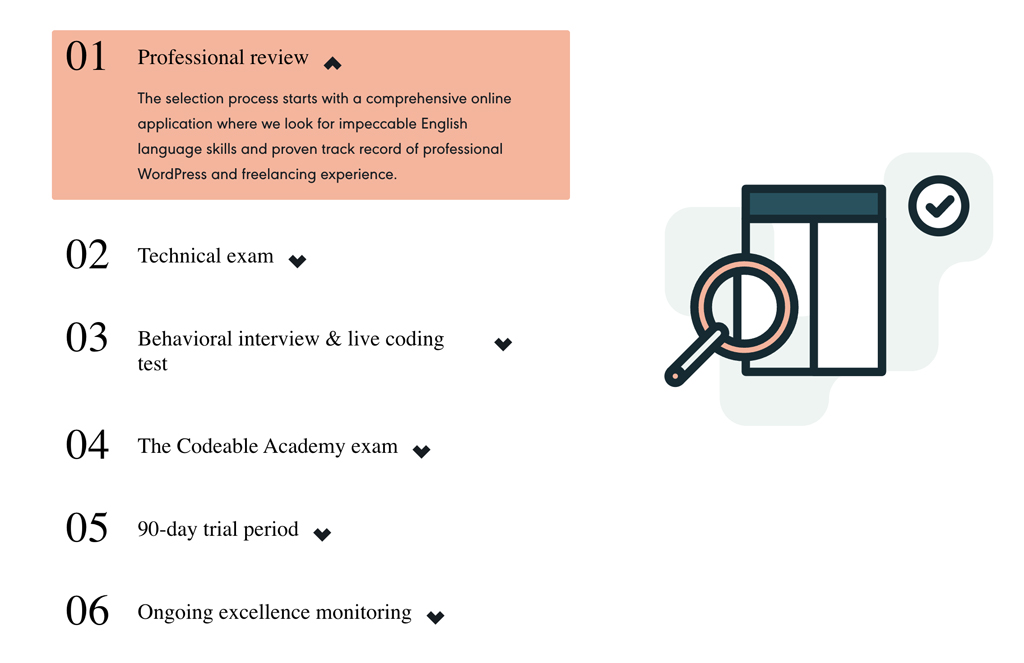 First off, all developer applicants must do written English comprehension testing. Then, they must do multiple code tests. Finally, the developers must complete a final project that is highly detailed and vetted. Only a little over 2% of the applicants make it to the other side and are approved.
The Codeable Pricing Structure
Remember, because Codeable focuses strongly on quality WordPress development, their prices probably won't be the lowest you see around. However, the quality of their work can save you a lot of headaches, and it can actually save you money by not having to start fresh with another developer because you're unsatisfied with your first choice.
With Codeable, your cost will be an average of every estimate that is submitted. It results in more reliable bid amounts where someone isn't trying to low bid and cut corners. It also allows the client to pick the best person—taking cost out of the equation.
Codeable Guarantee and Warranty
And, I'm happy to report that Codeable also stands by their quality WordPress development. There is a 28 day warranty from the time the client says the work is complete—in case of errors or things that break from the original code that was done. If, in the unlikely case, a developer becomes unavailable, Codeable will step in and make sure the work is completed.
Does Codeable Offer Ongoing Maintenance Services?
Yes. Codeable does offer a retainer service. So, once you find a developer that you really like there, you can talk about ongoing needs like updates, backups, content edits, etc. Your developer will then work with you to develop a custom plan.
Interview with Mike Demo, Codeable Expert Community Development Lead
I've known Mike Demo since his days with BoldGrid and the InMotion Hosting team. Now, as Expert Community Development Lead for Codeable, I was very interested in chatting with him about Codeable and how WordPress users and agencies can utilize their services for obtaining top quality WordPress development help.
If you're looking for WordPress development help, I definitely recommend checking out the video of my interview with Mike.
My Thoughts on Using Codeable
I'm highly impressed with Codeable. Here are some of their stats:
Codeable has Over 25,000 Clients
Codeable has done Over 300,000 Projects
Codeable has been in business for about 9 Years
Codeable has an average Score of 4.8 on Trust Pilot
And, most impressive to me, Codeable is recommended by some of the very best WordPress related companies such as WP Engine, Kinsta, and WooCommerce.