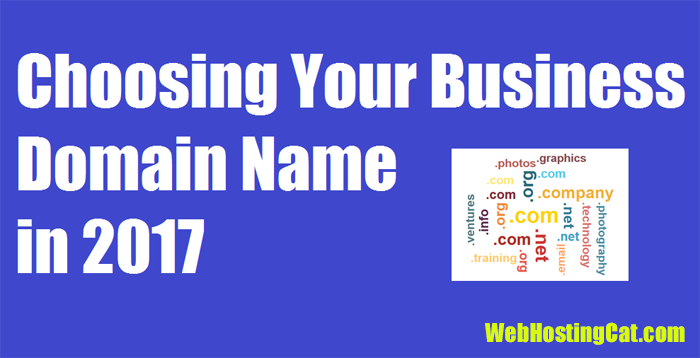 If one of your projects for 2017 is to get a website online for your business, the first step you need to take is to decide on your domain name (e.g. mybusiness.com). While you want your domain to accurately represent your business, you ideally also want it as concise as possible. Gone are the days when it was beneficial to stuff your domain name with as many keywords as you could—it no long benefits you in the search rankings.
.com or Something Else?
Once you decide on your domain name, the next thing you need to think about is what type of domain extension you want. It used to be that your choices were limited to a .com, .net, or .org—with .com being the most popular choice. Many people still prefer to go with .com because it's traditionally associated with business sites. However, at this point you'll likely find that all of your choices for a .com domain are already taken.
The New TLDs
That's where the new top level domain extensions come in. In the past couple of years, many more descriptive domain extensions have been released by ICAAN (The Internet Corporation for Assigned Names and Numbers). These new extensions can more specifically describe your website or business type. For example, here is a sample list of some of the new TLDs that are available:
.auction
.bargains
.blog
.business
.cafe
.camera
.careers
.club
.coffee
.computer
.consulting
.cooking
.coupons
.deals
.flowers
.jewelry
.kitchen
.management
.marketing
.media
.news
.photography
.plumbing
.repair
.restaurant
.shoes
.shop
.software
.solutions
.store
.tech
.toys
.vacations
.website
.wine
And Many More
As you can see, with all of these new tlds, you should easily be able to come up with the right combination of domain name and extension to suit your business website. Keep in mind though that at this time there is no SEO benefit to using one type of domain extension or another. Gary Illyes, Google Webmaster Trends Analyst, confirmed this finding when I interviewed him. Also be aware that these new extensions tend to be more expensive than a .com.
Aged or New Domain?
Another choice you can make when starting out is whether to choose a brand new domain name or purchase an expired domain that was previously used. At one time, there were some real SEO benefits to going with an aged domain. However, my personal experience now is that although you may get an initial bump in the search engines, it probably won't last.
Again, this is another topic I discussed with Google's Gary Illyes. He actually said there was an advantage to going with an aged domain—but not because of any SEO benefits. He said that if you go with a domain name that was previously used for a similar business as your own, then people would be inclined to click on it and give you some traffic.
Where to Purchase Your Domain
The type of domain name you decide to go with will determine where you should purchase it. For example, although many web hosting plans include a free domain, be aware that your choices may be limited to .com, .net, or .org. If you opt for a newer, more descriptive domain extension, you'll have to purchase it through GoDaddy or another domain name registrar such as Namecheap.