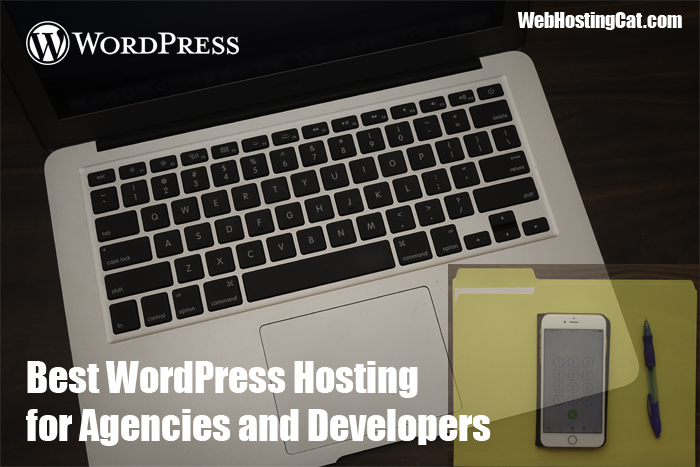 If you're starting up a WordPress agency or have an existing one and are looking for the best possible web hosting for you and your clients, here are my top recommendations for the best WordPress hosting for agencies.
Understandably, managed hosting is usually preferable for WordPress agencies. The additional premium features and expert support you receive allow you to focus more on creating great WordPress websites for your clients. And, my top three recommendations here are indeed excellent managed WordPress hosting providers.
WP Engine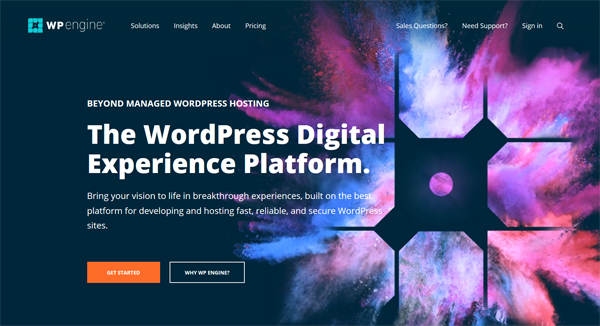 WP Engine is and has been my top choice for managed WordPress hosting situations. They have hosting plans for all types of websites—from startup sites and blogs all the way up to enterprise WordPress applications. And, WP Engine also has a comprehensive platform and environment for WordPress agencies and developers.
WP Engine's commitment to WordPress hosting pays big dividends to its customers. Premium features, outstanding performance, and expert customer support have made them the gold standard for managed WordPress hosting. When it comes to speed and scalability for your WordPress sites, WP Engine's optimized platform with their proprietary EveryCache Technology consistently provides excellent results.
WordPress developers and agencies can take advantage of the separate working environments that WP Engine provides. You can utilize a test install for development, and you can easily create a staging site to test out changes before moving them to production. WP Engine was also the leader in providing a way for agencies and developers to easily transfer ownership of billing and hosting to their clients via the transferable installs and billing transfer functionality.
In addition to daily automated backups, the easy to use WP Engine dashboard also gives you easy access for creating snapshot data backup points on demand. And, you can restore your data from the past 40 restore points! You can also access the page performance tool to receive recommendations for optimizing your websites.
Security is also a major focus at WP Engine. Along with their dedicated security engineering team, you can enable the option for two-factor authentication for increased security.
And, with the acquisition of StudioPress, WP Engine also includes the Genesis Framework and free StudioPress themes with all of their managed WordPress hosting plans.
Are there any negatives with WP Engine? Well, while their Digital Experience Platform update to their hosting plan lineup now provides even better features, there has been a slight increase in prices along with a decrease in the number of websites each plan allows. However, all of WP Engine's hosting plans are excellent and provide the ultimate managed hosting experience for all WordPress site owners–including agencies and developers.
WP Engine Hosting Plans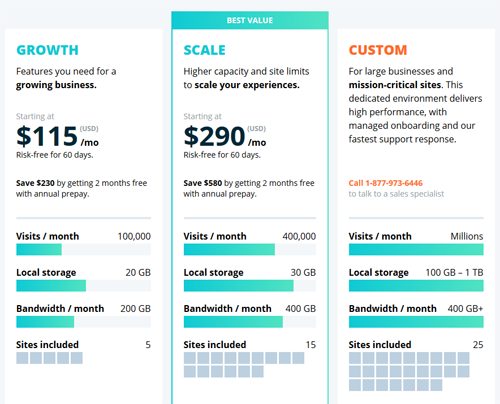 As you can see above, WP Engine doesn't have as many set structured hosting plans—except for their Growth and Scale plans. However, you can contact them and easily setup a custom hosting package if you need a different or special configuration.
If you want the best combination of WordPress hosting features, website performance, and expert customer support for your agency business, then WP Engine should be your first consideration.
WP Engine Advantages and Disadvantages
Pros:
Proprietary EverCache Technology for Faster Speed
Includes Genesis Framework and Free StudioPress Themes
Includes Development, Staging and Production Environments
Transferable Installs and Billing Transfer for your Clients
Automatic Daily Backups and 40 Point Restore
Snapshot Backups
Automated SSL Certificates
Managed WordPress Core Updates
Full Functioning One-Click Staging
Includes Fully Managed Global CDN
Two-Factor Authentication for Increased Security
Dedicated Security Engineering Team
Includes Page Performance Dashboard Tool
Cons:
Higher Cost for More Websites
Liquid Web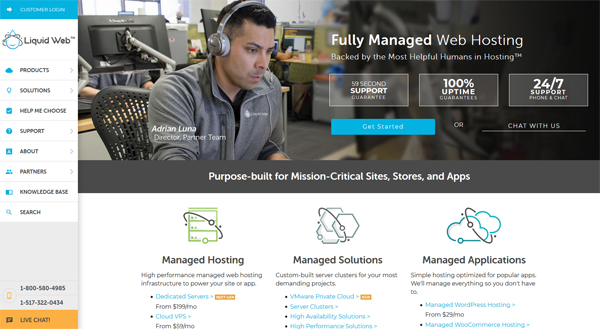 Liquid Web is another outstanding option for anyone looking for managed WordPress hosting. And when it comes to web hosting for agencies and developers, they offer one of the best combinations of premium features and number of websites you can create with each hosting plan.
Liquid Web focuses on hosting mission critical websites. And if you need hosting for multiple WordPress sites, the features included with their hosting plans are indispensable—starting with iThemes Sync. iThemes Sync is the ultimate tool for agencies managing multiple WordPress sites. With iThemes Sync you can monitor the performance of your websites and send reports to your clients. It also greatly simplifies the process of updating themes and plugins across multiple websites.
Besides iThemes Sync, WordPress agencies and developers can also take advantage of automatic plugin updates and image compression, daily automated backups, a true website staging environment, and automatic SSL. What's also nice about Liquid Web is that they don't impose pageview or traffic limits.
The WordPress team at Liquid Web is very impressive. They've assembled a highly talented group that can deliver expert support. There have been a couple of occasions where a support agent simply provided a link to a reference document where I thought they may have provided more hands on assistance. However, they may have only been isolated incidents as most times Liquid Web provides responsive and helpful support.
Liquid Web Hosting Plans

Liquid Web offers more choices for WordPress hosting plans. They have the best balance between premium features and the number of websites you can create with each plan. If you're looking for top WordPress hosting features but also need hosting for a greater number of websites, then Liquid Web is the right choice.
Liquid Web Advantages and Disadvantages
Pros:
iThemes Sync Included for Managing Multiple Sites
Automatic Plugin Updates
Automatic Image Compression
No Pageview or Traffic Limits
Automatic SSL Certificates
Full Server Access
Automatic Daily Backups Stored Offsite
True Staging Site Included
Cons:
Customer Support Not as Consistent as Others
Pressable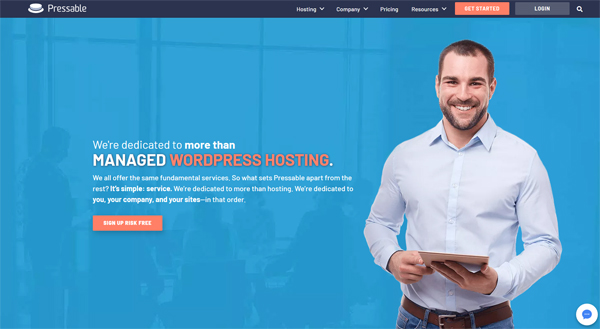 Pressable not only provides great managed WordPress hosting for agencies and developers, but they also put extra emphasis on taking their customer support to the next level. And, they have a hosting plan lineup perfectly geared for WordPress agencies. In fact, in terms of the number of sites you can create versus the price of hosting plans, Pressable offers the best value.
If customer support is most important to you, then you should definitely consider Pressable. Support is what separates them from the competition. Starting with the personalized onboarding you get, Pressable strives to provide the best and easiest hosting experience. They'll give you a call after you sign up to make sure everything is okay.
Along with the ability to host more websites with each plan, Pressable includes great features for agencies and developers such as collaborator access so that you can grant and revoke access to your websites so your team and your clients can participate in the workflow. And, Pressable has many connections in the WordPress community. So, they can connect you with outside resources if you need them (e.g. plugin developers, marketing, etc.).
Pressable's WordPress hosting platform includes built-in caching, automatic data backups, and optimized servers. You also get cloning and staging environments. The cloning tool saves you time by letting you quickly duplicate your websites so you don't have to start from scratch when working on a new project. The website staging function isn't a full staging platform but rather lets you switch between development and production modes. While it is helpful during the initial development of your website, hopefully in the future Pressable will include complete website staging functionality.
Pressable Hosting Plans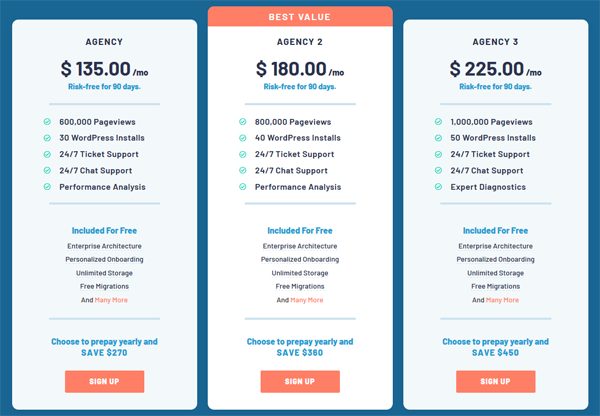 With Pressable, you can custom select your hosting plan online based on either the number of websites or pageviews you need. Pressable provides the most value here with regards to price and the number of websites you can create with each hosting plan. If customer support is what's most important to you, and you're looking to create many websites at a lower price, then Pressable is the right choice.
Pressable Advantages and Disadvantages
Pros:
Personalized Onboarding
Unlimited SSD Storage
Includes Collaborator Access for Working with Your Team and Your Clients
Platform Includes Built-In Caching
Includes Global CDN
Proactive Maintenance Includes Server Optimizations and Version Updates
Includes Automatic Daily and On Demand Backups
Includes JetPack Premium
Cons:
Doesn't Include a Full Website Staging Platform
Best WordPress Hosting for Agencies Comparison

Proprietary EverCache Technology
Free StudioPress Themes
Transferable Installs
Billing Transfer

iThemes Sync
Automatic Plugin Updates
Automatic Image Compression
No Pageview or Traffic Limits

Personalized Onboarding
JetPack Premium
Collaborator Access
Website Cloning Option