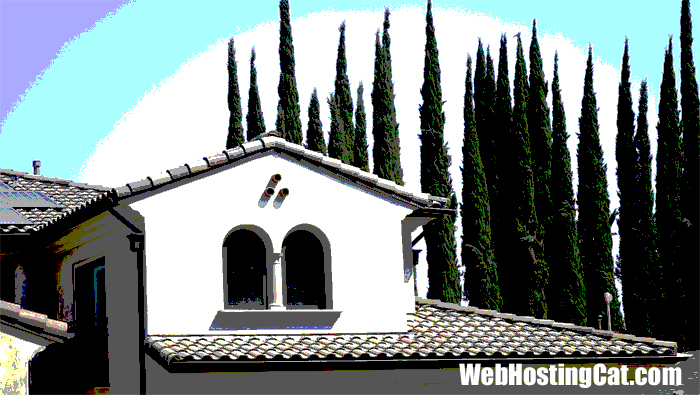 There are some really great options for building a real estate website. Here, we take a look at how to create a successful real estate website using either a website builder or a traditional web host. We'll go over what you need to include in your website and what to consider when shopping for web hosting or a website builder. Finally, we'll list our recommendations for real estate website hosting.
Building a Real Estate Website
Be able to Easily Add Photos
Editor Friendly
Add Listing Information
Email Marketing
Because a real estate website needs to have a lot of photos, you definitely want to make sure your site includes optimized images and doesn't load too slowly. You'll also want to choose a website platform that allows you to easily edit your content such as your listing information. And, in order to build your potential client base, you want your site to include email marketing, so people can sign up to receive updated information on available properties.
Web Hosting Considerations
When it comes to real estate websites, there are some excellent options on both the web hosting and website builder sides. You can opt to use a website builder to speed up the website creation process using specific real estate templates. Or, you can choose a web hosting plan that allows for more customization and control, but takes a bit more work. There are also hybrid solutions utilizing a site builder with a content management system such as WordPress. And, if you have multiple real estate divisions or you require more than one website, you can take a look at our recommended web hosts that are great for multiple website hosting.
Web Hosting Recommendations
InMotion Hosting


InMotion Hosting is our top pick for many web hosting situations. And, it's definitely a great choice for the Real Estate industry. Let's start with their business class hardware and Max Speed Zone Technology for faster websites. You also get great security features and impressive customer support. InMotion is an outstanding choice for WordPress websites. You can use their BoldGrid website builder to get your real estate website up and running quicker.
BoldGrid is a nice compromise—combining the ease of using a website builder with the control and flexibility of WordPress. BoldGrid is available from web hosts such as InMotion Hosting. It's a group of plugins that guide you through the creation of your WordPress real estate website, and provides drag and drop editing capability of your site's pages. Like Wix, BoldGrid has a number of real estate themes for your site where you can include listings and contact information.
Here are some sample BoldGird real estate websites:


A2 Hosting


If you want more flexibility and control with your website, you can opt for a traditional web hosting plan that includes content management systems such as WordPress, Joomla, and Drupal. Creating your real estate website with a platform such as WordPress gives you the advantage of adding more functionality that isn't included in a template site from Wix. The downside is that more customization will take more time and effort on your part. However, if control of your website is important to you, than a traditional web hosting solution such as A2 Hosting is worth considering.
Bluehost


Bluehost is another excellent choice if you want to use WordPress for your Real Estate site. In fact, if you're a beginning WordPress user then Bluehost is an ideal fit. Bluehost not only will pre-install WordPress for you, but they also provide online guidance for choosing your website theme and adding the functions you need. Plus, you get a customized dashboard that makes working with WordPress even easier.
GoDaddy GoCentral
You may have seen the GoDaddy commercials on TV about being able to create a website in under an hour—and, it's true. GoDaddy's GoCentral website builder is very intuitive. In fact, I find it easier to use than Wix. You can very quickly get your basic site online and then you can easily add additional functionality with the GoCentral components or sections as they're called.
With GoCentral, you can select from a number of popular industries—including real estate. Here are some examples of real estate websites in GoDaddy's GoCentral.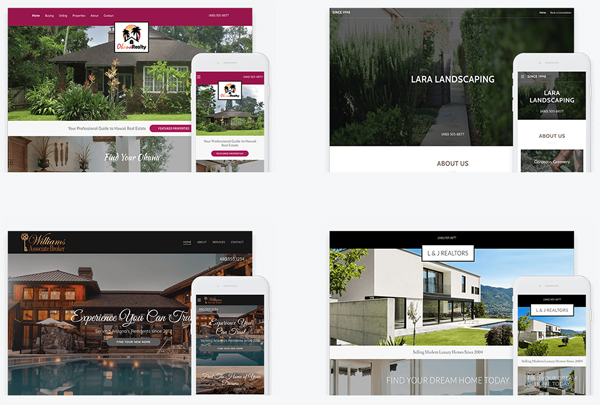 Besides website design, GoCentral also lets you add real estate specific features such as Listings Galleries, Email Signup and Marketing, and Property Videos.