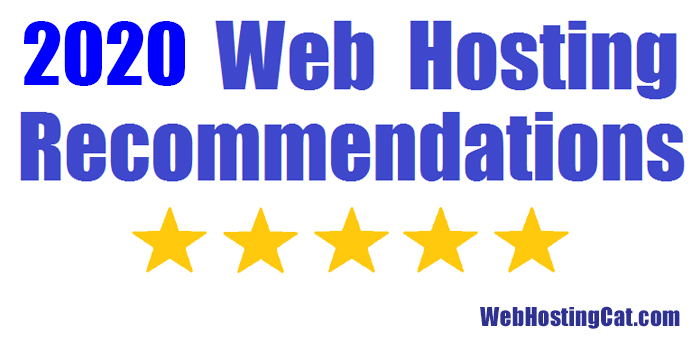 Welcome to the new decade of the 2020's! And since there have been a number of changes in the web hosting industry, it's time to take a look at the new landscape of web hosting services in our Web Hosting Recommendations for 2020.
Shared Hosting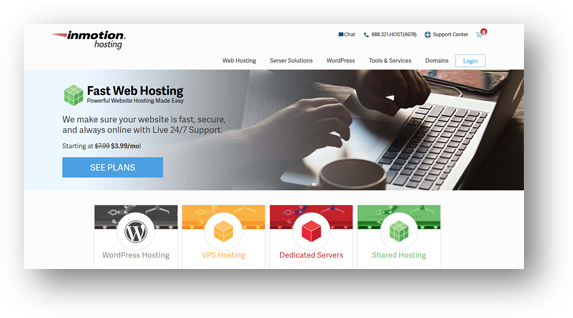 Shared Hosting is still the most popular and purchased among website owners. And unlike years ago, shared web hosting is much more efficient and secure with hosting account isolation. You can also receive some impressive website speed and performance with the top shared hosting providers. Here are my recommendations for 2020.
InMotion Hosting, A2 Hosting, and GreenGeeks would be my top overall Shared Hosting recommendations. InMotion Hosting is at the top of the charts—offering great features, performance, and support. GreenGeeks not only helps save the environment with their industry leading green web hosting, but their shared hosting plans are suitable for many different types of websites.
WordPress Hosting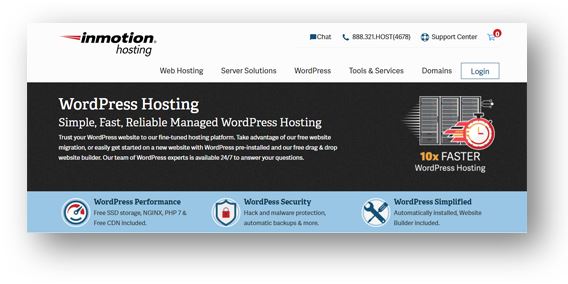 WordPress is definitely the number one focus for most web hosting companies in 2020. WordPress hosting is so huge that in fact we have to break down our recommendations into both managed and non-managed WordPress hosting plans. For most website owners (especially beginners), non-managed hosting is certainly more than adequate and the better choice.
One benefit of WordPress hosting being so important is that a number of web hosts are now offering shared hosting plans that actually rival more expensive managed WordPress hosting plans.
InMotion Hosting's optimized WordPress hosting plans are even more impressive than their business hosting plans. The speed, security, support, and value are excellent. GreenGeeks continues to make improvements to their already noteworthy WordPress hosting plans. A2 Hosting continues to impress me with their WordPress environment optimized for speed and security. And, their Turbo Hosting Plans are even faster.
Managed WordPress Hosting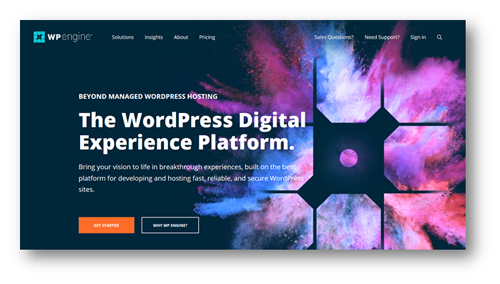 For larger or mission critical WordPress sites, managed hosting still represents the best choice. And, the selection of managed WordPress hosting options is quite impressive in 2020. For increased website speed and expert WordPress support, consider these top Managed WordPress Hosting providers.
WP Engine and Liquid Web are my absolute favorite choices for premium managed WordPress hosting. WP Engine continues to innovate and improve their WordPress hosting features and services. For example, you get faster website speed with Google's Cloud Platform, free StudioPress themes, enterprise-grade security, and of course their expert support staff dedicated to WordPress.
The Liquid Web team is comprised of some of the top professionals in the WordPress field. And now with their partnership with Nexcess, they're poised to provide even faster performance along with more flexibility.
eCommerce Hosting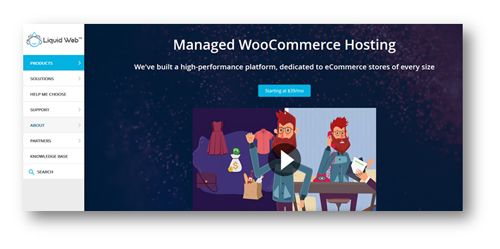 Besides WordPress, eCommerce is the other huge focus for web hosting companies in 2020. Because online stores can range from selling just a few products to large eCommerce sites that offer tons of products for sale, you should be extra selective in your hosting choice.
For building an online store, my two favorite options are WooCommerce and Shopify—WooCommerce for more advanced eCommerce sites and Shopify for more simpler online sales applications.
Because WooCommerce is built on WordPress, it makes sense that for the best WooCommerce hosting experience, you should consider the top WordPress hosting providers. Liquid Web really takes WooCommerce to the next level by providing increased speed (highly critical to eCommerce websites) and better reporting. Just as Liquid Web has elevated Managed WordPress Hosting to a new level, they have established the gold standard for Managed WooCommerce Hosting.
If you're looking more for a quicker out of the box solution to get an eCommerce site up and running fast, then Shopify is the answer. They have some great free and premium website themes that are suitable for all the major categories of online stores.
VPS Hosting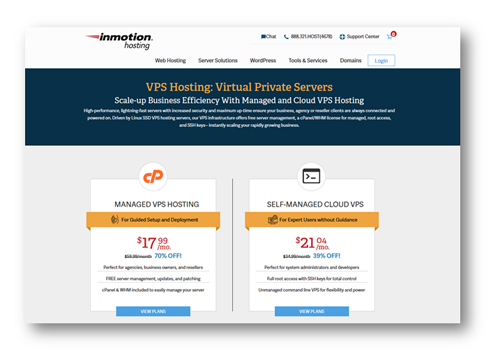 If your website is getting more traffic and needs more resources, it's time to consider upgrading to a VPS or a dedicated server. VPS hosting gives you a lot of the benefits of dedicated hosting at a much lower cost. Also, many web hosts now offer managed VPS hosting which makes the experience easier for you since there isn't as much maintenance needed on your part.
InMotion Hosting and Liquid Web provide the most impressive Managed VPS Hosting plans. InMotion's High-Availability, High Performance VPS Hosting combines cloud powered redundancy with their optimized configurations to produce outstanding results. Meanwhile, Liquid Web also combines the power of a dedicated server and cloud hosting to produce VPS Hosting that is faster than Amazon, Digital Ocean, and Rackspace.
Dedicated Servers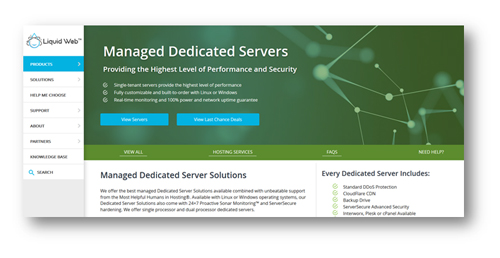 While dedicated hosting is the most expensive type of hosting plan, it's the best option for enterprise and larger scale websites.
Just as with VPS Hosting, Liquid Web and InMotion Hosting offer an amazing lineup of dedicated servers that you can choose from.
Green Web Hosting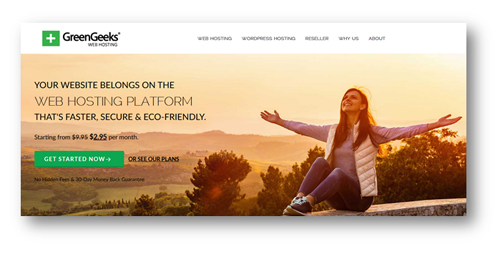 You may not be aware of it, but the web hosting industry is one of the biggest polluters of all—even rivaling the airline industry! However, some of the better web hosting companies have taken note and are now actively promoting green web hosting in both their hosting services and business practices.
But, not all green web hosting is the same. Here are my favorite green web hosting options for 2020.
GreenGeeks is still the industry standard for green web hosting in 2020. Their commitment to 300% renewable energy–partnering with the Bonneville Environmental Foundation and utilizing wind energy is just part of the story. They're also one of the best web hosting companies period.
InMotion Hosting and HostPapa are also top green web hosting choices for 2020.
Website Builder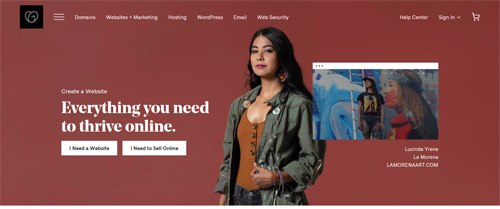 Because these days many people want a quicker and easier way to get a site, website builders continue to be a popular option in 2020. While there are pros and cons to using a site builder as opposed to traditional web hosting, if all you really need is a basic site with only a few pages, then these website builder options are worth considering.
Budget Hosting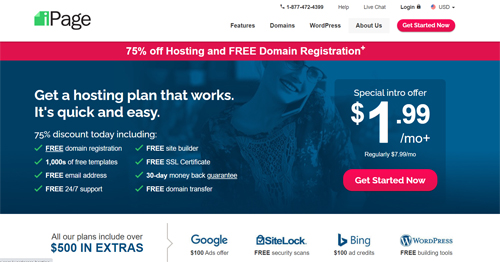 Although some web hosting providers have increased their prices, you'll be happy to know that in 2020 you can still get quality web hosting at bargain prices. If your budget is tight, the key to remember when shopping for hosting is that you need to consider not only the cost of your initial sign up term, but also the cost of your renewal rates.
Here are two of the best bargain hosting options for 2020.
Hostinger not only features ultra-low sign up rates—as cheap as .80 per month, but their renewal rates are lower than the introductory prices of most other web hosting companies.
iPage continues to offer their hosting at only $1.99 mo. While their renewal fees are higher, you can sign up for a full three years at the $1.99 mo. rate.