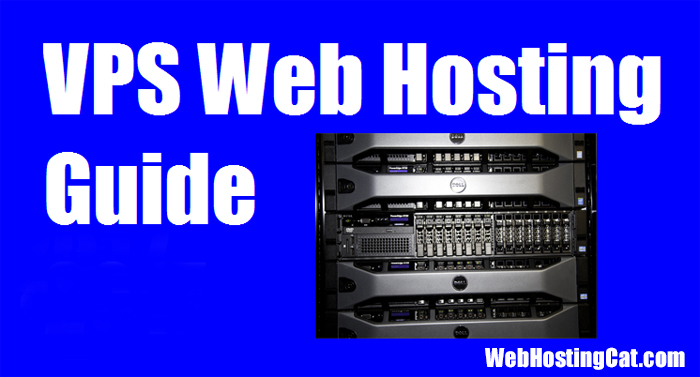 VPS Hosting provides better resources and more power than a Shared Web Hosting plan. And, while a Virtual Private Server gives you many of the advantages that a Dedicated Server does, you won't have to spend as much money on a VPS Hosting plan. Here is our comprehensive guide to VPS Hosting.
Table of Contents
What is VPS Hosting?
With VPS Hosting, there are multiple instances of separate operating systems on a machine—thus giving you your own virtual private server. So while you still may be sharing a physical server at the data center, with your own virtual operating system, you're able to have dedicated resources such as RAM, bandwidth, and disk space. In other words, the environment mimics having a dedicated server—at a lower cost!
What are the Advantages of VPS?
VPS Hosting is a great alternative—an upgrade to Shared Hosting providing the benefits of a dedicated server at a much lower cost that Dedicated Hosting plans. In addition to dedicated resources, because you have your own operating system with VPS, you have more privacy (no other sites can access your files), more control (you can restart your virtual server when you need to), and more customization available (if you need to modify Apache, MySQL, etc.
Who Needs VPS Hosting?
VPS Hosting is ideal for small and medium size businesses that expect increased amounts of web traffic. For example, if you plan to run an Ecommerce site, you'll be better off with a VPS hosting plan with dedicated resources than with a standard shared hosting plan. Also, for non-Ecommerce websites that have grown in terms of both the number of web pages and the amount of web users, VPS is the better option to ensure you have the necessary resources and power to continue operating for your site's visitors.
Moving from Shared Hosting to VPS
If you currently have a shared hosting plan, the main reason to move to a VPS hosting plan is resource utilization. The issue really isn't that your website is running slow, but rather it needs to be able to handle more web traffic. Your current web host will usually inform you when you're exceeding shared hosting resource limits. That's the ideal time to switch to VPS. With a virtual private server, you'll have your own operating system and dedicated resources for increased power. Your site will then be able to handle increased traffic. And, you'll have even better insulation from other hosting customers.
VPS Hosting vs Shared Hosting
The great news for VPS customers these days is that most web hosting companies offer managed VPS hosting. Here, not only will they set up your server environment, but they'll also take care of tasks such as software upgrades, security patches, etc. Also, provision time is now greatly reduced and you can be up and running with your VPS hosting much more quickly.
While there are many similarities between having a VPS Hosting plan and a Shared Hosting plan, you will notice that there are some additional features and functions you are provided with. For example, InMotion Hosting provides you with the WebHost Manager (WHM) which allows you to access Server Configuration, Account Information, Security, Account Functions, SSL/TLS, cPanel, and more. Keep in mind that your VPS cPanel usually doesn't include Softaculous like most Shared Hosting cPanel implementations. If you aren't comfortable manually installing your software applications such as WordPress, you can usually purchase a Softaculous license for easy software installs.
You'll also be able to monitor your Virtual Private Server's performance with respect to bandwidth, disk space, RAM, and load average.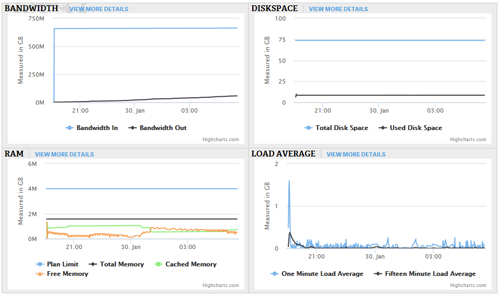 Best VPS Hosting Recommendations
VPS Web Hosting is ideal for business sites and websites that require increased resources to handle more traffic than a shared hosting plan allows. And with Managed VPS Hosting plans simplifying the process, you don't need to be a tech expert to use VPS Hosting for your websites. Here our three VPS Hosting Plans we would put at the top of any list.
Liquid Web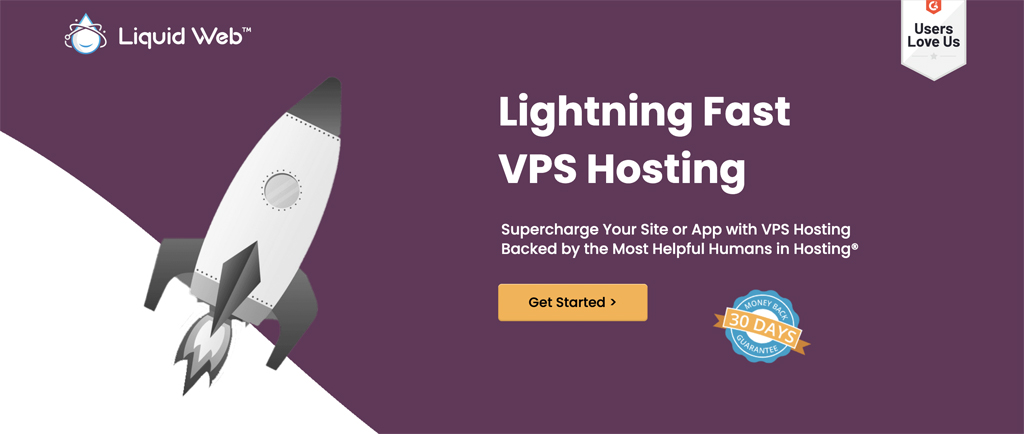 $15 mo. – $95 mo.
RAM: 2GB – 8GB
Disk Space: 40GB – 200GB
Bandwidth: 10TB
InterWorx Management
Integrated Firewall
Dedicated IP Address
Root Management
cPanel and Plesk Available
Cloudflare CDN
Advanced Security
DDoS Protection
SSD Storage
100GB Acronis Cyber Backup
Unlimited Domains
24/7 Support via Phone, Email, Chat
100% Network and Power Uptime SLA
For the best overall VPS Hosting experience, Liquid Web has to be at the top of the list. For many years, Liquid Web has specialized in VPS and Dedicated Hosting solutions for mission-critical websites. They have the best selection of VPS Hosting plans for all levels of businesses.
With Liquid Web's Managed VPS Hosting, you can get the benefits of a dedicated server and the flexibility of cloud hosting at a much lower price. All of Liquid Web's VPS plans include premium features such as InterWorx hosting management, Cloudflare CDN, Integrated Firewall, Dedicated IP address, Proactive Monitoring, Acronis Cyber Backups, DDoS Protection, and 100% Network and Power Uptime SLAs.
InMotion Hosting

$19.99 mo. – $59.99 mo.
RAM: 2GB – 8GB
Disk Space: 90GB – 360GB
Bandwidth: 2TB – Unlimited
High Availability Feature for Real Time Redundancy
Free cPanel License
Free SSD Drives
Managed Hosting
Max Speed Zone Technology
Secure Email
Optimized for eCommerce
Resource Dashboard
Snapshot Functionality
DDoS Attack Protection
Free Data Backup
99.9% Uptime
90 Day Money Back Guarantee
We've recommended InMotion's Business Hosting Plans for many years now. However, their VPS Hosting plans take things to another level. First of all, with InMotion Hosting's VPS you get real-time redundancy—meaning, if there is an issue with your server, your website will be available almost instantly on another server in the cluster. This high availability feature is powered by a cloud infrastructure. The combination of VPS and cloud hosting benefits make InMotion Hosting one of our top picks. But, you actually get much more with their VPS Hosting plans.
InMotion Hosting includes managed hosting features for advanced server optimization with your VPS—including updates for LAMP stack, cPanel, and WHM, as well as OS security patches. You also get a free cPanel license and multiple dedicated IP addresses. We also like the snapshot functionality which allows you to revert to a previous instance of your files and processes. And, InMotion does not limit you to a certain number of CPU cores.
In addition to all of these impressive features, your InMotion VPS Hosting Plan also includes the outstanding features we're accustomed to with their shared hosting plans. So, you can also benefit from their Max Speed Zone Technology, free SSDs, free data backup, unlimited email, and outstanding customer support.
A2 Hosting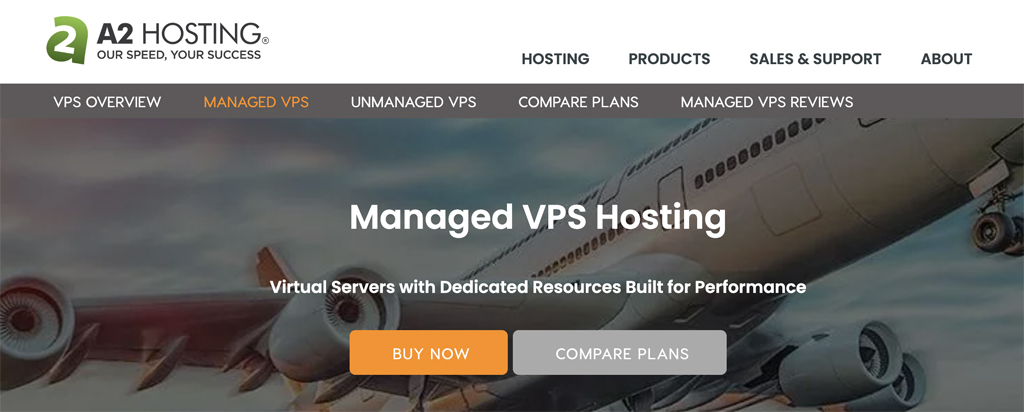 $39.99 mo. – $59.99 mo.
RAM: 4GB – 8GB
Disk Space: 150GB – 450GB
Bandwidth: 2TB – 4TB
Choice of Managed or Unmanaged VPS
Free cPanel
Free SSD
Full HostGuard Management
Free Let's Encrypt SSL
Anytime Money Back Guarantee
A2's shared hosting plans are recognized for their emphasis on speed. When it comes to VPS, A2 Hosting is even more impressive and provides you with a wide range of options. Experienced developers can get an unmanaged VPS package for only $5.00 mo. At the other end, you can get a managed VPS (with or without root access) starting at $32.99 mo.
A2 Hosting's Managed VPS plans include full HostGuard Management which maintains your hardware, network, software updates, and security—so you don't have to worry about your server. And, as with their shared hosting plans, A2's managed VPS includes free CloudFlare CDN, choice of server locations in the U.S., Europe, and Asia, and a Turbo Boost optional feature which can lead to 20x faster page loading times.
GreenGeeks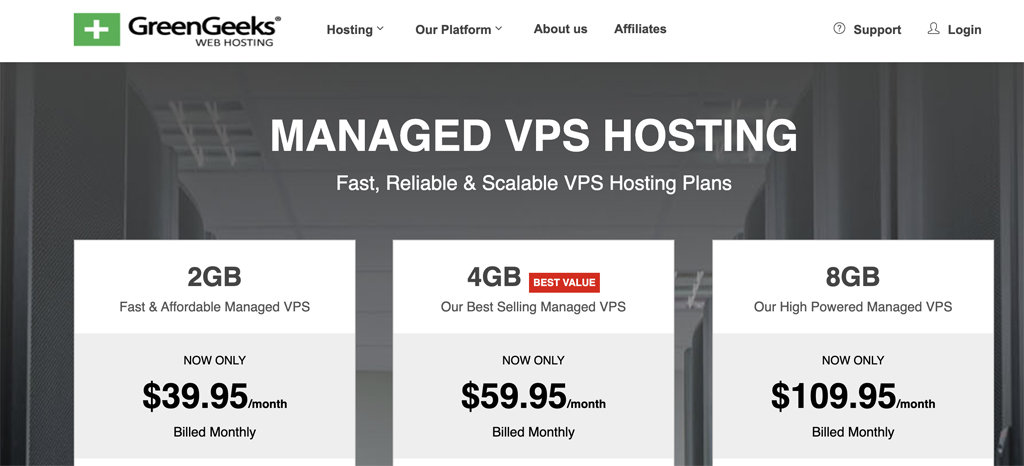 $39.95 mo. – $109.95 mo.
RAM: 2GB – 8GB
Disk Space: 50GB – 150GB
Bandwidth: 10TB
Free cPanel/WHM License
Solid State Drives
Quick Provision
Free Nightly Backup
VPS Management Control Panel
Enhanced Security
300% Powered by Renewable Energy
Just as with their shared hosting plans, GreenGeeks VPS Hosting is powered by 300% renewable energy. If you're looking for green VPS hosting, they deserve your consideration. GreenGeeks has one of the quickest provision times we're aware of as your VPS is ready minutes after your order is verified.
With cPanel/WHM, GreenGeeks VPS Hosting plans are fully managed and you have full root access to your server. You can choose from 5 different VPS plans depending on the amount of RAM, storage, and bandwidth you require.
VPS Hosting Recommendations