In my previous article, we reviewed Liquid Web's Dedicated Servers. Here, in my Liquid Web Cloud Dedicated Review, I'll go over the differences between their traditional and cloud dedicated servers. We'll also go over the benefits of each type of dedicated server so that after reading this article, you'll be able to determine which dedicated package is best suited for your business.
What is Cloud Dedicated Hosting?
You may be familiar with the benefits of a Dedicated Server when it comes to resources and security. With a dedicated cloud server, you're basically getting a traditional dedicated server that includes the load balancing and resource scaling that cloud hosting provides. Think of it as having your own dedicated cloud environment.
Benefits of Cloud Dedicated
Cloud Dedicated Servers are ideal if your business runs multiple database intensive, high traffic applications. You have the processing power of a dedicated server together with dynamic provisioning. And, you can easily resize your server in the future if needed.
With Liquid Web's Cloud Dedicated Servers, you can also choose what level of assistance you require by selecting a Self Managed Server, a Core Managed Server, or a Fully Managed Server.
Here are some of the best features you get with Liquid Web Cloud Dedicated Servers:
100% Network and Power Uptime SLAs
Instant Provisioning
Advanced Security with ServerSecure
Unlimited Site Hosting with InterWorx
Dedicated Gigabit Uplinks
Integrated Load Balancer and Firewall
DDoS Protection
Cloudflare Content Delivery Network
Root Access
Dedicated IP Address
Plesk or cPanel Available
Liquid Web Dedicated Servers vs Cloud Dedicated
Liquid Web has an excellent selection of both traditional dedicated servers and cloud dedicated servers. Custom solutions are also available for both types of servers. Prices for Cloud Dedicated servers do run a bit higher. Below is the current pricing for both smaller and larger applications.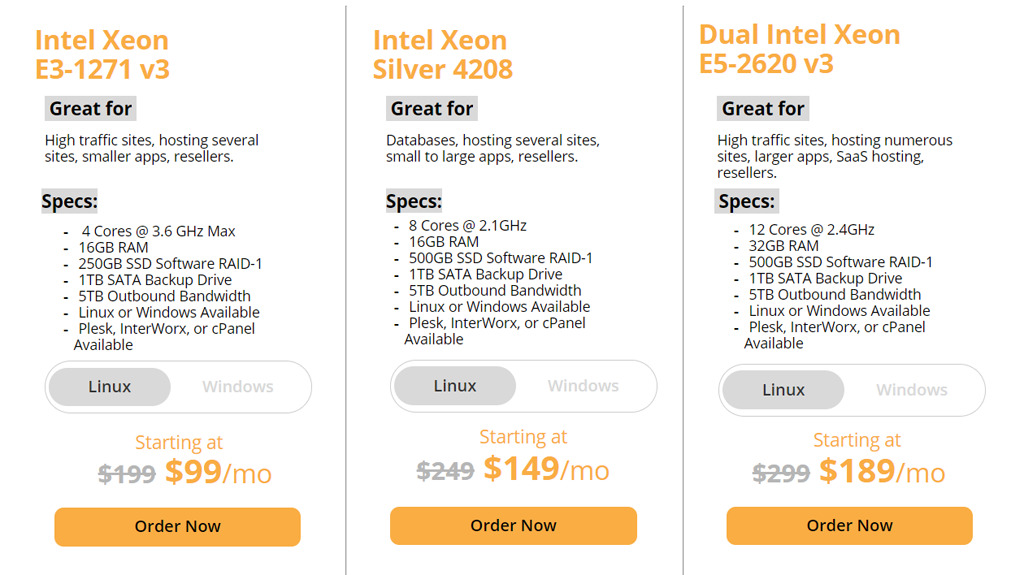 The features you get with both Liquid Web's Dedicated Servers and Cloud Dedicated Servers are fairly similar. Again however, with Cloud Dedicated you're getting your own virtual environment that can allow multiple applications to run more efficiently. You also get more flexibility and faster provisioning.
Liquid Web Cloud Dedicated vs the Competition
While you may see a few other web hosts offering what appears to be similar products, when it comes to Cloud Dedicated Servers, Liquid Web is the far superior choice in my opinion. Besides their outstanding track record when it comes to dedicated hosting, Liquid Web includes features such as integrated load balancing, root access, and 24/7 phone, chat, and email support that you don't always get at other places.
Which Server Should You Choose?
For a lot of businesses, using a traditional dedicated server is the best and more cost-effective choice. However, if your websites have very high traffic and you anticipate periods where resources will be in greater demand, then I would recommend considering a cloud dedicated server.
With Liquid Web's history of providing outstanding hosting for mission-critical applications, I consider their Cloud Dedicated Servers the ultimate solution for businesses looking for the best power, security, and performance for multiple websites.