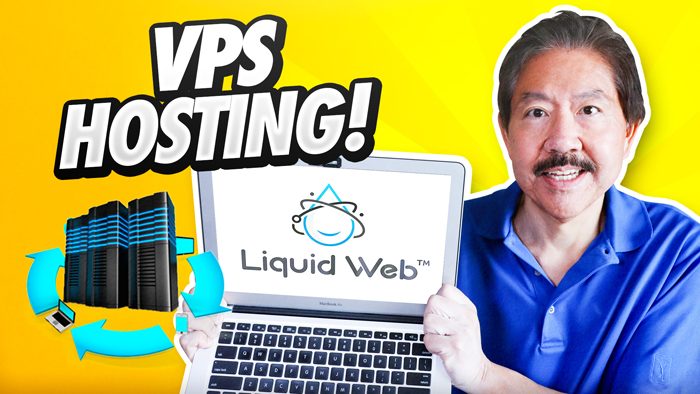 One of the most frequent questions I get from website owners using shared hosting is, "What is VPS hosting and when do I need to upgrade to a VPS Hosting plan?"
Let me answer the second part of the question first. Contrary to what you might think, the issue isn't really that your website or a part of your site is running slowly, rather it's more an issue of resources and accessibility of your website. So, as your site grows in popularity and you start getting more (hopefully a lot more) traffic, you're going to need more resources (memory, processing power, etc.) to handle all of your visitors.
So, going back to the first part of our question, with a VPS Hosting plan, you get your own resources that you don't have to share with other hosting customers. That's especially crucial when you have a mission-critical website. You also get more control over your server with a VPS plan. VPS stands for Virtual Private Server, which means you get the functionality of having your own server environment, so you could do things like shut down and reboot your server if necessary.
What VPS Hosting really gives you are a lot of the benefits of having your own dedicated web server without the high cost of purchasing a dedicated server hosting package.
VPS Hosting Plans
In the past, one of the drawbacks of getting a VPS Hosting plan was that you needed more knowledge and experience to set things up and keep things running. However, these days you can get Managed VPS Hosting from some web hosts that make VPS a lot easier and accessible to all website owners.
With a Managed VPS Hosting Plan, your hosting company will set your server up for you and take care of maintenance tasks.
Choosing a Managed VPS Hosting Plan
Most web hosting companies that offer shared web hosting also provide VPS Hosting services. However, I would recommend getting a Managed VPS Hosting plan—especially if you haven't used VPS before. And, when you've made the decision to go for VPS Hosting, because you're at a point where your website is now mission-critical, it makes sense to choose a high-quality hosting provider.
When it comes to mission-critical web hosting, Liquid Web has been my go-to recommendation for years now. Liquid Web specializes in dedicated servers and Managed VPS Hosting plans. They have the most impressive selection of hosting plans that I've seen in these categories.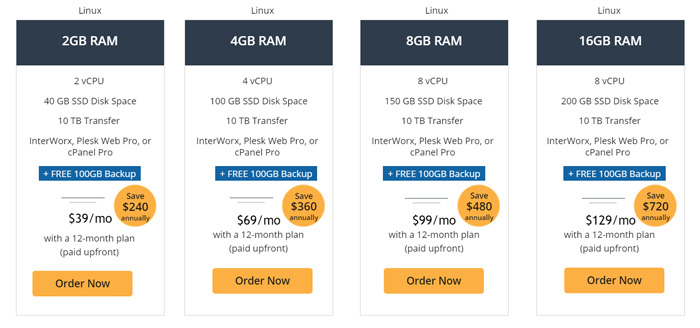 Why Liquid Web is a Great Choice for VPS


If you're looking for the best VPS Hosting for your websites, here's why I would recommend you check out Liquid Web.
First of all, keep in mind that switching to VPS doesn't necessarily mean faster websites. With some web hosts, you may not even notice a difference with speed. However, Liquid Web provides an excellent combination of hardware, server configurations, and network architecture that results in super-fast performance. In fact, they're even faster than premium cloud computing service providers such as AWS (Amazon) and Rackspace! (See More Details Below)
And, if you're concerned about reliability, you'll be pleased to know that Liquid Web has a 100% Network and Power Uptime SLA Guarantee. If you have a mission-critical site that needs to be available to your customers, I would definitely look for this type of uptime feature.
Security is another big issue for important websites. And with Liquid Web's VPS Hosting you get advanced server security and DDoS protection, so your sites are protected against outside attacks. Also, you get 100 GB of free daily automated server backups. Backing up your data is always the best security measure, so with Liquid Web's automatic backups you'll have even more peace of mind.
Finally, Liquid Web has the best selection of VPS Hosting plans that I've seen. No matter how advanced your websites are, you can find the right VPS package with the right resources at the right price. Currently, you can get their VPS Hosting starting as low as $39 mo. That's a great deal for the premium type of hosting you get from Liquid Web.
What Makes Liquid Web Stand Out from the Competition?
Liquid Web vs AWS and Rackspace
I mentioned above that Liquid Web is faster than AWS and Rackspace. In fact, there is an in-depth study and published report on the results. Here's a look at some of the data.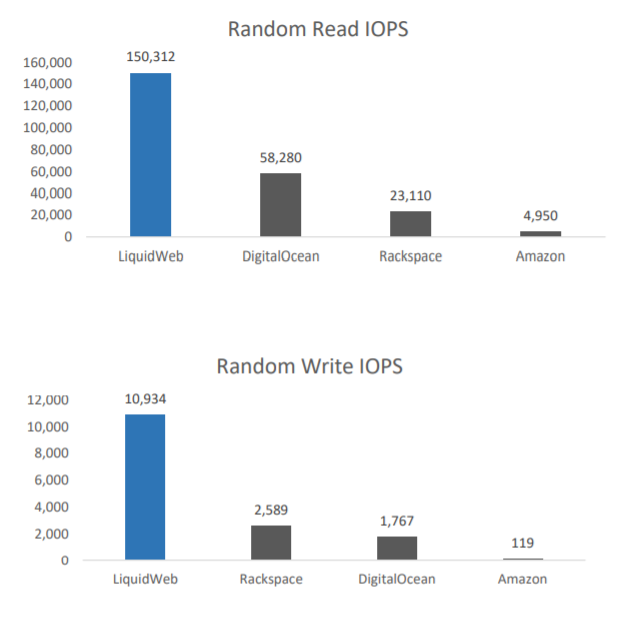 In the study, Liquid Web was the winner with the best results in all testing categories!
vCPU Performance Intensive Tasks
Disk Read and Write Performance
Web Server Performance
Database Query Performance
So, how does Liquid Web's VPS Hosting compare to some other well-known web hosts? Here is a head to head look comparing Liquid Web to the VPS hosting options from GoDaddy, HostGator, and Media Temple:
Liquid Web vs GoDaddy
GoDaddy is the world's largest domain registrar. And, they're one of the most well-known hosting companies in the industry, offering one of the widest selections of hosting services—including VPS hosting. While their VPS hosting plan features are respectable, when it comes to speed, uptime performance, and support, Liquid Web is far superior.
| | | |
| --- | --- | --- |
| Managed VPS Plans: | 7 | 4 |
| vCPU: | 2 to 8 Cores | 1 to 8 Cores |
| RAM: | 2 GB to 16 GB | 2 GB to 16 GB |
| Storage: | 40 GB to 200 GB | 40 GB to 400 GB |
| Free Backup?: | Yes (Daily) | Yes (Weekly) |
| Uptime SLA: | 100% | 99.9% |
| Root Access?: | Yes | Yes |
Liquid Web vs HostGator
HostGator is another familiar web host for most people. They tend to focus more on shared and reseller hosting—though they do offer both VPS and Dedicated hosting. However, HostGator's VPS plans are not as impressive feature-wise. They also don't provide an uptime SLA guarantee but rather their network guarantee—which is somewhat ambiguous to me. I've also found HostGator's support to be somewhat inconsistent in the past.
| | | |
| --- | --- | --- |
| Managed VPS Plans: | 7 | 3 |
| vCPU: | 2 to 8 Cores | 2 to 4 Cores |
| RAM: | 2 GB to 16 GB | 2 GB to 8 GB |
| Storage: | 40 GB to 200 GB | 120 GB to 240 GB |
| Free Backup?: | Yes (Daily) | Yes (Weekly) |
| Uptime SLA: | 100% | N/A |
| Root Access?: | Yes | Yes |
Liquid Web vs Media Temple
Media Temple focuses more on premium level hosting plans. While they have some impressive VPS plans, you don't have as many options as you do with Liquid Web. Also, although they do keep data backups, there is a charge if you want to perform a restore. And, their live chat support is sometimes unavailable.
| | | |
| --- | --- | --- |
| Managed VPS Plans: | 7 | 6 |
| vCPU: | 2 to 8 Cores | 4 Cores |
| RAM: | 2 GB to 16 GB | 2 GB to 64 GB |
| Storage: | 40 GB to 200 GB | 30 GB to 600 GB |
| Free Backup?: | Yes (Daily) | No (Restore requires fee) |
| Uptime SLA: | 100% | 99.99% |
| Root Access?: | Yes | Yes |
Conclusion: Moving to VPS Hosting
As we've seen above, there are many good reasons for moving up to VPS Hosting. If your websites have outgrown shared hosting limitations, a VPS hosting plan can give your site a boost in resources and performance. It's really like having your own web server without having to pay the higher prices for a dedicated computer.
And, I would definitely recommend that when you're choosing a VPS Hosting plan, you want to make sure to select a web hosting company that offers premium features and service—don't settle for just a more familiar name or bargain priced deals. Because your websites are important enough for you to make an upgrade to VPS, be sure to choose a web host that will provide the mission-critical hosting you expect.