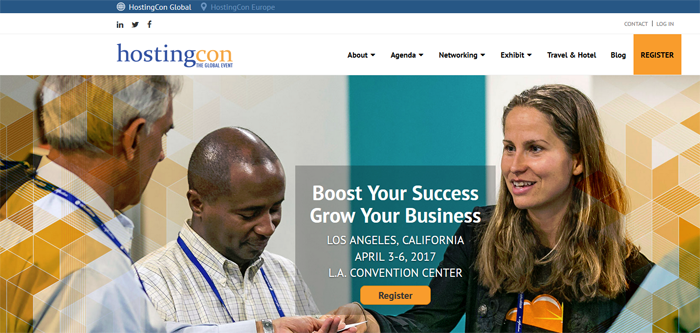 HostingCon, the annual conference for cloud and service provider professionals, is coming to Los Angeles in 2017. Taking place at the Los Angeles Convention Center from April 3rd to April 6th, HostingCon is the premier event for hosting providers, cloud providers, managed service providers, resellers, domain registrars, ISPs, and others involved with making the internet work.
Companies that will be exhibiting at HostingCon Global 2017 include:
Acronis
Lenovo
Sucuri
Symantec
Corero Network Security
HGST
Huawei Enterprise USA
Microsemi Corporation
NEC
R1Soft
Cloudbric
And Many More
The main educational session tracks at HostingCon 2017 will focus on:
Technology and Trends
Strategy
Building Business
There will also be two mini-tracks on CyberSecurity and IOT (Internet of Things) Technology.
We recently reached out to Andy Grider, Marketing Manager with Penton Technology, for some inside information about HostingCon 2017.
What are some of the highlights we can look forward to at HostingCon 2017?
"There are a number of things to look forward to at HostingCon Global 2017. We have updated our educational tracks this year to more closely align with the changing nature of our industry and current trends. The tracks this year will be Building Business, Strategy, and Technology and Trends. We're also adding 2 "mini" tracks this year that will cover Cybersecurity and IoT as it relates to data centers and the cloud service provider industry.
Second, the exhibit hall for HostingCon Global 2017 and Data Center World Global 2017 will be combined into one massive show floor. Attendees will get access to a much larger selection of exhibitors, discover more products and services and make more connections!
Finally, in terms of Networking, we've added a brand new speed networking session where attendees will walk away with at least 10 new connections!"
How should first time attendees to HostingCon plan their agenda to get the most out of the conference?
"There are a few easy things that first time attendees can do to make the most of their time at the conference. First, take a look at the education session schedule ahead of time and plan which sessions you want to go to. Second, be sure to plan for significant time to browse the exhibit hall. You'll learn about new products and services there which can help your business. Third, go to all the official networking events and to some of the partner events. Not only are they a lot of fun, but you can easily make new connections which could turn into business relationships. Finally, utilize HostingCon Connect which is a tool in the HostingCon app that lets you contact other attendees in advance of the event. Setup meetings while on-site to get even more business done!"
Can you give us some information on the networking events being held during HostingCon?
"There are three Official Networking Events: The HostingCon Game Show, The Opening Networking Reception and Exhibit Hall Happy Hour. Things kick off on Monday, April 3 with the HostingCon Game Show where everyone plays along to win prizes and have fun! Tuesday is the Opening Networking Reception followed by the Exhibit Hall Happy Hour on Wednesday.
In addition to the "Official Networking Events", several partners are planning additional after-hours events that are open to all conference attendees. Partner events that we know of so far are the PhoenixNAP Bar Crawl on Monday and The WHIR Networking Event on Wednesday. These are typically highlights of the conference and not-to-be-missed."
Keynote Speaker: Kevin Mitnick – The World's Most Famous Hacker
The keynote speaker for HostingCon and Data Center World has just been announced. And, it's none other than Kevin Mitnick, the "World's Most Famous Hacker". This sessions should be highly entertaining for all.
For more information and to register for HostingCon Global 2017, visit hostingcon.com.