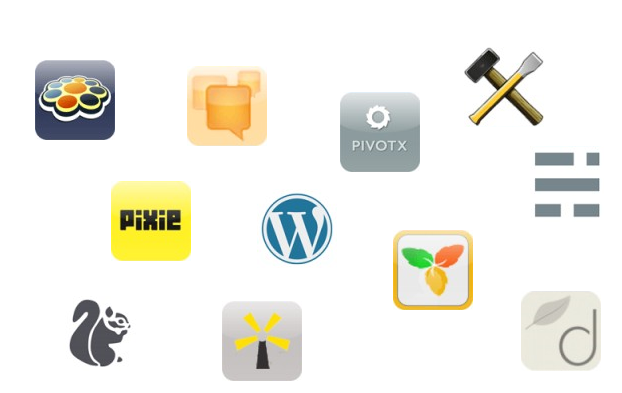 WordPress is by far the most popular software for creating blogs. It's the content management system that I use for most of my websites—including my blogs. Most people find WordPress easy to use and very customizable to suit many different types of websites. If you're going to be creating a blog, I'd certainly recommend you consider using WordPress.
However, WP certainly isn't the only software you can use to create a blog. You might be surprised at how many options you have to choose from. For example, in a typical cPanel web hosting plan, you can use the Softaculous tool to install quite a few different software applications to create your blog. So, if you feel that WordPress just isn't right for your site, you might want to check out some of the other options.
Here's a look at 10 software applications available from most cPanel hosting plans that you can use to create your blog:
WordPress



Content Management System — WordPress accounts for about 20% of all sites online. Many website owners like that WP is easy to learn and use as a blogging tool. Many free themes are available to customize the look of your blog and it can be enhanced using some of the many plugins available from the WP repository.
b2evolution



b2evolution is an extremely popular alternative to WordPress that allows you to create not only a simple blog, but also a more advanced website that includes things like forums, photo galleries, and online manuals. Of all the alternatives to WordPress, b2evolution probably has the most advantages we've seen including: fewer 3rd party plugins needed, built-in analytics, integrated email campaign management, and easy multiple blog management.
Serendipity



Like WordPress, Serendipity is a php based content management system that allows you to create a simple blog or a more sophisticated site via plugins and themes. In addition, Serendipity is BSD-licensed—meaning you can also use it for commercial applications. It also supports multiple databases.
Dotclear



Dotclear was first published in 2003 by Olivier Meunier. This open source web publishing tool focuses on providing a user-friendly method of creating a quality blog site. Dotclear supports PostgreSQL and SQLite databases in addition to MySQL. Of particular interest are Dotclear's claims that pages are naturally optimized for search engines and that the application will stay fast even with large quantities of data.
Textpattern



Textpattern is yet another content management system option that you can use to create many types of websites from blogs to corporate sites. If you're a web developer/designer that needs to control all aspects of CSS and XHMTL, then Textpattern may be your software of choice. Textpattern also provide options such as the ability to password protect articles and adjustable date/time stamps.
LifeType



LifeType is an open source blogging platform that focuses on supporting a multi-user, multi-blogging environment. The other noteworthy feature with LifeType is that it is the first mobile-ready application of this kind with seamless integration for publishing to and accessing content on mobile computing devices.
Pixie



While Pixie can certainly be included in the content management category, its focus is on providing a small, simple website maker. Indeed, the emphasis is on simplicity—the goal being that anybody can use it. One of the unique features with Pixie pops up right away during the installation process. Instead of installing the same type of package for everyone, Pixie allows you to specify what type of website you want to create, whether that's a blog, a business site, or a branding site.
Nibbleblog



Another alternative to WordPress if you're looking for a simpler interface and environment is Nibbleblog. While Nibbleblog might not have as many bells and whistles, it's still a powerful tool for creating blogs.
Ghost



Ghost is a powerful publishing platform that has a simple, though noticeably different, user interface. I like that you get a preview pane to see exactly how your post will look as you're creating it. But because Ghost uses a markup language for styling posts, as opposed to a WYSIWYG editor, it may not be for everybody.
PivotX



PivotX can not only be used as a blogging tool, it can also be used for complex websites. PivotX includes similar features to other top blogging software such as easy editing, themes and extensions for more customization, and anti-spam protection. Additionally, you can maintain multiple blogs with a single installation. And, you can choose whether you want to use MySQL or a flat file database.
Again, while WordPress is the king of blogging software, and is my software of choice, remember there are many alternatives in case WP just isn't for you and your blog.
cPanel Web Hosting
cPanel is by far my favorite hosting control panel interface. In addition to blogging tools such as these, you also get access to many helpful functions for software installation, email, file management, databases, web stats, and more. To see some of our recommended cPanel Web Hosting plans, check out my article on the Best cPanel Web Hosting.