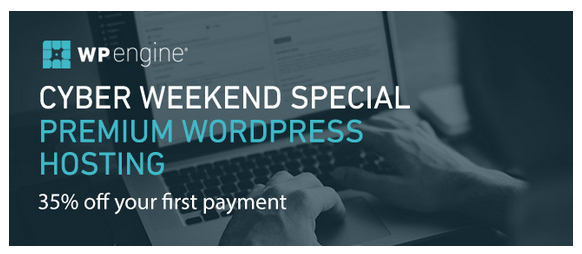 Now that their Pre-Cyber Weekend deal has ended, it's time now for the 2017 WP Engine Black Friday Cyber Weekend Sale. You have the opportunity to get their premium managed WordPress hosting with a 35% discount! If you're familiar with WP Engine, you know that this is a rare chance to purchase their hosting with what amounts to over 5 free months of WordPress hosting when you pre-pay for your first year.
Unlike the pre-cyber deal, which was geared more towards enterprise application development, the Cyber Weekend Special is equally beneficial to all new WP Engine customers. This special sale begins on Wednesday, November 22, and ends on Thursday, November 30, 2017. Use the link below and enter code cyberwpe35.
WP Engine has been our number one recommendation for the ultimate premium managed WordPress hosting experience. You can read my detailed review of WP Engine here. Besides focusing totally on WordPress, here are some of the excellent benefits you can get with WP Engine:
Expert WordPress Support
Proprietary EverCache Technology for Faster Websites
Automated and Snapshot Data Backups
Multiple Firewalls for Website Protection
Free SSL Certificates
Data Centers across 4 Continents
Staging Environment
WP Engine Solution Center
Transferable Installs for Agencies and Consultants
60 Day Money Back Guarantee
If you need serious WordPress hosting for your site, don't miss out on this special sale.