TrustZone combines their VPN servers into Geo-Zones for improved stability and connection speeds. Their head office is located in Seychelles.
VPN Plans:
Monthly @ $6.99 mo.
1 Year @ $3.33 mo.
2 Years @ $2.66 mo.
Payment Methods:
Visa
MasterCard
American Express
Discover
JBL
PayPal
Bitcoin
Emercoin
Paymentwall
What Do You Get with TrustZone VPN?
Features:
165 VPN Servers
Servers in 89 Zones
Servers in 34 Countries
Unlimited Bandwidth
Unlimited Speed
Unlimited Server Switching
Unrestricted P2P Traffic
3 Simultaneous Connections
L2TP Encryption
Easy 1 Click Connect
Auto Location Select for fastest and closest VPN Server
Auto Retry Connect
1 Click Port Change
Kill Switch
Support Available M-F 6 a.m. to 4 p.m. GMT +0 by Support Ticket
Free 3 Day Trial
Devices:
Windows
Mac
iOS
Android
Linux
TrustZone VPN Network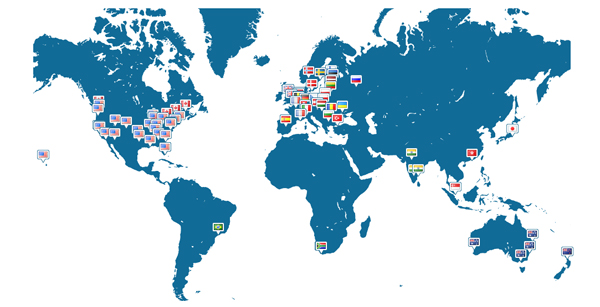 Countries:
United States
United Kingdom
Australia
Austria
Belgium
Brazil
Bulgaria
Canada
Czech Republic
Denmark
Finland
France
Germany
Hong Kong
Hungary
India
Italy
Japan
Latvia
Lithuania
Netherlands
New Zealand
Norway
Poland
Romania
Russian Federation
Singapore
South Africa
Spain
Sweden
Switzerland
Turkey
Ukraine
Setup and Installation of TrustZone VPN
Unfortunately, the signup and installation process at TrustZone isn't as easy and streamlined as I had hoped. Unlike some other VPN providers where your device and server locations are auto-detected, with TrustZone you actually have to go through a number of steps to specify exactly what you need.
Also, when it comes to installing the software, you again have to go through several steps to get everything setup properly. And, the actual software download area is somewhat confusing.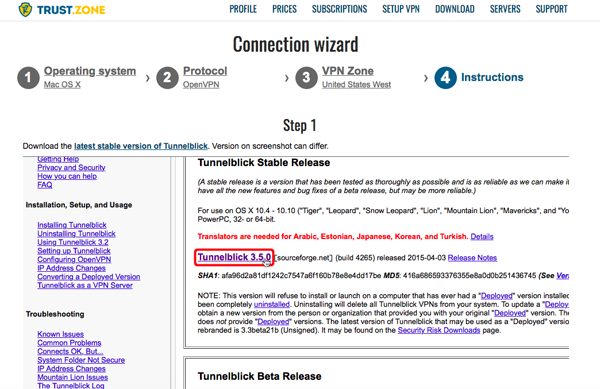 Even after downloading and installing the VPN software, you then have to download the configuration file for your server. I found it very confusing trying to find out where to get the configuration file.
For the above reasons, TrustZone definitely seems better suited to experienced VPN users rather than beginners.
VPN Speed and Performance
Once I was able to track down the right configuration files and was able to connect with the TrustZone VPN app, web speed and performance was very good. The only part that isn't great is that if you want to switch servers, you have to load another configuration file then disconnect and reconnect.
TrustZone Customer Support
Customer support is available via tickets that you create. However, support hours are M-F 6 a.m. to 4 p.m. GMT +0. There is no live chat support. Unfortunately, it took 3 days to receive a reply to my support ticket.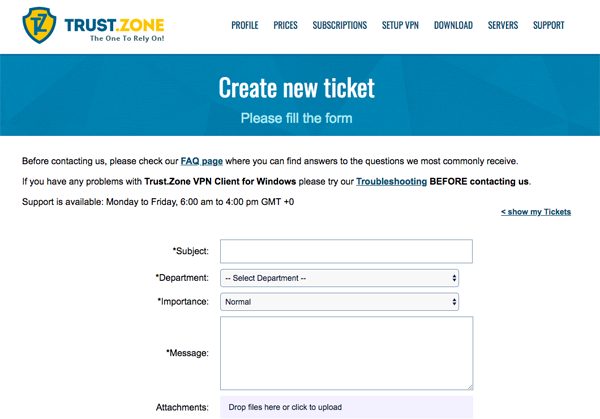 Recommendation
TrustZone is better suited for personal VPN users that don't need more than a few concurrent connections. While their VPN network isn't as large as other providers, TrustZone does offer an economical VPN solution that includes features like unlimited bandwidth and server switching together with Auto Location Select and Auto Retry Connect. I would like to see them expand their customer support services to 24/7 or at least include live chat support.
However, because of the difficulties in getting their VPN installed and running, plus having to load individual configuration files for each server, TrustZone probably isn't the best choice for most people. They also need to work on their customer support response time.