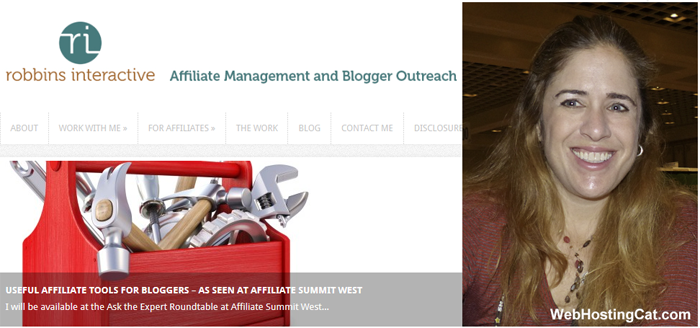 If you currently have a blog or are planning on creating a blog, along with sharing your vision and thoughts, you might also want to consider making some money with your website. While there are a number of ways you can monetize your blog, you need to do a lot more than just plaster a bunch of ads on your website if you want to successful. Stephanie Robbins and her company Robbins Interactive specialize in affiliate management and blogger outreach. I recently had the opportunity to chat with her and get her input on what works and doesn't work when it comes to blog monetization.
Web Hosting Cat: Can you tell us about your background and how you got started with online marketing?
Stephanie Robbins: I came from a marketing/communications background, and then they invented the internet. I loved the fact that you could track, and report, and have a solid ROI. So that was actually my first introduction into online marketing—really just when we started doing banners with the little gif animation. We made a globe spin and we thought we were really cool! That was the start of it. I went into online marketing about 15 years ago. And then I was introduced to affiliate marketing and just fell in love, because I love working with individuals and helping them become successful with online marketing and using my agency digital marketing experience to help affiliates be successful.
WHC: What would your number one tip be to beginning bloggers that are looking to monetize their site?
SR: The number one tip is to not be shy about asking for people to click. I think a lot of times bloggers get insecure because they feel like "Oh, they're going to think that I'm selling out!" Or, "This is going to offend somebody". They have to realize if someone is following the blog, it's because at some level they want to be like you. And, to give them a product that helps them be more like you is actually a service that you're providing. So, don't be shy about saying, "Hey, this is a great product. This is the reasons why I love it. This is the reasons why I think you might like it".
WHC: Do you recommend waiting a certain period of time to get your blog established before you try to monetize it?
SR: I think it depends. You want to make sure you have a balance. If all you're doing is monetizing your site but you're not providing value, you're going to lose followers. And I think it's those horror stories that get people to be really shy. So, you want to make sure that a good portion of your content, and establishing that relationship, is not monetized. But with that being said, don't wait until you have a gazillion followers and feel that oh I have to be a top blogger listed in BuzzStream in order to be successful. As you're building your followers, you're going to actually be able to monetize it more.
WHC: In your experience, what leads to more success in monetization? Links in your content or banner ads?
SR: 100% in-content links. When you're a blogger, people are connecting with you personally. And, it's because you are an expert at something—whether that's being a mom, or a photographer. They trust you because you have experience in something and they like your style. So the best way to monetize your blog is to have your opinion in there–because that's why they're there. And if a banner is just kind of on the side, it's the same as retargeting. It's just kind of random if they click on it. You're not going to get good results at all. You might get one or two.
WHC: What are some of your favorite blogger tools to help increase sales conversions?
SR: Some of them are network specific and it really depends on what type of blog you are. So for instance, if you're a fashion blogger and you're just starting out, you really need to look at ShopStyle and RewardsStyle because they're going to make it easy for you. They're going to connect you with the brands right away. You want to make sure that you know how to create links easily. And, ShareASale and AvantLink and CJ, they all have plugins for your browser to make sure that you can create affiliate links easily. And then really for monetization, it's just about good tools for blogging. Like, Yoast is one of my favorite tools. To be really good at monetization, you want to make sure that people looking for that product or looking for that solution, they can find you on the internet and then they become a follower because you answered that problem for them.
WHC: Robbins Interactive works with Affiliate Management and Blogger Outreach. What are some of the services that your company provides?
SR: I do affiliate management for health and wellness companies. That's my passion. And I find that I do a lot better if I'm passionate about something. I'm just more successful. So I have clients like Grokker.com, which is online yoga, fitness, and cooking—as well as natural healing oils, and 100% Pure which is organic cosmetics and skin care—everything from babies, men, to women. And what I do for them is an addition to doing what most people think of as affiliate marketing, which is coupon and deals affiliates—which definitely has a place in affiliate marketing. Where I really bring my value I feel, and what differentiates me, is that in addition to providing incremental revenue, I provide brand lift by working with quality content affiliates—whether they be bloggers or SEO niche affiliates. That to me is where so much of the power of affiliate marketing is. So, I create a lot of tools for bloggers and content niche affiliates and people that are new to affiliate marketing to introduce them to affiliate marketing—even if it's not one of my clients. Just because I'm so passionate of that's where I want this industry to go.
WHC: Where do you see the future of blog monetization going?
SR: You know, in the past five years, the bloggers have been the golden nugget that everyone is trying to approach. And, I think some bloggers are really getting the sense for that which makes me happy. So what I see is more bloggers understanding that they can monetize their site and having a really healthy revenue mix. So, they have some sponsored posts. They have some affiliate marketing. They have some advertising–just a nice mix, but still doing it because so many brands want to work with them, where they're being completely true to themselves. And I think that's key. That's when all forms of monetization work. If you truly use the product or the service, you're passionate about it—just like I choose health and wellness because I'm better at what I do. It's the same thing for another blogger out there—whether they're health or cookies, or whatever their passion is about. Some days it's cookies for me!