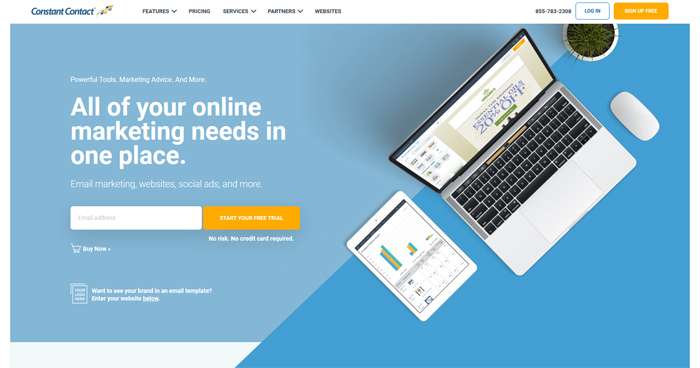 Getting the right web hosting is the first important step toward achieving a successful website. However, these days your website is only part of the equation for online success. To really maximize your online profit potential, you should be integrating email marketing into your business. While there are some really great tools for email marketing automation (e.g. AWeber, MailChimp), for the best overall package, you should definitely check out Constant Contact.
Constant Contact Features
Unlike some other email marketing providers, with Constant Contact you get a complete range of online marketing automation services including ecommerce, paid ads, and websites.
Email Marketing
Constant Contact takes email marketing to another level. It starts with the great looking email templates you can use to create eye catching messages that stand out from others. And, the drag and drop editor lets you easily customize your email messages.
Among the templates you can choose from are:
Sale Email Templates
Holiday Templates
Announcement Templates
Thank You Templates
Event Invitation Templates
Email Newsletter Templates
HTML Email Templates
Basic Email Templates
Email and Marketing Automation
With Constant Contact, you get great automation tools that allow you to automatically segment your contacts and send emails based on their actions.
Ecommerce
Email marketing is vital to all business, but it's especially important when it comes to eCommerce. An effective email marketing campaign is crucial to acquiring new and repeat business for your online store. Constant Contact lets you easily connect and sync to your store so you can add products to your email templates. And, you can improve your response rates with email coupons.
Constant Contact integrates with my two favorite eCommerce platforms: WooCommerce and Shopify. So, you can do things like sync your new contacts and automatically send a welcome email, trigger abandoned cart emails, and create segmented customer lists.
Google Ads
Facebook Ads
Instagram Ads
Constant Contact also integrates with your Google, Facebook, and Instagram ad campaigns so you can drive more traffic. Constant Contact helps you create your Google PPC ads and connect with your Facebook and Instagram audiences.
Websites
Constant Contact also includes the ability to create your website, so you don't need to use another service like Wix, SquareSpace, etc. You can create a free basic site or purchase a premium website plan for more advanced sites.
Constant Contact Pricing
Email $20 mo.
Email Plus $45 mo.
Constant Contact offers two different levels of plans. The cost varies based on the size of your email list. Their Email Plan starts at $20 per month and the Email Plus Plan starts at $45 per month.
What's really great about Constant Contact is that they offer a free 60 day trial—no credit card needed. So, you have plenty of time to work with it and determine if it's the right email marketing tool for your business.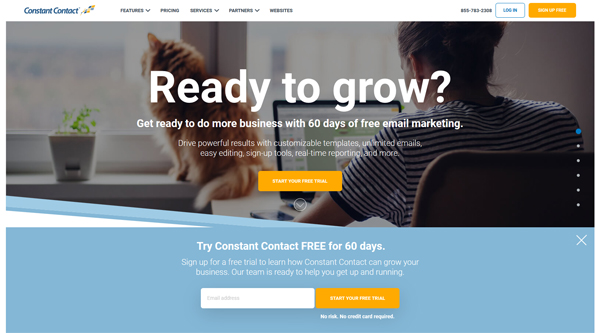 Advantages of Constant Contact
Free 60 Day Trial—No Credit Card Needed
30 Day Money Back Guarantee
Save with Prepay Options
Full Online Marketing Services
Overall, Constant Contact is the ultimate solution for promoting your business. You not only get great email automation features, but also a full range of online marketing features that I described above.
Some of the other advantages you get with Constant Contact that I like are the free 60 day trial—you can try it out for a couple of months to see just how it can help your business. Then, you get a 30 day money back guarantee period. And, you can save more money by opting for a prepay option.