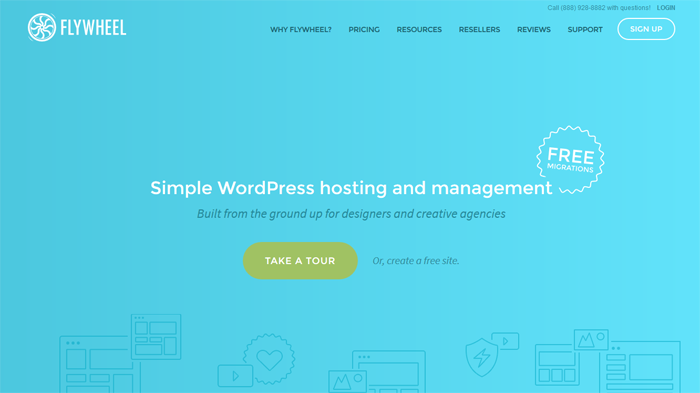 UPDATE June 2019: Flywheel has now been acquired by WP Engine! Stay tuned for more details as they come under the WP Engine fold. For now, Flywheel continues to offer their own hosting plans.
Although they are a newer company and less well-known than others, Flywheel is becoming a bigger player in the WordPress hosting field. In fact, WordPress.org is now recognizing Flywheel as one of their recommended web hosting companies. Flywheel focuses solely on managed WordPress hosting. They feature hosting plans for personal websites as well as professional and custom hosting packages.
Signing Up
Signing up at Flywheel is a very straight-forward process. While the signup process is easy, like other managed WordPress hosting plans, there isn't an option for using an existing domain (for example, one that you already have at GoDaddy). You need to add the domain later and then make it your primary one. I actually had to contact customer support to help me as I was getting a 404 error when I tried this. They were able to correct the problem.
Account Setup and Control Panel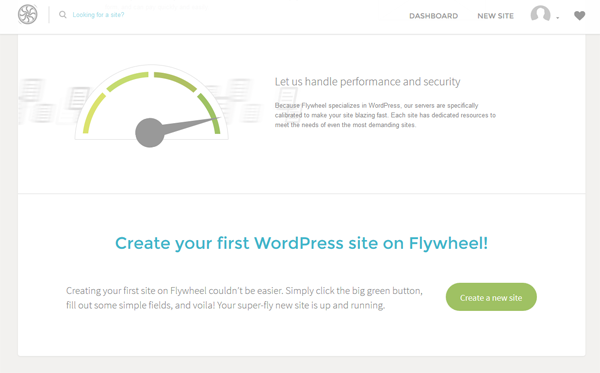 Creating your site at Flywheel is also very easy. You just need to enter your WordPress admin information.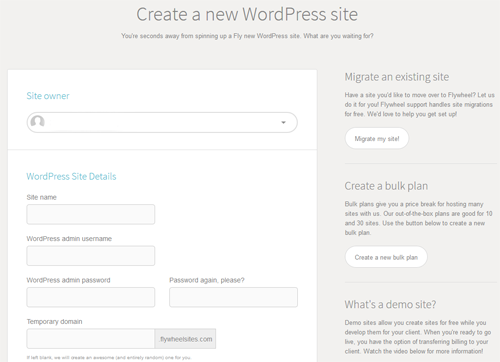 I really like that you can choose from 10 different data center locations across the globe. It definitely had an effect on website speed.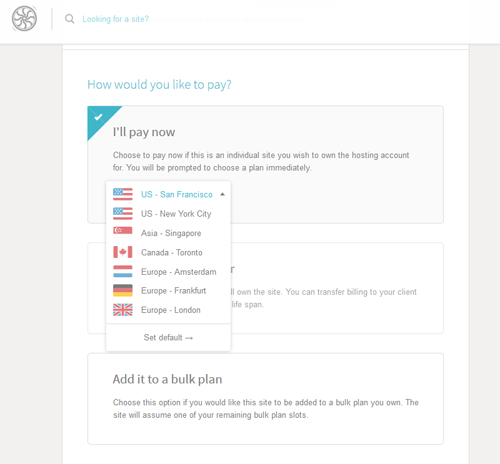 It took a little less than half an hour for our website to be created and ready to go. You'll receive an email notice when the process is completed.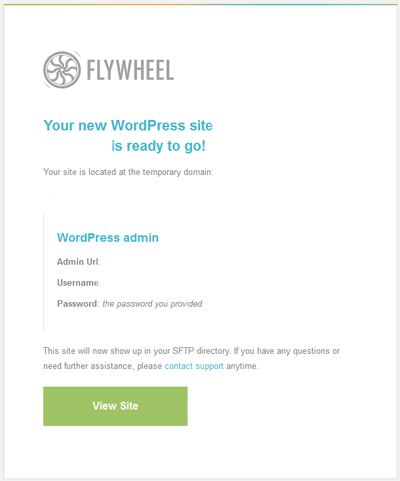 Flywheel's control panel is another big plus. I like how they've really simplified the layout and made everything easy to locate.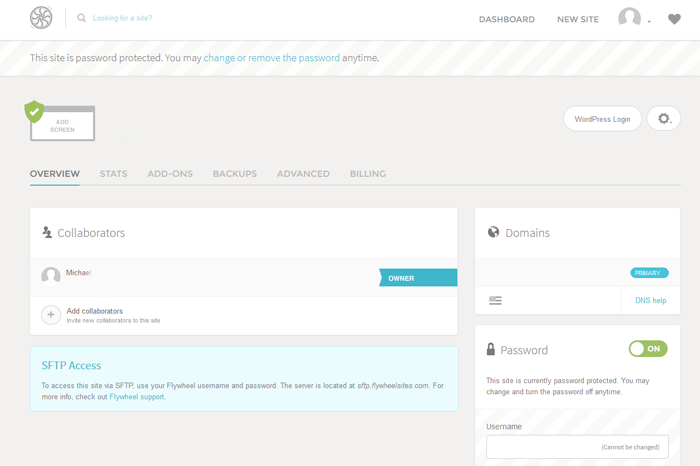 The one feature we'd like to see added to the dashboard is a prominent link to contact customer support.
Premium Features
Flywheel provides automated daily backups which you can easily access from the control panel. Additionally, you can also create a manual backup at any time by clicking the button on the Backups page.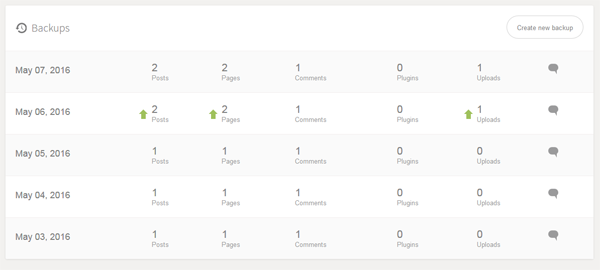 For added security, we like how Flywheel allows you to add password protection to your website. You can set it up right from the Flywheel control panel. Then in order to access your site, you'll need to enter this password. This feature is great if you need to prevent access to your site for maintenance, etc.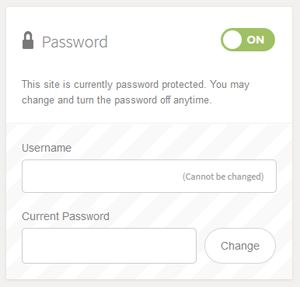 We consider staging to be a necessary feature of any managed WordPress hosting plan. Interestingly, Flywheel does let you employ a staging site for testing and implementing changes. However, at the present time (at least when I purchased an account there), staging is still considered a beta feature by Flywheel. You have to specifically notify customer support to be set up for staging.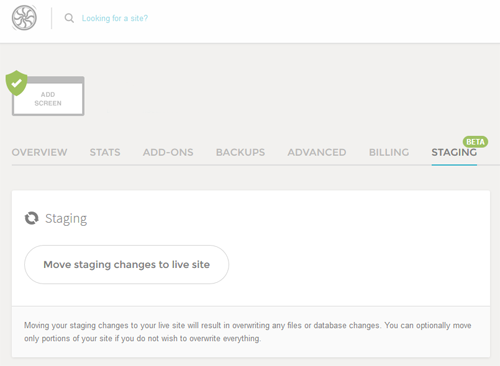 The staging process at Flywheel actually worked out great for me, and I hope they will soon take it out of beta and fully implement this feature.
Website Performance
One of the best benefits of Flywheel is that you can choose from 10 data centers from around the world. In our testing, this really made a difference in website speed. Flywheel appears to be a good choice for hosting if your target audience or customer base is located mainly around the area of your data center. We had great speed numbers when testing closer to our data center choice (west coast). Unfortunately, the numbers weren't nearly as good when testing from other areas, so it looks like Flywheel needs to do a bit of work here. Performance was still good—just not as impressive further away from our data center.
Customer Support
The support at Flywheel was great when I was able to connect with an agent. Unfortunately, Flywheel's live chat support is not available 24/7—and we don't mean just at night. There were times even midday where live chat was unavailable. In fact, support hours at Flywheel are listed as 9 a.m. to 7 p.m. central time. We would certainly like to see 24 hour support available. Also, it would be nice if there was a more prominent link to customer support on their account control panel.
Recommendation
Despite a couple of issues I mentioned above, we do really like Flywheel and definitely consider them a serious player in the managed WordPress hosting field. And if they can shore up those areas where there could be some improvement, Flywheel could find themselves at the top of the list.
Flywheel
Reviewed by
Michael James
on
.

Rating:
4.5