Need a website for your photography business? Here's our comparison of two excellent options for creating your photography site: BoldGrid (the WordPress website builder from InMotion Hosting) and SmugMug.
SmugMug is probably the best known website creation solution for photography sites. For photographers with no tech or web experience, or for those people that don't want to spend a lot of time creating a website but would rather focus only on their photography, SmugMug is a good option. However, since most of the photographers I know are pretty tech savvy, and like doing things like creating their own website, BoldGrid gives you more options and control with your website. And since it's based on WordPress, you can also leverage all of WordPress's functionality for your site.
Unlike other website creation companies, SmugMug specially focuses on photography sites—both for portfolios and photography businesses. SmugMug provides solutions in four main areas of photography sites: Access or display of your photos; Photo storage; Photography business sites; and Mobile app access to your photos. SmugMug definitely has some cool features.
BoldGrid, on the other hand, not only allows you to create a professional looking photography site, but you also get all of the other features you normally would using a traditional web hosting company for your website. For example, when you purchase BoldGrid from InMotion Hosting, you also get unlimited storage and data transfer, email, and all of the functionality of cPanel hosting.
So should you choose BoldGrid or SmugMug for your photography site? I would look at it this way. If your goal is to create a website to promote your photography business, and you need a total online package that includes email as well as other tools to enhance your website, then I'd go with BoldGrid. You'll also be able to utilize WordPress to create your blog as well as add any other functionality that is compatible with WordPress. If the goal of your photo site is simply to display your images and you're looking for a storage solution for photos, then I'd consider SmugMug.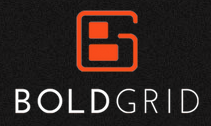 BoldGrid
Started Business: 2001
BBB Rating: A+
Price: $3.49 mo. – $7.49 mo.
Unlimited Bandwidth: Yes
Unlimited Storage: Yes
Unlimited Email: Yes
Refund Period: 90 Days
Advantages of Choosing BoldGrid:
100% Ownership of your Website
Professional Looking WordPress Sites using Drag and Drop Site Builder
Mobile Optimized Websites
Includes Web Hosting from InMotion Hosting
Max Speed Zone Technology
Free Solid State Drives
Free Domain Included
Free Data Backup
Live Chat Support
90 Day Money Back Guarantee

SmugMug
Started Business: 2002
BBB Rating: A+
Price: $3.34 mo. – $25.00 mo.
Unlimited Bandwidth: Yes
Unlimited Storage: Yes
Unlimited Email: No
Refund Period: 14 Day Trial
Advantages of Choosing SmugMug:
Optimized for Photo Storage
Nice Portfolio Layouts for Displaying Photos
Built In Security Settings to Restrict Access to Photos
Mobile App Allows you to Instantly Show Photos on your Site