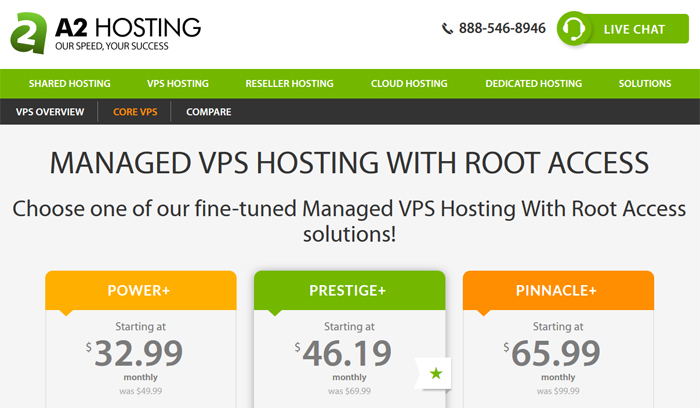 A2 Hosting prides itself on providing quality optimized WordPress and turbo fast hosting solutions. I've been a Shared Hosting customer with A2 Hosting for some time now, and definitely consider them one of the best web hosts out there. But A2 Hosting offers a wide range of hosting services including an impressive lineup of Managed and Non-Managed VPS Hosting plans. So, I decided to see for myself just how good their VPS hosting is.
For my purposes, I opted for a Core Managed VPS Hosting plan at A2. Here is their selection of Managed Core VPS plan options:
Power+
$32.99 mo.
4GB RAM
75GB Storage
2TB Bandwidth
4 CPU Cores
Prestige+
$46.19 mo.
6GB RAM
100GB Storage
3TB Bandwidth
6 CPU Cores
Pinnacle+
$65.99 mo.
8GB RAM
150GB Storage
4TB Bandwidth
8 CPU Cores
A2 Hosting VPS Features
Choice of Managed or Unmanaged VPS
Free cPanel
Free SSDs
Full HostGuard Management
Free Let's Encrypt SSL
Free CloudFlare CDN
Anytime Money Back Guarantee
The provision time with A2 Hosting VPS is lightning fast. The sign-up process at A2 Hosting is very easy and immediately after signing up for their Managed VPS Hosting Plan, I received confirmation and welcome emails containing all the information I needed to get started. I especially liked the A2 Hosting welcome email as it contained links to all of the important locations to manage my VPS Hosting account (website, WHM, cPanel, webmail, etc.).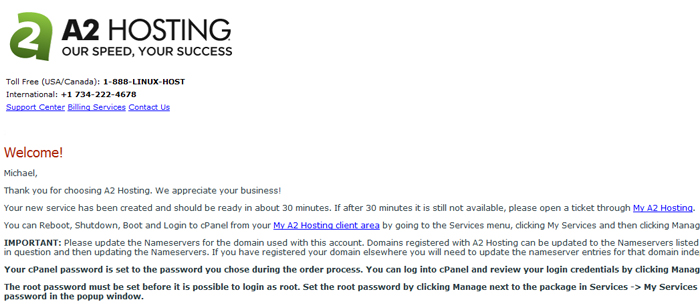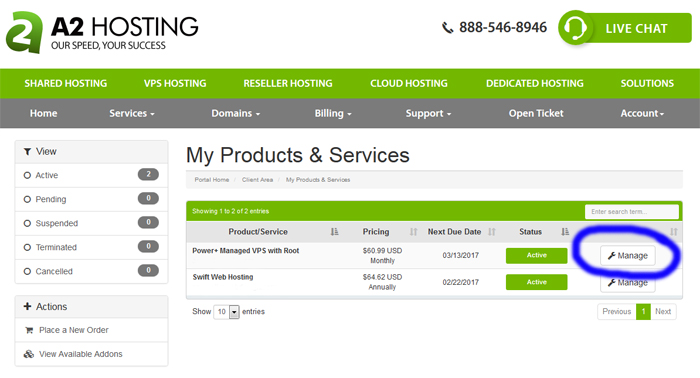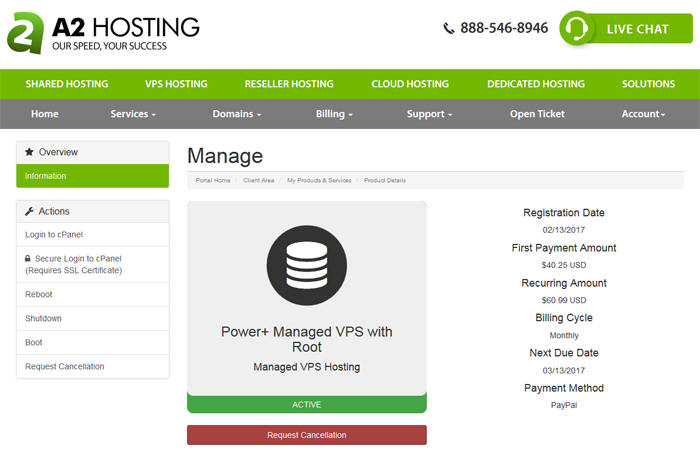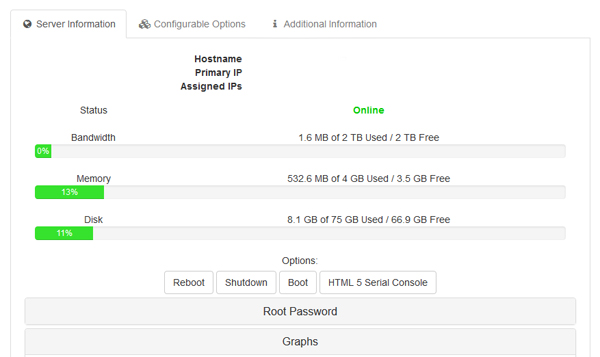 Speed and Performance
In my testing results, I found that website speed and performance with A2 Hosting is among the best that I've experienced with VPS hosting. What's even more impressive is that I opted to go without the Turbo Server option—which means you could actually get even better performance than me if you include this feature with your account (as the Turbo options can provide up to 20x faster speed).


Customer Support
The A2 Hosting support team is named the Guru Crew, and over the years they've always provided excellent, responsive assistance whenever I've needed it with my shared hosting plan. With a VPS Hosting plan, it often becomes even more critical to have a great support team to help you out. While I haven't had any issues, I did have some questions getting acclimated to the VPS environment, and the Guru Crew has provided prompt and courteous answers.
Here's an example live chat transcript: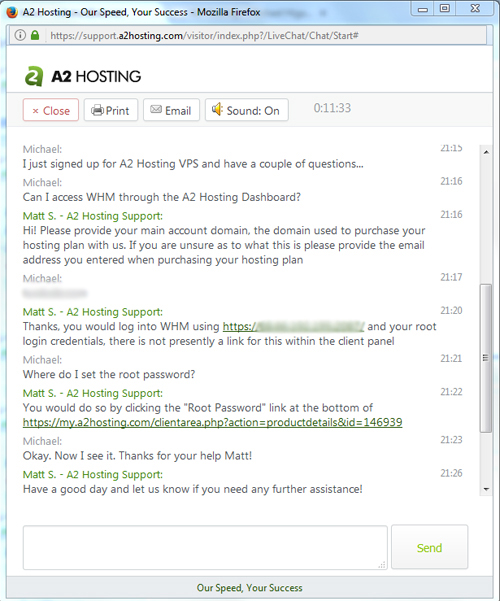 Recommendation
A2 Hosting has one of the quickest and smoothest sign up and set up processes for VPS Hosting. I can truly say that A2 Hosting VPS provision time was one of the fastest ever. I'm also pleased to report that the managed VPS from A2 is genuinely a Managed VPS Hosting Plan. With some other web hosts, what is labeled as a managed VPS plan still requires you to set up your server records and administration environment—but not with A2 Hosting. With their fast provision times, once you sign up for your VPS at A2 Hosting, you're ready to go with your websites.
With a wide selection of VPS Hosting plans for every level of experience and resource requirements, A2 Hosting has proven to be a top choice for not only Shared Hosting but also Virtual Private Servers.
Click Here for A2 Hosting VPS Discount Code
A2 Hosting VPS Review Ratings
Features - 97%
Speed and Performance - 97%
Customer Support - 99%
Value - 95%