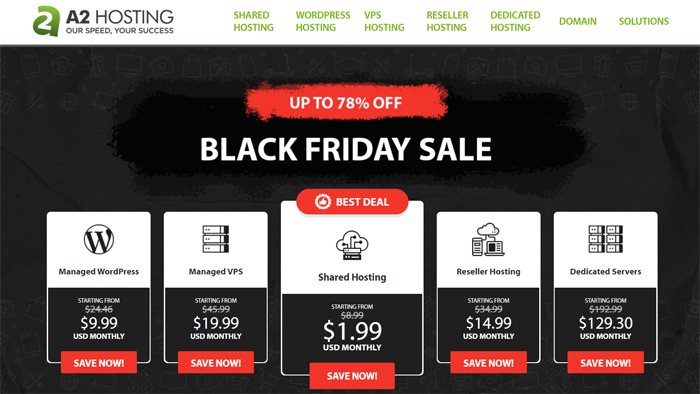 It's now the best time of the year to get your web hosting! And, during the A2 Hosting Black Friday Cyber Monday Sale, you can get their excellent web hosting at the lowest prices of the year.
The A2 Hosting Black Friday/Cyber Monday Sale runs from November 23, to November 30, 2020. During the A2 Hosting Black Friday Sale, new customers can save up to 78% when signing up for their hosting plans. Shared Hosting plans start at only $1.99 mo. Turbo Boost Hosting Plans, which can provide 20x faster speed, are being sold starting at $4.99 mo.
Click Here during the Black Friday Sale to Save up to 78% on A2 Hosting
I've been a customer of A2 Hosting for years and they are still one of my top recommendations for web hosting.
A2 Hosting provides an outstanding combination of optimized speed, proactive security, and responsive customer support. In my opinion, their Shared Hosting rivals other managed hosting plans. A2 includes advanced premium features such as website staging, WordPress optimization, and automated data backups.
A2 Hosting is also offering additional discounts on their other services as follows:
61% off Managed WordPress Hosting
60% off Reseller Hosting
57% off Managed VPS Hosting
25% off Unmanaged VPS Hosting
And, to make things even easier, for this year's Black Friday Cyber Monday Sale there are no special codes needed! Just click the link below during the sale period to get huge savings on A2 Hosting.