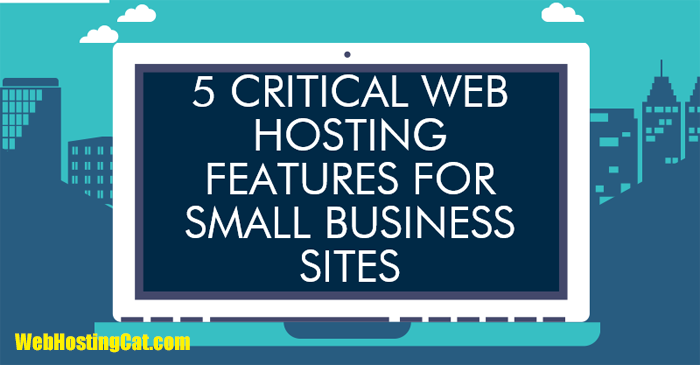 When you need web hosting for your small business website, certain features become even more critical. With a business website, there is added importance in having a highly accessible and properly functioning online presence. You should definitely look for the following five items in your search for a small business web hosting plan.
1. Proper Resources
Unlimited Disk Space
Unlimited Data Transfer
Unlimited Email Accounts
Ability to Create Multiple Websites
With a business website, it's very important to make sure you have enough resources and room to grow your site. As your business and customer base increases, you want your website to continue to function optimally.
2. Speed
Multiple Data Center Locations
Content Delivery Networks
Proprietary Technologies
Website speed and page loading times are always important. But when it comes to business websites, it's even more critical. A slow performing or sluggish website can cost you many potential customers. Website speed is also a factor in determining how well your site ranks in the search engines. So, faster web hosting can have a positive effect on your SEO.
Data center location has a significant impact on website speed. Ideally, you want a web hosting company that offers a choice of data center locations. If your website has a lot of static content (photos, etc.), a content delivery network (CDN) can noticeably speed up page loading times for your customers in more remote areas. And, be sure to look for proprietary technologies a web host may offer involving caching or network zones, these features can increase the speed of your site even more.
3. Proactive Security
DDoS Mitigation Systems
Malware Scanning
Like website speed, security is more vital for your business websites. While nobody can guarantee that your site will never be hacked, many web hosting companies have taken major steps in helping to protect their customers websites from outside attacks.
DDoS attacks are one of the most prevalent security issues. Fortunately, many web hosting companies are now providing some type of DDoS mitigation system. Also, look for optional malware scanning or hack alert monitoring features.
4. Backup and Restore Options
Run Daily Backups
Restore Data for Free
Have Multiple Website Copies (30 Days) Available
It's true that the best defense against malicious attacks on your website is to have the proper backups of your site available in case something goes wrong. And in the case of business websites, if your site is affected you certainly want to be able to get it back online as quickly as possible.
While you should always be preforming your own backups, make sure your web host runs daily or nightly backups of your data as well. But, also be sure there aren't any surprise fees if you need your website data restored. Finally, for even added protection, you can look for a hosting plan that includes the previous 30 days of backup copies of your site from which you can choose the version to be restored.
5. Quality Customer Support
24/7 Phone, Email, Live Chat Support Available
Test Customer Support Before You Purchase Hosting
Log on to Live Chat Support and Ask Technical Questions
See the Response Times
Find Out How Helpful and Knowledgeable the Staff Is
No matter how much experience you have or how technically skilled you might be, sooner or later you'll need to work with your web hosting's customer support department to help you out with some issue or question you may have. Therefore, it's very important that your web hosting company provides multiple methods of support, is very responsive, and is able to successfully answer any questions you may have. That's why I recommend that you test out the customer support at your prospective web hosting company–before you actually purchase your web hosting. Log on to their chat support and ask some detailed questions. You'll be able to find out how responsive, knowledgeable, and friendly their support staff is.
Remember, when it comes to web hosting for small business websites, proper resources, speed, proactive security, data backup and restore, and quality customer support are five must haves in your web hosting plan.