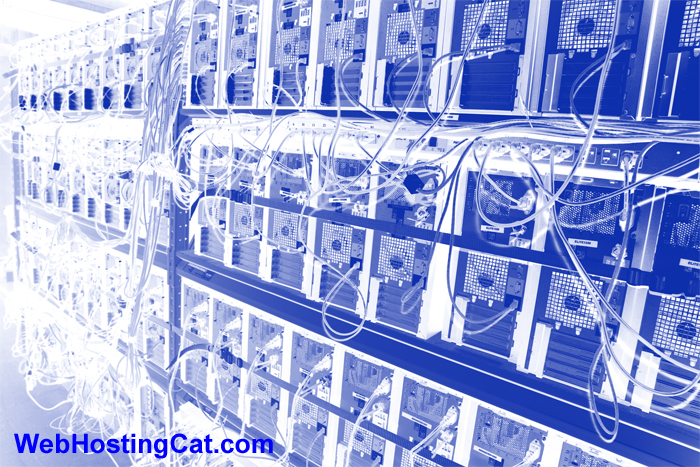 An often overlooked factor when choosing a web hosting provider is data center location. Having your website hosted at a data center closer to your area can noticeably speed up your site's loading and response times. For local businesses, where your target market is in your same general area, your customers can also enjoy better and smoother visits to your website when your data center is close by.
While content delivery networks can improve page loading times for your website's users in other parts of the globe, it's still advisable to try and get your site hosted at a data center location closer to you if possible. Since you'll be spending the most time accessing both the front and back end of your website, you certainly want the fastest performance you can get.
Surprisingly, some web hosting companies prefer not to provide information about their data center locations. Others, such as GoDaddy, just say that they have data centers worldwide and that your website is assigned to a certain one. While I'm not saying that these secretive web hosts are bad or worse than the others, what I can say is that those web hosting companies that have been open about their data centers (and even allow you to select your location) seem to be some of the best ones I've dealt with.
Here is a list of data center locations indexed by both Location and Web Hosting Company:
Web Hosting Data Centers by Location
U.S. West
Los Angeles, CA – InMotion Hosting, Web Hosting Hub
El Segundo, CA – Media Temple
Hawthorne, CA – Lunarpages
Irvine, CA – Lunarpages
San Francisco, CA – Flywheel
San Diego, CA – Lunarpages
Las Vegas, NV – Lunarpages
Phoenix, AZ – A2 Hosting, GreenGeeks, Liquid Web, Namecheap
Provo, UT – Bluehost, HostGator
Oregon – WP Engine
Denver, CO – Lunarpages
U.S. Central
Chicago, IL – GreenGeeks, Lunarpages, SiteGround, 1&1 Hosting
Columbus, OH – IX Web Hosting
Dallas, TX – Namecheap
Houston, TX – HostGator
Iowa – WP Engine
Kansas, KS – 1&1 Hosting
Michigan – A2 Hosting
Lansing, MI – Liquid Web
Ohio – WP Engine
Texas, TX – WP Engine
U.S. East
Atlanta, GA – Namecheap
Ashburn, VA – InMotion Hosting, Web Hosting Hub, Lunarpages, Media Temple
Boston, MA – iPage
New York, NY – 1&1 Hosting, Flywheel
Rochester, NY – MyHosting.com
Secaucus, NJ – InterServer
South Carolina – WP Engine
Washington, D.C. – 1&1 Hosting
Virginia – WP Engine
Canada
Montreal, CAN – GreenGeeks, WP Engine
Toronto, CAN – Flywheel, GreenGeeks, MyHosting.com
Europe
London, UK – Flywheel, SiteGround
United Kingdom, UK – Namecheap, WP Engine
Amsterdam, NL – A2 Hosting, Flywheel, Liquid Web, SiteGround
Belgium – WP Engine
Europe – 1&1 Hosting
Frankfurt – Flywheel, WP Engine
Ireland – WP Engine
Milan, IT – SiteGround
Asia
Taiwan – WP Engine
Tokyo, Japan – WP Engine
Singapore, SG – A2 Hosting, Flywheel, SiteGround
Australia
Sydney – WP Engine
Data Center Locations by Web Hosting Company
| | Web Host | Data Center Locations |
| --- | --- | --- |
| | A2 Hosting | Michigan, USA; Arizona, USA; Amsterdam, EUR; Singapore, ASIA |
| | Bluehost | Provo, UT |
| | Flywheel | New York, NY; San Francisco, CA; Toronto, CAN; London, EUR; Amsterdam, EUR; Frankfurt, EUR; Singapore, ASIA |
| | GreenGeeks | Chicago, IL; Phoenix, AZ; Toronto, CAN; Montreal, CAN; Amsterdam, NL |
| | HostGator | Provo, UT, Houston, TX |
| | InMotion Hosting | Los Angeles, CA; Ashburn, VA |
| | InterServer | Secaucus, NJ |
| | iPage | Boston, MA |
| | Liquid Web | Lansing, MI; Phoenix, AZ; Amsterdam, NL |
| | Lunarpages | Hawthorne, CA; Irvine, CA; Denver, CO; Chicago, IL; Ashburn, VA; Las Vegas, NV; San Diego, CA |
| | MediaTemple | El Segundo, CA; Ashburn, VA |
| | Namecheap | Atlanta, GA; Phoenix, AZ; Dallas, TX; |
| | SiteGround | Chicago, IL; Amsterdam, NL; Singapore, SG; London, UK; Milan, IT |
| | Web Hosting Hub | Los Angeles, CA; Ashburn, VA |
| | WP Engine | Oregon, Ohio, Iowa, Virginia, South Carolina, USA; United Kingdom, UK; Tokyo, Japan; Montreal, CAN; Frankfurt, EUR; Belgium, EUR; Ireland, EUR; Taiwan, ASIA; Sydney, AUS |
| | 1&1 Hosting | Kansas, KS; Chicago, IL; New York, NY; Washington, D.C.; Europe |