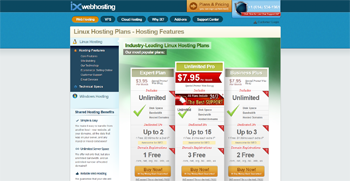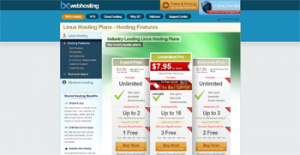 IX Web Hosting may not be the first web host that comes to mind. However, you may be pleasantly surprised to discover they offer some of the most comprehensive hosting plans available—including some features that usually cost you extra elsewhere. Here's a closer look at the features you get with IX Web Hosting.
Unlimited Pro Plan
Unlimited Space
Unlimited Bandwidth
Unlimited Domains Hosted
Unlimited Subdomains Hosted
Unlimited Data Transfer
Free 7 Day Trial
Free Dedicated IP
3 Free Domain Registrations
30 Day Money Back Guarantee
Free Click-to-Create Site Builder
One Click Blog and Photo Gallery Installs
High Performance Hardware
Redundant Network and Routing
Custom Control Panel
One Click Install Online Store
Dedicated Trained Anti-Hacking Team
Separate Email Servers
With IX Web Hosting's Unlimited Pro Plan you get the core unlimited features such as disk space, bandwidth, and domains hosted.
You can actually try out IX Web Hosting free for 7 days just to see how well they work out for you.
IX Web Hosting gives you a free dedicated IP, which is great if you're going to have an eCommerce site. Most web hosts charge extra for this feature.
With IX Pro Plan, you get not one but three free domain registrations. If you're a marketer or entrepreneur that needs multiple sites, this is a great bonus.
The IX Web Hosting plan also gives you easy installations of blogs, photo galleries, and online stores. You also get their click-to-create site builder.
IX Web Hosting comes with highly a highly trained support staff including a dedicated anti-hacking team.
Also, IX Web Hosting runs your email on separate servers for better performance.