WP Engine vs MediaTemple vs DreamHost vs Flywheel
| | Web Host | Price | Speed Index | Guarantee |
| --- | --- | --- | --- | --- |
| | WP Engine | $29 mo. – $249 mo. | 1496 | 60 Days |
| | Flywheel | $15 mo. – $250 mo. | 1728 | 30 Days |
| | Media Temple | $20 mo. – $240 mo. | 1781 | 30 Days |
| | DreamHost | $16.95 mo. | 1637 | 97 Days |
Who Needs Managed WordPress Hosting?
For the scope of this web hosting comparison study, we're proceeding under the assumption that you've already made the decision to opt for a fully managed WordPress hosting solution. While there are certainly some quality non-managed or "optimized" hosting plans for WordPress, in this study we are including the top premium WordPress hosting providers. Specifically, to find the Best Managed WordPress Hosting, this managed WordPress hosting comparison includes WP Engine, Media Temple, DreamPress (DreamHost), and Flywheel.
What Do You Get with Managed WordPress Hosting?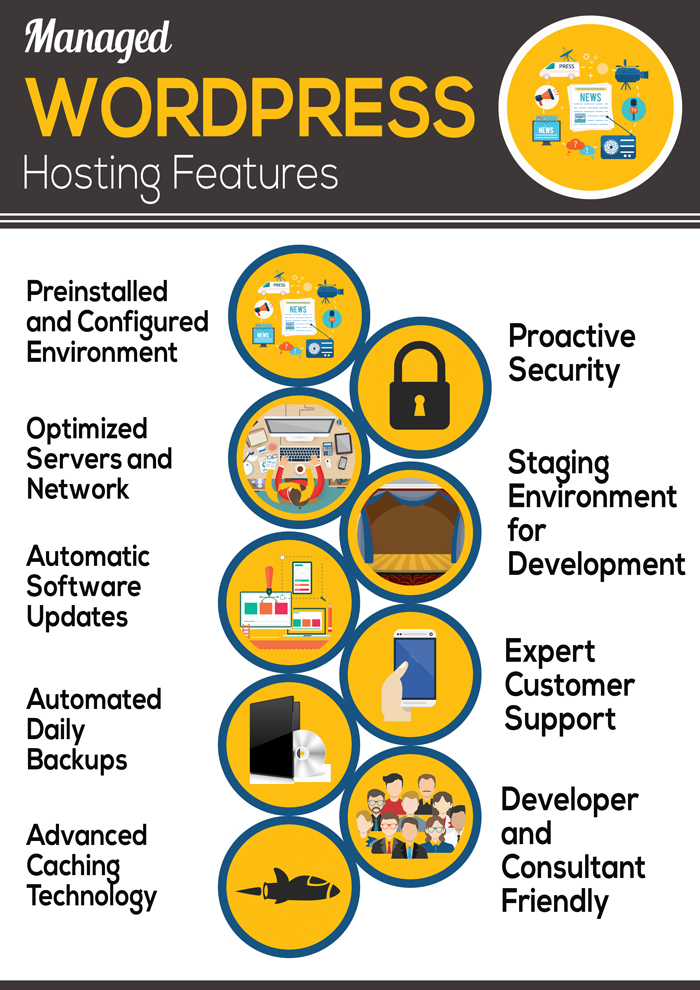 Let's be clear on what we consider as a fully managed WordPress hosting plan. Although many web hosting providers make claims as to having an optimized or managed WordPress hosting package, a true fully managed WordPress hosting solution should include the following:
Automatic Software Updates
Automated Daily Backups
Advanced Caching Technology
Optimized Servers and Network Environment
Proactive Security Against Malicious Attacks
Staging Environment for Development
Expert WordPress Customer Support
Pre-Configured WordPress Admin
Additional Features for Developers and Consultants
Premium Managed WordPress Hosting Plans
Here are the four managed WordPress hosting plans included in this study.
DreamPress 2 by DreamHost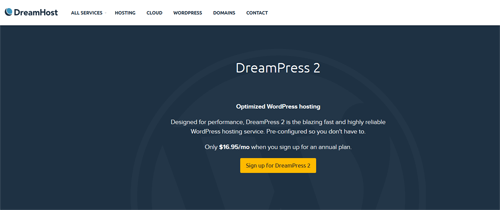 DreamHost has been known for WordPress hosting for quite a while now. Previously, they promoted their shared hosting plan with WordPress optimization features. However, in recent times they have de-emphasized WordPress in the shared plan to make it more of a general hosting solution. For WordPress, they now offer their DreamPress optimized WordPress hosting plan. It has now been updated and is called DreamPress 2.
Price:
$16.95 mo.
Features:
Multiple Layers of Caching
Isolated Server Resources
WordPress Specific Firewall for Better Security
Dedicated IP Address
Dual VPS Servers (Front End and MySQL)
30GB Solid State Drives
Dynamically Auto-Scaling RAM
CloudFlare Services
Pros:
Includes Email
Pre-installed and preconfigured WordPress
Use any WordPress Theme or Plugin
Cons:
Staging Not Included.
No snapshot backup capability.
Only one domain hosted per DreamPress plan.
Control panel could be more intuitive to use.
Longer wait times for live chat support.
Flywheel

Flywheel may not be as well-known as some of the other managed WordPress hosting providers, but their hosting features and tools are very impressive. It's also worth noting that Flywheel is totally focused on WordPress hosting and has 10 data centers around the world.
Price:
Tiny – $15 mo.
Personal – $30 mo.
Professional – $75 mo.
Freelance – $100 mo.
Agency – $250 mo.
Features:
Custom Sever Configurations
Custom Configured Varnish Caching Engine
Staging Sites
Specific Ecommerce Caching
Snapshot Backups and One-Click Restores
Billing Transfer for Developers and Consultants
Free Malware Removal
Pros:
WordPress only
Includes Sucuri malware scanning
Automated daily backups as well as snapshot backup capability
Great for team collaboration
Easy website password setup for added protection
Set up client's demo sites for free.
Accepts PayPal for Payment
Cons:
Live chat support not available 24/7
Support link hard to find from your account dashboard
Domain transfer process could be more streamlined
Media Temple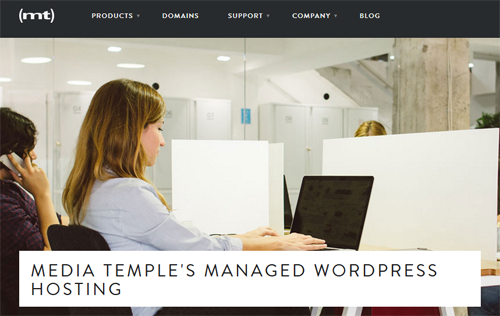 Media Temple focuses on providing premium hosting services at every level—including WordPress. They've been a leading WordPress hosting provider for years now and their managed WordPress hosting plan is made by WordPress developers and designers–and optimized for WordPress professionals.
Price:
Personal – $20 mo.
Studio – $60 mo.
Agency – $240 mo.
Features:
Hardware, Software, and Network Design optimized for WordPress
SSD Servers with Multiple Caching Layers
One-Click Staging Environment
Support Technicians complete WordPress Certification Program
Exclusive Media Temple WordPress Themes available
DDoS and Intrusion Protection
Pros:
Personal Plan Includes 2 WordPress Installs
WordPress Certified Support
Cons:
Live Chat Support not available 24/7
Process of using an existing domain from outside could be simplified.
WP Engine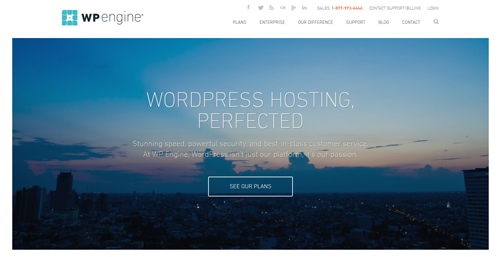 WP Engine has been one of the most well regarded companies in the WordPress community for a long time. With their focus being totally on WordPress hosting, they are at the forefront of the managed WordPress hosting industry. WP Engine has continually strived to provide WordPress hosting solutions for personal, business, and enterprise websites—as well as for WordPress developers and consultants.
Price:
Personal – $29 mo.
Professional – $99 mo.
Business – $249 mo.
Enterprise – Available
Features:
Automated Migration Plugin
Unlimited Data Transfer
Proprietary EverCache Technology for better speed
Proprietary Intrusion Detection and Prevention System
Staging Environment
Daily Automated Backups plus Snapshot Backup Capability
One Click Restores
Transferable Installs and Billing Transfer for Developers and Consultants
Enterprise Solutions also Available
Pros:
WordPress Only
Intuitive user dashboard
Automated daily backups as well as snapshot backup capability
Live Chat Support available 24/7
Two-Step Authentication System for added Protection
Added Features for WordPress Developers and Consultants
60 Day Money Back Guarantee
Cons:
More restrictive with plugins
Account Manager Control Panels
1. WP Engine
2. Media Temple
3. Flywheel
4. DreamPress
WP Engine:
WP Engine has done a great job in providing a text based interface that is easy to use and allows you to quickly locate your hosting account and WordPress website functions. The WP Engine control panel is very intuitive allowing you to view stats, manage your domains, create data backups, access your WordPress admin and databases, and contact customer support.
Media Temple:
We also found Media Temple's control panel to be very easy to use. When you log in, you can access your account information, and when you go to the admin section, it was easy to location the website functions that I needed to access. We like how Media Temple groups together your site's information and functions into subsection boxes.
Flywheel:
We were also impressed with Flywheel's control panel. They've done a very good job of simplifying the look, yet still providing access to all the necessary features to your website and web hosting account. The one exception would be that there is no prominent link to customer support. On some occasions, a pop up bar will appear in the lower right of your screen. But other than that, you need to scroll to the bottom to access a contact link.
DreamPress:
I've never been a big fan of DreamHost's control panels. And, it isn't any different with DreamPress. We certainly don't mind text based interfaces, but with DreamHost/DreamPress there's just too much going on with wordy text links everywhere and a lot of upsells mixed in with your real functions.
For example, in order to access your DreamPress site, you need to go to the Domains menu link and then drill down to the ninth option labeled DreamPress.
WordPress Installation and Website Setup
1. WP Engine
2. Media Temple
3. Flywheel
4. DreamPress
WP Engine:
WP Engine's signup process is very easy and straight-forward. The account setup process is very fast and your website is created very quickly. And, if you're migrating an existing WordPress site from somewhere else, you can utilize WP Engine's Migration Checklist that guides you through the process. If you need additional assistance, you can always contact support. However, I found the migration process to be very well presented and easy to follow.
Media Temple:
Overall, I did like the WordPress setup process as it was very easy to follow and configure your WordPress site—with one notable exception. If you want to use an existing domain that you have somewhere else (for example at GoDaddy), there seemingly isn't an option available, and your site is created with a default MediaTemple domain name.
Flywheel:
The signup process is fairly straight forward. We like how you can select your data center location during the signup process. However, there is no option to use an existing domain you have somewhere else (e.g. GoDaddy). You need to add the domain later and then set it as your primary domain.
Unfortunately, the first time I tried to access my WordPress Admin, I received a 404 Not Found error. Fortunately, customer support was able to fix this issue.
DreamPress:
Signing up at DreamHost for DreamPress is a breeze. Unfortunately, after signing up you're told that your account is ready, but when you go to the control panel nothing is available. When I contacted support, I was told the setup process takes 30 to 45 minutes.
With DreamPress, you get WordPress preinstalled for you. Again, this is great. However, there was an issue receiving my WordPress admin password. DreamHost doesn't give you the ability to set your own password during signup. You get your username emailed to you and need to request a password via WordPress using that username. Unfortunately, when I tried that nothing happened and I had to contact support. They were able to get things set up correctly. Apparently, there is sometimes an issue.
Website Speed and Performance Testing
1. WP Engine
2. Media Temple
3. DreamHost
4. Flywheel
I'm pleased to report that all of the managed WordPress hosts we tested delivered good website speed and performance. We conducted separate tests during different parts of the day, and also from different locations across the United States. Based on our results, it definitely appears that datacenter location plays a part in website speeds. Below are the results broken down by location.
Location: West U.S.
1. Flywheel
2. WP Engine
3. Media Temple
4. DreamHost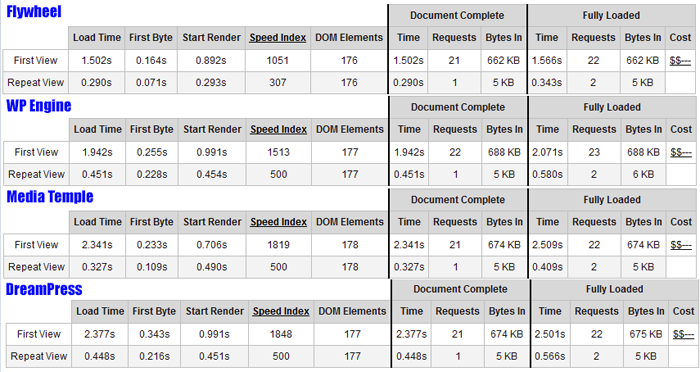 Location: Central U.S.
1. WP Engine
2. Media Temple
3. DreamHost
4. Flywheel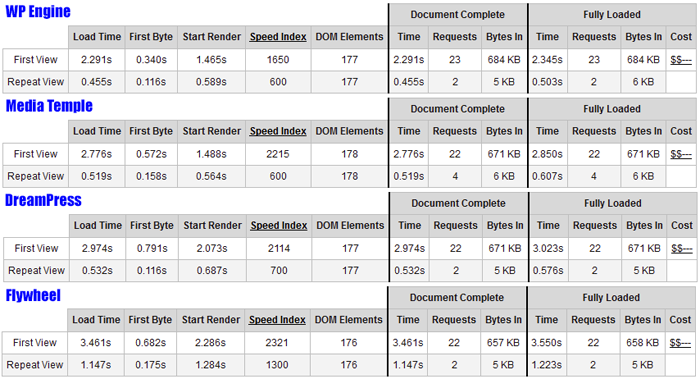 Location: East U.S.
1. DreamHost
2. WP Engine
3. Media Temple
4. Flywheel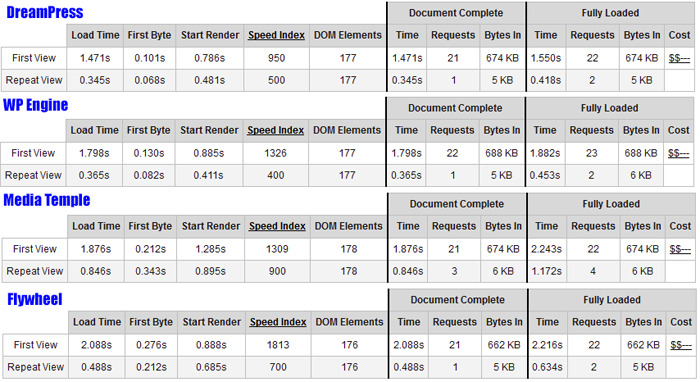 While the results of our speed tests were close, overall WP Engine was the winner here. Media Temple and DreamHost (DreamPress) were nearly identical in speed. And while Flywheel performed extremely well in the west (where we're located), it didn't fare as well from other parts of the country.
Website Backup and Restore
1. WP Engine
2. Flywheel
3. Media Temple
4. DreamPress
WP Engine:
WP Engine's automated daily backups and snapshot backup capability is one of their best features, and it's also our favorite backup and restore service among these managed WordPress hosts. In addition to the daily backups of your website, you can quickly and easily create a backup at any time—which is particularly helpful when you need to update plugins and themes.
Flywheel:
Flywheel also has impressive data backup and restore capabilities. In addition to your automated daily backups, you can also manually create a backup whenever you need to. You can easily view and access your backups from the Flywheel control panel.
`
Media Temple:
We also like Media Temple's automatic daily backups. You can easily access choose a restore point from the Developer Tools section of your control panel. However, we would like to see them add snapshot backup capability to allow customers to initiate their own backup before making any changes to their live sites.
DreamPress:
This is another area where DreamPress is somewhat lacking for a managed hosting plan. There is an option where you can initiate a process to back up your entire account (files, email, databases, etc.). However, there is no automated daily backup process included. Again, as we feel that automatic backups are a key ingredient for managed WordPress hosting, it's a pretty big deal for us.
Staging
1. WP Engine
2. Flywheel
3. Media Temple
4. DreamPress
WP Engine:
The site staging process at WP Engine is excellent and is my favorite among these managed WordPress hosting companies. With WP Engine staging, you can create a staging site that is an exact copy of your live site at any time. After testing out your changes, you can then just as easily copy your staging site to your live WordPress site.
You access WP Engine's site staging from within your WordPress admin dashboard. From here you can easily create a copy of your live site, access and modify your staging site, and deploy your staging site to your live website.
The deployment process is very quick, and you are notified by email when it is completed.
Flywheel:
Evidently, although staging is listed as one of their features, it is still in the beta stage at Flywheel. For that reason, it appears that you need to contact support to create a staging site. This is a bit disappointing as we consider staging a major feature of managed hosting.
However, I did contact customer support to request that staging be enabled for my account—which they did. And I have to say that the staging process was very easy and went smoothly for me. Hopefully, Flywheel will move staging from beta to full implementation soon.
Media Temple:
The staging process is unique in that you can create a staging copy of your website from either the Media Temple account area or your WordPress admin dashboard. However, you have to access the staging site from the Media Temple account panel, which was kind of confusing. Also, there was an issue with previewing your posts from the WordPress dashboard; however the support agent was able to resolve that problem.
The process of syncing the staging site with the production site was very easy and straight-forward.
DreamPress:
By far, the most disappointing omission from the DreamPress hosting plan is the lack of a one-click staging platform for development and testing out changes before moving to production. We feel that staging should be included in any fully managed WordPress hosting package. Hopefully, it will be included with DreamPress 3?
Site Security
1. WP Engine
2. Flywheel
3. DreamPress
4. Media Temple
WP Engine:
In addition to proactive malware detection and multiple firewalls, WP Engine has now also implemented a two-step authentication process to further secure your WP Engine account and your websites.
Flywheel:
Flywheel provides you with malware monitoring for your websites. We also really like how Flywheel lets you easily add password protection to your website via the option in their control panel.
DreamPress:
DreamHost includes a WordPress specific firewall with DreamPress that protects your site from brute force attacks.
Media Temple:
Media Temple includes DDoS and intrusion protection. However, malware detection and removal is only included with their Studio and Agency plans.
Customer Support Results
1. WP Engine
2. DreamPress
3. Flywheel
4. Media Temple
Customer support is a huge part of any web hosting company. However, it's even more prominent when it comes to managed web hosting. Since one of the biggest selling points to a managed WordPress hosting plan is expert support, we wanted to test out both the speed (responsiveness) and the knowledge (helpfulness) of each support staff. Our tests were conducted through the live chat options of each managed WordPress hosting company.
WP Engine:
With WP Engine, live chat support is available 24/7. And most of the times, live chat support response was immediate. During peak hours there was a bit of a delay, but we did find that the stated wait times were pretty accurate—often times the response was quicker than the stated wait time. The support agents are always very friendly, helpful, and knowledgeable.
DreamPress:
DreamHost typically has a bit longer wait times for live chat support. And we found this was also the case with DreamPress. For example, the wait time for a night chat session was over 10 minutes. However, once I was connected to a support person, they were very helpful, knowledgeable, and courteous. I was impressed with the results.
Flywheel:
Their live chat support is not available 24/7. However, when I contacted them, the response time was immediate and the support tech very helpful. Unfortunately, they are often offline—even during midday.
We don't particularly like that there isn't a prominent customer support link anywhere on the account dashboard. At certain times, a chat link will appear in the bottom right corner of the screen. However, when you click on it live chat is sometimes offline.
Support hours are listed as 9 a.m. to 7 p.m. CDT., but live chat support was unavailable in the afternoon when I tried to contact them. There really isn't even what we would consider a formal support ticket mechanism for customers. When you click to open a ticket, you're simple sending an email to support. And if your request is after hours, you get this email response.
The bottom line with Flywheel: The support is great—when it's there.
Media Temple:
Unfortunately, their live chat support is also not available 24/7. Even worse, when I submitted a support ticket the response took over 8 hours.
When I was able to access live chat, the stated wait time was 9 minutes. Unfortunately, after nine minutes I was still waiting, so I decided to try back later.
On later occasions, I was connected immediately. Unfortunately, the answers to my questions (which were basic Media Temple admin things) took a bit of time. The support agent was doing his best and was very friendly. I would rate the support as good. However, I would've expected a bit quicker resolution from an expert support staff.
Money Back Refund Guarantees
DreamPress – 97 Days
WP Engine – 60 Days
Flywheel – 30 Days
Media Temple – 30 Days
All of these managed WordPress hosting companies provide adequate time for you to evaluate their hosting plans and still be able to cancel and get a full refund. DreamHost and WP Engine are especially impressive at 97 and 60 days, respectively. Media Temple and Flywheel provide a 30 day money back guarantee.
Keep in mind the above refund guarantees are for annual hosting plans.
Recommendations and Conclusions
Managed WordPress Hosting
Reviewed by
Michael James
on
.

Rating:
5
WP Engine
Overall, WP Engine was the best performing managed WordPress hosting provider. Throughout our testing, they consistently provided the best features, performance, and customer experience. For WordPress hosting solutions across the board, from personal websites to business and enterprise solutions, WP Engine is at the top of the list.
Flywheel
Flywheel may not be as well-known as the other players in the WordPress hosting arena, but for the most part we were very impressed with them. They provide many quality features that a managed WordPress hosting plan requires. However, we'd really like to see more access to customer support at all times of the day, as well as the staging functionality be taken out of beta. Hopefully, as they continue to grow these issues will be addressed.
Media Temple
For a web host that is not exclusively dedicated to WordPress, Media Temple did a credible job in our testing. While in some areas they did not perform as well as we'd like, their speed and performance results were good. And, overall the user experience was not bad.
DreamPress
While DreamHost may offer impressive hosting packages in other areas, we would have to say that DreamPress 2 isn't quite ready for the big time as a managed WordPress hosting solution. While it may be fine for some personal websites, the lack of staging, automated backup access, and support wait times places them at the bottom of our results list. We were also somewhat disappointed in our speed testing results with DreamPress—as we had expected faster times with their VPS servers.

$29 mo. – $249 mo.
Avg. Load Time:
2.010s
Avg. Speed Index:
1496
Guarantee:
60 Days
wpengine.com

$15 mo. – $250 mo.
Avg. Load Time:
2.350s
Avg. Speed Index:
1728
Guarantee:
30 Days
getflywheel.com

$20 mo. – $240 mo.
Avg. Load Time:
2.331s
Avg. Speed Index:
1781
Guarantee:
30 Days
mediatemple.net

$16.95 mo.
Avg. Load Time:
2.274s
Avg. Speed Index:
1637
Guarantee:
97 Days
dreamhost.com