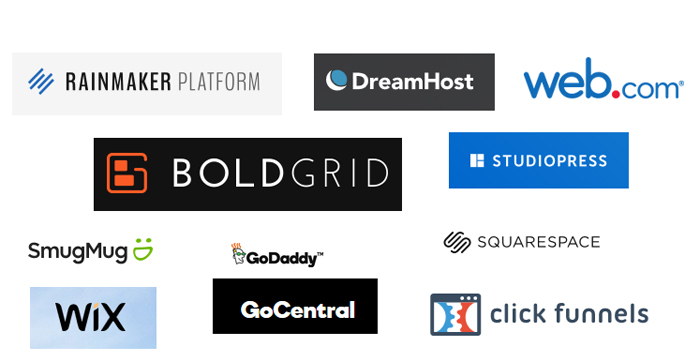 If you watched the Super Bowl this year, not only did you get to witness an exciting come from behind victory, but you also got to see all of those commercials. As in recent years, the most notable advertising participants for us were GoDaddy and the website builder companies Wix and SquareSpace.
Watching these Super Bowl commercials reminded us that the main focus for a lot of potential website owners is the ability to create a site quickly and easily. Many people are bypassing a web hosting plan for a website package. And, there are definitely a growing number of alternatives to buying a web hosting plan. Before we dive into our list of website builders, let me state that I still use traditional web hosting for my own sites. I still prefer the control and flexibility, among other things, that you get with a web hosting plan.
However, there are some advantages using a website builder package. And if you've made the decision to go for a website instead of web hosting, here are the top alternatives in 2017.
Alternatives to Web Hosting
BoldGrid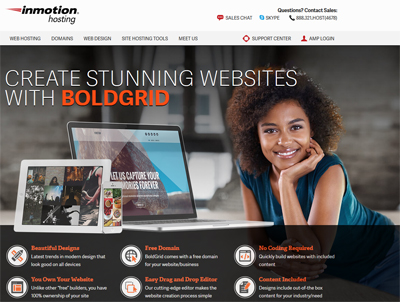 $3.49 mo. – $7.49 mo.
BoldGrid is the innovative product from InMotion Hosting that provides an easy drag and drop interface for creating professional looking WordPress websites. BoldGrid is actually a WordPress plugin you get with InMotion's hosting. We've written a detailed review here. Besides being able to create WordPress websites quickly, the other big advantage with BoldGrid is that you can actually use it with any web host that offers WordPress.
Features:
WordPress Platform
Includes Domain Name
You Have 100% Ownership of Your Website
Easy Drag and Drop Interface
Changes can be previewed with Staging Site
Includes Helpful Tutorial Videos
Can be hosted by others as Well
Click Here for More Details on BoldGrid
Pros:
Allows you to use WordPress to create professional looking websites.
You can move to another web host.
Cons:
Website creation process is not as quick as some others.
ClickFunnels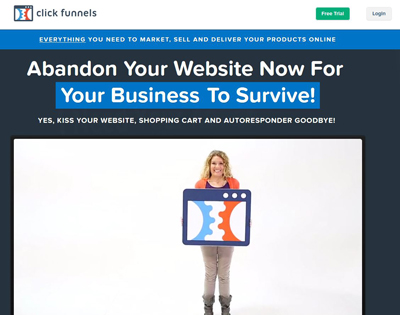 $97 mo.
For affiliate marketers, selling online often involves creating email campaigns, landing pages, websites, and more. ClickFunnels contains all of these features and more. In fact, ClickFunnels aim is to be a single alternative to having to purchase all of those separate services.
Features:
Landing Page Builder
Funnel Builder
A/B Split Testing
Membership Sites
Conversion Tracking and Stats
Email Opt In Form Builder
Complete Email Campaigns
Custom SEO
Click Here for More Details on ClickFunnels
Pros:
All-in-one solution for affiliate marketers.
Greatly simplifies the sales funnel creation process.
Cons:
Not applicable to other types of websites.
Expensive
GoCentral
$5.99 mo. – $29.99 mo.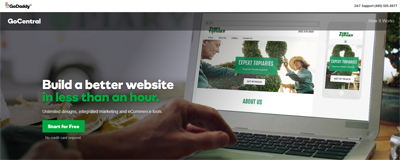 GoCentral is the website builder from GoDaddy. If you saw their Super Bowl commercial, the "Build a website in less than one hour" refers to GoCentral. You can choose from four different GoCentral plans: Personal, Business, Business Plus, and Online Store.
Features:
Responsive Mobile Design
Quick Website Builder
Integrated Marketing Tools
PayPal Integration*
SSL*
Search Engine Optimization*
Email Marketing*
Social Media Integration
Online Store*
*Requires Business or Online Store Plan
Click Here for More Details on GoCentral
Pros:
One Month Free Trial
Swipe and Style interface allows you to create and update website from your phone.
Integrated Marketing Tools
Cons:
Sites can only be hosted at GoDaddy.
Chat Support is often unavailable.
RainMaker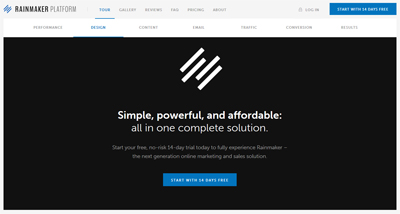 $145 mo.
The RainMaker platform is a complete premium online solution that includes not only a hosted website but also responsive HTML 5 themes, content creation and landing page tools, email marketing, SEO, analytics, and more.
Features:
WordPress Based
StudioPress Themes based on Genesis Framework
Integrated Email
Landing Page Builder
Marketing Automation
Blogging Tools
A/B Testing Tools
Podcasting Tools
Click Here for More Details on RainMaker
Pros:
Free 14 Day Trial
Complete online sales solution.
WordPress site can be moved to another host if desired.
Remixer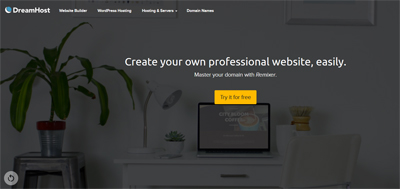 $7.95 mo.
Remixer is the new website builder from DreamHost. With Remixer, you start by selecting a responsive theme. You can then add your content and customize your theme to make it more unique. Then, you can publish your site with a single click. Remixer is free to use, but when you're ready to publish your website, you need to sign up for a hosting plan and domain.
Features:
Responsive Themes
Royalty Free Image Library
Click to Edit Interface
Click Here for More Details on Remixer
Pros:
You can try it out and design a site for free.
Cons:
Requires DreamHost web hosting in order to publish your website.
SmugMug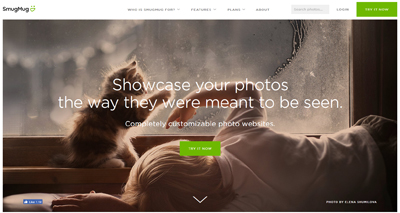 $3.34 mo. – $25.00 mo.
SmugMug is a website solution specifically geared toward photographers and photo enthusiasts. With SmugMug, you get everything from photo storage to photo commerce solutions.
Features:
Photo Centric Design Templates
Customizable Photo Galleries
Safeguard Photos via Password Protection and Watermarks
Restrict Access to Photos
Cloud Storage for Photos
Sell Photos Online
Mobile App Connects to your Site
Click Here for More Details on SmugMug
Pros:
Complete website solution for photographers.
Cons:
Not applicable to non-photography websites.
SquareSpace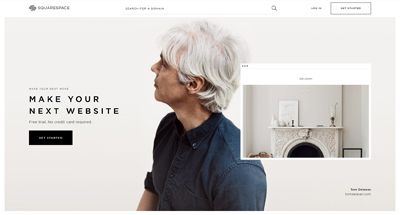 $12 mo. – $40 mo.
With their celebrity driven television ad campaigns, SquareSpace is one of the better known website building companies. They have plans for both personal and business sites.
Features:
Free Domain
Mobile Optimized
Web Analytics
SSL
Integrated eCommerce
Pros:
Quickly and easily create a website.
All features available from one source.
Cons:
Premium plans are required for some services.
You're locked into their ecosystem.
StudioPress Sites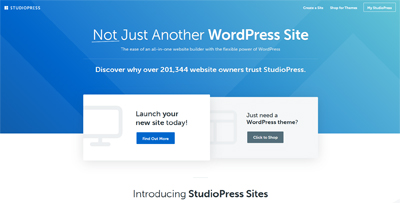 $24 mo. – $33 mo.
StudioPress is one of the most respected companies in the WordPress community. Like BoldGrid, StudioPress Sites is an alternative to SquareSpace and Wix that uses WordPress as its platform. StudioPress Sites includes themes based on the Genesis Framework.
Features:
WordPress Optimized Performance
StudioPress Themes Based on Genesis Framework
Free SSL
Advanced SEO
Theme and Plugin Maintenance
Choose between Content and Commerce
Click Here for More Details on StudioPress Sites
Pros:
Built on the Genesis Framework
One of the most respected names in the WordPress community.
Cons:
No Phone or Email Support
Somewhat Higher Cost
Domain Not Included
Web.com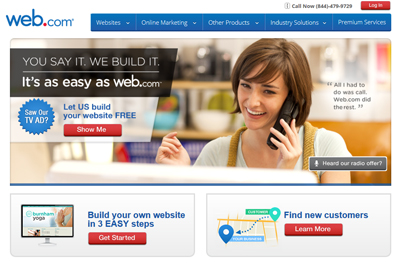 $144.95 mo. and up
Web.com is one of the pioneers in the website builder field. Their 'get a website for free' promotion has been around for quite a while. Unfortunately, there are many costs that go along with your website here.
Features:
Design geared specifically for your business.
Monthly Marketing Submissions to search engines and directories.
Monthly Website Updates
Pros:
One of the easiest ways to get a free website built.
Cons:
Ongoing maintenance, hosting, and service fees.
Very expensive.
If you cancel, you must purchase rights to your website or relinquish it.
Wix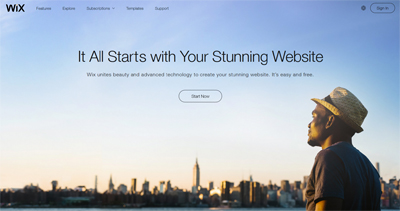 $5 mo. – $25 mo.
Along with SquareSpace, Wix is the other well-known website creation companies. Wix is ideal for online brochure types of websites, but you can also create eCommerce and other types of sites as well.
Features:
Easy Drag and Drop
Over 500 Design Templates
Image Editor
Online Store
Pros:
Quickly and easily create a website.
All features available from one source.
Cons:
Premium plans required to remove Wix ads from your site.
Premium plans are required for some services.
You're locked into their ecosystem.
Compare Website Builders